General Crime
Court Martial Solicitors
We understand the time and energy you've put into building your career, and recommend that you get legal representation at the beginning of this process to ensure you protect it. Getting the right representation and advice from the start could also help you avoid serious punishments. 
You're entitled to free representation if you're interviewed under caution by the RMP or SIB. If the matter proceeds to a court martial you may be eligible for legal aid. We can take you through the process of applying and ensure you are aware of all the funding options, so you get the support you need.
Less serious allegations will be dealt with by either the Officer Commanding or your Commanding Officer. This is commonly called a summary hearing. You aren't entitled to legal representation at this stage, but you can obtain legal advice prior to the hearing. This would have to be paid for on a privately funded basis.
Our Financial Crime & Regulatory team has been ranked in the Chambers & Partners 2023 legal directory. The team was described as "very friendly and professional" and "effective in the financial crime area."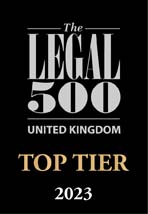 "As a firm they have a real team spirit, always sharing knowledge and experience with each other, to the benefit of their clients. They have a superbly dynamic and diverse team of lawyers in the team." – Legal 500, 2023
"HJA's criminal solicitors are amongst the leading criminal solicitors in the country. They have been involved in countless landmark cases but also in hundreds if not thousands of important protest cases in the magistrates courts."- Legal 500, 2023
What Is A Court Martial?
A Court Martial is a legal process that takes place in a military court and is like a civilian court of law. Evidence is presented by both sides and there is cross-examination of witnesses.
The court generally comprises of a judge advocate and between three and seven warrant or commissioned officers. They hear the evidence and decide on guilt or innocence. If necessary, the judge advocate and other members of the court will deal with sentencing. The punishment you can face varies greatly depending on your case and circumstances.
"THE TEAM AT HJA ARE AMAZING AND WILL DO THEIR VERY BEST TO HELP YOU. THEY GO ABOVE AND BEYOND TO MAKE SURE YOUR MATTER IS SOLVED. THEY WILL STRIVE FOR THE BEST OUTCOME AND ENSURE AN EXCELLENT SERVICE."
Back to top
Why Choose Hodge Jones & Allen?
We have significant experience in dealing with all the stages of a military prosecution. We've represented service men and women in the:
British Army
Royal Navy
Royal Air Force
We have previously represented clients at courts martial in Bulford (Wiltshire) and Catterick (Yorkshire) as well as outside of the UK, as and when required, at various venues.
Our background as experienced Criminal Litigators means that we're ready to fight for your rights and scrutinise the authorities' actions. We have the experience and ethos to fight hard for your case.
We have a reputation for meticulous preparation and attention to detail in the way we analyse the evidence against you and gather and present evidence for you.
We only instruct highly skilled and experienced barristers, as and when required. We have built up our contacts with military and non-military experts over 40 years, so that we can put together a top team on your behalf.
Back to top
Allegation Of Sexual Assault
Partner, Kerry Spence represented a member of the armed services in connection with an allegation of serious sexual assault on a fellow member of the services. Following a trial before a court martial, our client was acquitted of all wrongdoing.
Unlawfully Using A Firearm
Associate, Darrel Ennis-Gayle represented a solider in the Army of unlawfully using a firearm on the grounds of his barracks. He was initially interviewed by the Royal Military Police.
Back to top
How Do I Pay For My Legal Costs?
You're entitled to free representation at an interview under caution and you may be eligible for legal aid if the case proceeds to a court martial.
Can I Just Call You To Discuss This Without Being Charged Fees?
Yes. You can call our team of military lawyers for a free consultation with no commitment required.
I Have An Interview Under Caution With The RMP/SIB, Shall I Just Call You After The Interview If Things Go Further?
No. You need advice at this stage. You shouldn't attend an interview under caution without legal representation. It's free, remember.
Why Not Just Go To A Court Martial With An Officer Who Is Assigned To Support Me, A Defendant's Assisting Officer (D.A.O)?
Your DAO is not legally trained. There have been reports in the press that they're sometimes put under pressure to reveal private discussions with you to their Commanding Officer.
I Am Not In The UK And Neither Is The Court Martial, Does This Matter?
Not at all. We can provide representation and support wherever you are.
Can I See You Before The Hearing Takes Place?
Yes, of course. We'll prepare your case before hearing and meet with you at our offices or via the telephone or Skype.
What Punishment Could I Get?
The powers available to the court martial are significant, they include the following:
A fine
Demotion in rank
Dismissal from the service
MCTC also known as the "The Glasshouse"
A term of imprisonment
We understand that the process and the prospect of any of the above outcomes will cause you a great deal of stress. We can take you through the process and options to ensure that you're able to make informed decisions about what is best for you personally and how to achieve this.