Personal Injury
Amputation Compensation Claims
We understand that suffering an amputation is a traumatic and life-changing experience for both you and your loved ones.
If you lose a limb, it can impact the rest of your life, affecting your ability to work and earn, as well as having mental health implications for years to come. That's why our expert personal injury solicitors are here to help you make a claim and access the compensation you deserve.
Our team of highly experienced, specialist lawyers will support you both through the early stages and immediate aftermath of your injury. They can help determine cause and liability and represent you every step of the way with your claim.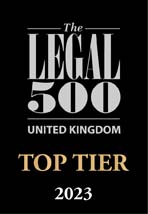 "Hodge Jones & Allen is a well known and popular claimant law firm, with a reputation for taking on complex cases that require excellent legal knowledge and courage." – Legal 500, 2023
Our Personal Injury team has been ranked in the Chambers & Partners 2023 legal directory. The team was described as "highly consistent and attentive" and were praised for providing "well-thought-through advice" our clients "could trust".
Why choose Hodge Jones & Allen?
Rehabilitation and care is our number one concern. We recognise every injury and every individual is different so the treatment and recommendations will be tailored to you and your symptoms.
We deal with amputation claims from a range of different circumstances, including: 
Workplace accidents

Road traffic accidents

Falls from height

Medical negligence
Our personal injury lawyers are award-winning. Our London-based team comprises a wide variety of sympathetic and caring personal injury lawyers who will be proud to fight on your behalf and are dedicated to ensuring you receive the best possible result for your claim as quickly as possible.
We are independently ranked leaders in the field of personal injury with a proven track record of high-value settlements.
"THANK YOU FOR YOUR EXPERTISE AND GREAT EFFORT ON OUR BEHALF. YOU ARE SO GOOD AS WELL AS VERY KIND TO US AND I AM TRULY GRATEFUL TO YOU."
Back to top
How do I make an amputation claim?
The first step in making a claim for amputation is to act quickly. An amputation claim must be made within three years of the injury, or within three years of you being made aware that you have been injured. You will need to get in touch with us, either via telephone, by dropping us an email or using our contact form above.
We offer a free first initial consultation service where we'll listen to your situation and then advise you on the next steps.
After you contact us, we will: Arrange for medical and other experts to see you and find out who is responsible for the accident. 

Investigate the circumstance of the accident and may instruct an accident reconstruction expert. If another party is fully or partly responsible then you can obtain compensation.
We understand that early compensation in the form of an interim payment is essential in such a life changing accident. A payment will assist with immediate bills, such as household expenses, that may be incurred whilst you are still recovering.

We also understand that early rehabilitation is essential to enable you to regain confidence and the level of activity that you held before the accident. We are able to put you in touch with specialist prosthetics experts as well to ensure that you get the best possible treatment at the right time.

Getting you back on track with your life is our number one priority. Specialist equipment and arranging particular care for your needs is something we are skilled at doing.
We aim to make the whole claims process as easy as possible for you. From an initial free consultation through to fighting for your claim in court, we aim to support you at all times and make it as easy as possible for you to get back to living your life.
Take a look at our personal injury compensation calculator to see how much your claim could be worth.
Back to top
Featured case
Both legs amputated
Our client was a good Samaritan who went to the aid of a driver of a car that had broken down. While helping to push the car out of the road, another car collided with the broken-down car, crushing him between the two. This resulted in serious lower leg injuries, with one below knee amputation and one through knee amputation.
Rehabilitation was arranged. He also suffered past losses and future losses of earnings, transport costs (automatic car), equipment costs, gardening costs, DIY and household expenses plus prosthetic costs. In addition, a sum was recovered to purchase a more suitable property
Damages awarded: £2.75 million
Back to top