Personal Injury
No Win No Fee Personal Injury Claims
If you've been injured in the last three years through no fault of your own, we can help.
Our no win, no fee personal injury solicitors can assist you make a claim against the party responsible for your injury and help you win the compensation that could be vital in assisting your recovery. We'll do everything we can to help you get your life back on track after your injury. 
With our No Win, No Fee Personal Injury claims service, you won't pay a thing unless you win, meaning you don't have to worry about finding funding.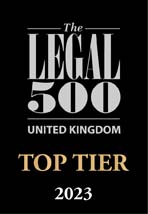 "Hodge Jones & Allen is a well known and popular claimant law firm, with a reputation for taking on complex cases that require excellent legal knowledge and courage." – Legal 500, 2023
Our Personal Injury team has been ranked in the Chambers & Partners 2023 legal directory. The team was described as "highly consistent and attentive" and were praised for providing "well-thought-through advice" our clients "could trust".
No win no fee - pros and cons?
No win no fee gives everyone access to justice, regardless of their financial situation. You do not need to pay any legal fees upfront, and you will typically only pay for your solicitor's work if your case is successful.
However, you may still be obligated to pay any legal fees for any work done if you opt to withdraw from the no win no fee claim in accordance with the terms of your agreement. If you do not cooperate completely, you can also be responsible for any fees.
Are there any dangers with no win no fee?
No win no fee reduces the dangers of being financially impacted in the event that your claim is unsuccessful. However, if your case fails, you may be responsible for your opponent's legal costs unless you have insurance.
Should I use a no win no fee solicitor?
It's strongly recommended that you use a no win no fee solicitor. No win no fee means you can fund your claim without needing to front up the often expensive costs involved with seeking legal advice for your claim.
Using a no win no fee solicitor means you won't be left facing legal costs if the case is lost. No win no fee funding can also cover the cost of disbursements incurred during the claim, such as obtaining medical evidence and counsel's fees.
Does no win no fee have any hidden costs?
No win no fee does not have any hidden costs. It is an effective way to give people access to justice, without worrying about any legal expenses should their claim fail. However, it is worth noting that some no win no fee agreements may only cover the solicitor's legal fees, and exclude costs associated with expert fees, legal fees of the defendant's solicitors and barrister's fees.
Are no win no fee solicitors any good?
Yes, no win no fee personal injury solicitors are a very good option. Our lawyers have the relevant specialist expertise and experience to deal with your case, and it is also in their best interests to make sure that you succeed with your claim. They'll only take on your case on the basis that they think it has a reasonable chance of success.
Is no win no fee really free?
Yes. A no win no fee agreement, also known as a Conditional Agreement, means the Claimant does not have to pay any legal fees up front for their claim. If you lose your claim, you won't have to pay any legal fees.
If you win your case, there may be a fee paid to your solicitor which is deducted from your overall damages – but only once the claim is settled.
Can I change no win no fee solicitor?
Yes, at any time. If you're not happy with your no win no fee solicitor, it is possible to change. Choosing the right solicitor for you is important and it can affect the outcome of your case.
If you do want to change solicitors, your current solicitors will liaise with your new solicitors on your behalf and they will sort the transfer of papers from one firm to the other etc.
It's recommended that you make the change as early on in the case as possible, so that your new solicitor can be up to speed with your case.
Can I cancel a no win no fee claim?
When you sign a Conditional Fee Agreement, you have the right to terminate your agreement with your solicitor. However, there is a caveat to this. If you cancel your no win no fee claim within the "cooling off" period set out in the agreement, you will incur no costs. If you cancel your agreement with the firm beyond that cooling off period, you run the risk of the firm charging you for the work done on your claim up to now. This is dealt with on a case by case basis.
Can I use no win no fee for a car accident claim?
A no-win no-fee agreement (also known as a 'Conditional Fee Agreement') can be used to fund any type of Personal Injury claim made, including Road Traffic Accident claims.