Financial Crime & Regulatory
Business Crime & Fraud Solicitors
Business crime and fraud allegations can be a serious matter that can involve several organisations and individuals. We think our experience will prove invaluable to you when it comes to helping you work towards a positive outcome.
The business crime and fraud team at Hodge Jones & Allen offer expert guidance, can negotiate on your behalf and help you with any damage that an investigation has caused your reputation, or personal finances.
We understand the problems, both professional and emotional, that such a case can present. However, you can be confident in our expertise with dealing with matters and negotiating with a range of investigative agencies, from the police to the Serious Fraud Office (SFO), on your behalf.
Our Financial Crime & Regulatory team has been ranked in the Chambers & Partners 2023 legal directory. The team was described as "very friendly and professional" and "effective in the financial crime area."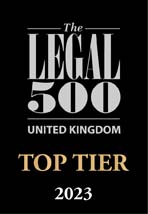 "As a firm they have a real team spirit, always sharing knowledge and experience with each other, to the benefit of their clients. They have a superbly dynamic and diverse team of lawyers in the team." – Legal 500, 2023
"HJA's criminal solicitors are amongst the leading criminal solicitors in the country. They have been involved in countless landmark cases but also in hundreds if not thousands of important protest cases in the magistrates courts."- Legal 500, 2023
Featured Cases
Business Crime & Fraud
Partner Kiran Mehta acted for a defendant in Operation Tabernula, the Financial Crime Agency's largest and most complex investigation and prosecution into Insider Dealing. We had successfully secured the dropping of the charge against our client relating to insider dealing.
Business Crime & Fraud
Partner Ruth Harris acted for a defendant in a large £7m carbon credit fraud. The trial collapsed following successful disclosure requests about the prosecution expert, who was discredited, where this matter was investigated by the City of London Police.
Business Crime & Fraud
Partner Kiran Mehta acted for and advised a Middle Eastern businessman in relation to a circa £10 million fraud on a global electrical retailer. The matter successfully concluded without any further prosecuting action being taken.
Business Crime And Fraud
Partners Kerry Spence and Leo Martin acted for the directors of a wine investment company in a boiler room fraud investigated by the City of London Police. Successful pre-charge representation including identification of key evidence to support the defence case that no criminal activity had taken place. This led to the Crown Prosecution Service recommending that no further action needed to be taken.
Business Crime And Fraud
Partner Raj Chada acted for a Barclays plc trader who was prosecuted for involvement of conspiracy to defraud by agreeing with others to rig Euribor interbank lending rate.
View all
What type of offences have HJA acted in?
Bribery and Corruption
Money Laundering
Insider Dealing or Market Abuse
Cartels and Price Fixing
Libor and Euribor and derivatives fraud and manipulation
False Accounting
Boiler Room Schemes
Land Banking frauds
Missing Trader Intra Community frauds (MTIC)
Diversion Fraud including Alcohol and Tobacco Smuggling
Tax Fraud and Tax Evasion
Wine Investment Schemes
Invoicing and factoring fraud
Telecommunications fraud
Insurance and mortgage fraud
What legislation can the prosecutors rely on to investigate and prosecute me?
There are numerous statutes which a prosecuting agency rely on to investigate and prosecute allegations of Financial Crime including:
The Fraud Act 2006
The Criminal Justice Act 1993
The Financial Services Act 2012
The Bribery Act 2010
The Proceeds of Crime Act 2002
The Theft Act 1968
The Competition Act 1998
The Enterprise Act 2002
Our experience means we have absolute mastery of these laws. This assists us to swiftly identify the defences available to you and deploy them to maximum effect. We are known to be fearless in our protection of our client's interests.
Quite often, business crime, fraud and financial crime investigations and proceedings are accompanied by Restraint and Asset Seizure action. We are experts in this field and can also help to ensure that the impact on you and your loved ones is minimised, whether through applying to discharge Restraint or Freezing Orders or through varying them to ensure you can cover reasonable expenses and minimise the disruption to your daily life, your business and your family.
As soon as you become aware that you are being investigated or prosecuted for financial crime, it is vital to secure specialist legal representation. We are available 24 hours a day to assist you in successfully navigating your way through the complexities of a fraud, financial or business crime matter.