Personal Injury
Fatal Accident Claims
At Hodge Jones & Allen we understand that the time following a loved one's fatal accident or injury can be a hugely distressing time for your family. That's why we look to make the process of claiming compensation easier, taking away some of the stress of dealing with the tragic loss of a loved one.
If your loved one has been involved in an accident which has resulted in their death this will be a devastating time for you and your family.
A death in the family is always a tragedy but a death at someone else's hand will leave those remaining feeling robbed and angry due to your loved one's untimely death.
If you believe that a loved one has died due to the result of someone else's fault then it is important that you seek early advice from your specialist fatal accident claims solicitor. They will talk you through the whole process to include what needs to be proved to be successful and what areas of compensation may be available. None of that will of course replace your loved one which is something that your specialist fatal accident claims solicitor will understand.
Call our specialist fatal accident claims solicitor today on 0808 271 9413 or request a call back.
At this extremely difficult time you will be trying to come to terms with the tragic loss of your family member but also having to deal with the immediate aftermath, not only arranging a funeral but wondering how life can ever move forward without your loved one's their support.
The law in this area has developed in a way, hat on first glance, may appear to be very cold, your specialist fatal accident claims solicitor will support you and explain everything to you.
The current law can be summarised by looking at two different Acts of Parliament which give rise to compensation for those who are left behind after the loss of a loved one in a fatal accident.
These laws give rise to two claims. The first is a claim on behalf of the Estate (the Estate of the deceased person) and the second is a claim on behalf of the dependants of the deceased.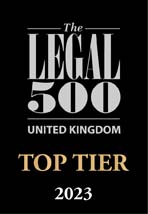 "Hodge Jones & Allen is a well known and popular claimant law firm, with a reputation for taking on complex cases that require excellent legal knowledge and courage." – Legal 500, 2023
Our Personal Injury team has been ranked in the Chambers & Partners 2023 legal directory. The team was described as "highly consistent and attentive" and were praised for providing "well-thought-through advice" our clients "could trust".
Successful case
Fatal Accidents & Injuries
Our client was riding a motorbike which hit another motorbike which was lying down in the road after a previous accident. He was subsequently hit by a car killing him.
nature of injury
fatal accident
View all
Who can bring a fatal accident claim?
There are 2 types of statutory claims under the following:
Law Reform (Miscellaneous Provisions)Act 1974
This is a claim brought on behalf of the Estate. The claim would usually be brought by the executor or administrator of the deceased's Estate.
The Fatal Accidents Act 1976
This is made by Dependants of the deceased. This may include the wife/husband/civil partner of the deceased, the former wife/husband/civil partner of the deceased, a parent of the deceased, any person who was treated by the deceased as his parent, a child or any other descendant of the deceased. It can also include any person who is or is the issue of a brother, sister, uncle or aunt of the deceased.
Can I claim funeral expenses?
There is a possibility to claim for funeral expenses but each case is considered on its individual circumstances.
Items that can usually be claimed for include General Damages (pain suffering and loss of amenity) and Special Damages which may include loss of earnings, medical expenses and potential care claims. Both Acts allow for the recovery of funeral expenses.
Fatal accident compensation amounts – how much can I expect?
Each case is assessed on its own merits and it depends on the circumstances of the death. The Estate of the deceased could claim for any suffering caused by the injuries prior to the death.
If the death was instant the award would be considerably less than someone who suffered a significant injury for a period of time and then passed away. The award for General Damages (pain suffering and loss of amenity) in many cases will be a very modest award.  The Judicial College Guidelines can provide some guidance in relation to the type of injury.
Depending on who the deceased was there may be a potential dependency claim to include earnings and income and potential pension loss.
There is a Bereavement Award that can be claimed by certain individuals such as a wife, husband, civil partner and parents where the deceased was a minor.  The award can be £15,120.00. If two parents claim this award the amount would be split between them.
For an estimate of how much you could claim for your injury, please see our personal injury compensation calculator.