Personal Injury
Serious and Complex Compensation Claims
Endorsed by the Legal 500 and ranked in Chambers UK 2022 , Hodge Jones & Allen has a strong reputation for successfully dealing with serious injury claims.
Our expert personal injury lawyers understand what help and support is available and can help you make a claim. When you contact our specialist team, our aim is to make sure you have all the support and assistance you need.
Serious and complex injury can lead to life-changing injuries, disabilities and possibly psychological injuries. We understand how distressing this is for you and your family and are here to help.
Our specialist team of serious injury solicitors have a real depth and diversity of knowledge, offering personal support, guidance, and a helping hand throughout what we understand may be an incredibly difficult time. We want to make it easy for you to make a personal injury claim, taking away the stress from what is already a difficult time.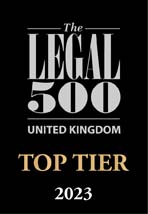 "Hodge Jones & Allen is a well known and popular claimant law firm, with a reputation for taking on complex cases that require excellent legal knowledge and courage." – Legal 500, 2023
Our Personal Injury team has been ranked in the Chambers & Partners 2023 legal directory. The team was described as "highly consistent and attentive" and were praised for providing "well-thought-through advice" our clients "could trust".
Serious & complex injuries:
Successful case
Serious & Complex Injury
Our client was walking home and as he went to cross a pelican crossing that was showing a green man, he was hit by the defendant at least 40mph who had run a red light.
nature of injury
bruising to the brain
Brain Injury
Our client suffered very severe brain injuries and was rendered paraplegic after being hit by a vehicle on a pedestrian crossing. The driver denied fault, but a few days before trial, both parties were able to agree a settlement of £4 million, which would pay for lifelong care and support for our client.
nature of injury
brain injury
damages awarded
£4 million
Serious & Complex Injury
Our client, a young woman, suffered severe internal injuries when the car she was in was hit by an HGV who had run a red light. Her injuries effectively left her infertile and whilst she had no plans to have children in the near future, her claim was settled on the basis that she should recover the full cost of 3 cycles of private IVF treatment and nursing/childcare support for at least 2 children.
nature of injury
Serious & Complex Injuries
View all
What compensation can I expect from a serious injury?
A serious injury claim is one where as a result of an accident/incident, someone's life is changed forever.
The claim will be for the injuries – the pain, suffering and loss of amenity (i.e the activities of daily living, which have been affected by the injuries) and may include past and future:
Rehabilitation;
loss of income/pension;
future medical expenses;
travelling expenses;
Care and assistance /support worker costs;
DIY, gardening and housekeeping assistance;
Accommodation/adaptations to the home;
Aids and equipment;
Costs of managing affairs.
It will be necessary to prove the claim. Expert evidence is needed to support the injuries and loss suffered.
Our experienced and specialist team are here to help. Please contact our Personal Injury team on 0808 252 5231
How to make a complex personal injury claim?
Ensure that you instruct a solicitor/lawyer who specialises in these claims. They can then advise you on the prospects of success and the injuries and losses that you can claim for.
A specialist will also be able to advise you on appropriate experts to instruct and what evidence you need to prove your claim.
Our experienced and specialist team are here to help. Please contact our Personal Injury team on 0808 252 5231
What counts as a serious injury in law?
A serious injury in law is often referred to as a life changing injury – a catastrophic injury with an immediate and prolonged effect not only on the injured person but also on their family and loved ones.
Serious injuries can involve many types of injuries as every injury can effect an injured person in different ways. Typically injuries that are referred to as serious include the following but the list is not exhaustive:
Brain injury including serious head injuries
Spinal cord injury
Amputation
Major trauma injuries including orthopaedic injuries
Paralysis
Fatal accident claims
Loss of senses including sight or hearing
Severe burns and scalding
Every serious injury is unique affecting the injured person's ability to carry out "normal" activities of daily living with effects tending to be long-lasting.  The injured person's body and mind is likely to be effected requiring round the clock care, intensive rehabilitation, specialist equipment, adaptations to the home to allow the injured to lead their best life.
A serious injury that has been caused through someone else's negligence or carelessness may entitle the injured person to claim compensation to ensure that the injured person has the financial security and access to early and targeted rehabilitation to rebuild their life and lead the best life they can with their life changing injury.