Personal Injury
Slip and Trip Compensation Claims
If you've been seriously injured after a slip or trip, you may be able to make a personal injury claim for compensation.
The consequences of a slip or trip can be minor, but can sometimes result in serious injuries such as broken bones, severe ligament damage or even head injuries which can affect your personal life. 
If you've suffered an injury that wasn't your fault, it's not all about the physical impact either. Your injury can affect your ability to work and socialise, which can be stressful and worrying.
That's why at Hodge Jones & Allen, our experienced and knowledgeable personal injury lawyers are here to help. Whether the slip or trip was an accident at work, in a shop or on the pavement, we have the expertise to help you get the compensation you're entitled to.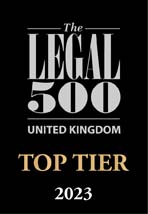 "Hodge Jones & Allen is a well known and popular claimant law firm, with a reputation for taking on complex cases that require excellent legal knowledge and courage." – Legal 500, 2023
Our Personal Injury team has been ranked in the Chambers & Partners 2023 legal directory. The team was described as "highly consistent and attentive" and were praised for providing "well-thought-through advice" our clients "could trust".
What should I do if I have had a slip or trip accident?
Depending on the severity of the injury, one of the most important things to do after an accident is to gather as much evidence as possible. This usually includes taking photos of the accident scene and obtaining witness details.
Do I need to report the accident if I'm thinking about making a personal injury claim?
Yes – an accident should be reported as soon as possible, whether this is to the local council, a supermarket or your employer.
The accident book should also always be completed as soon as possible as this is further evidence to support the case. Even if you are thinking about making a claim for compensation, do not wait to bring the case thinking that it is sufficient for your solicitor to report the accident.
Do I need to seek medical attention or will my solicitor arrange this?
In cases involving serious injuries, treatment should be sought immediately. In other cases, it is still important to obtain medical attention straight away. Whilst treatment can be organised through the claim this often happens at a later date.
It is important for individuals to report the accident to their GP or hospital as we will request the medical attendance record to support the case. It also shows that the injured person is doing everything they can to get themselves better.
When should I bring a case?
Whilst an individual has 3 years from the date of an accident to bring a personal injury claim (a child and other protected parties have longer), it is always best to bring the case as soon as possible. Do not wait thinking that you have 3 years. Claims are often stronger the sooner they are brought.