Medical Negligence
Birth Injury Compensation Claims
The birth of a new baby is a very special time for parents and indeed the whole family. If things go wrong, either during the pregnancy or birth, the effects can be devastating.
If either the baby or the mother suffers an injury due to Medical Negligence then you will be entitled to make a claim for compensation. 
Our Medical Negligence team have personal backgrounds in the medical field and understand the confusion and worry that a birth injury can present. We can help you with your claim and get the compensation and assistance you deserve.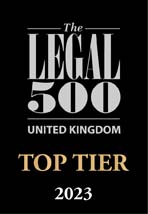 "Hodge Jones & Allen have a team of experienced and dedicated clinical negligence practitioners. They offer an excellent service to their clients and are highly empathetic. They persist in investigating claims where other firms might not." – Legal 500, 2023
The team has been ranked in the Chambers & Partners 2023 legal directory. The team was described as "very friendly, approachable, client-focused", and whose "client care is really excellent."
Call our specialist Medical Negligence Claims team today on
0808 271 9413
or request a call back.
What types of birth injuries a baby can suffer?
Birth trauma
C-section Injuries
Caput Succedaneum
Cognitive Developmental Disabilities due to birth injuries
Epidural Birth Injuries
Fetal Lacerations
Folic Acid Deficiency Anaemia
Forceps Delivery Injury
Group B Strep Infection
Horner's Syndrome
Hydrocephalus
Infant Bell's Palsy
Infant Bleeding of the Brain
Infant Brain Ischemia
Infant Broken Bones
Infant Cephalohematoma
Infant Chorloamnionitis
Infant Cystic Fibrosis
Infant Hypoxic Ischemic Encephalopathy
Infant Meningitis
Infant Shoulder Dystocia
Infant Skull Fractures
Infant Spina Bifida
Infant Spinal Cord Damage
Infant Subconjunctival Hemorrage
Infant Torticollis
Intellectual Disabilities in Babies and Children
Kernicterus
Klumpke's Palsy
Maternal Infections
Meconium Aspiration Syndrome
Neonatal Stroke
Persistent Pulmonary Hypertension of the Newborn
Placental Birth Injuries
Vacuum Extraction Injury
Wrongful Birth
The most common type of Birth Injury is Cerebral Palsy.
What Can I Claim Under Special Damages?
Care from mother and father. This is sometimes called 'gratuitous care'. The parents of a child with Cerebral Palsy are entitled to claim for the additional care that their child needs due to the Defendant's negligence. This is often a very substantial sum because it includes both past and future care. We will assess each case individually as no two claimants are ever in the same situation. We will calculate the support that you child has received and will require in the future. This claim can be made in addition to a claim for professional carers (see below).
Professional care. Although the mother and father often want to be hands on carers for their child, the reality is that they will need assistance from paid carers. Depending on the level of disability, a team of carers will often be needed, perhaps working on a rota basis. Carers employed on a rota on day and night shifts are, of course, a very considerable cost. This part of the case is usually of the highest value. It is an area for dispute between the experts and need careful assessment by the Lawyers instructed by the Claimant.
Accommodation. Children with Cerebral Palsy may be wheelchair dependent as a result of their condition. As a result they will need to claim compensation for new alternative accommodation or have adaptations made to their current home.
A claim for new accommodation is often the first issue that needs to be addressed if negligence is admitted by the defendant. Often, we would seek an interim payment at an early stage to assist the family.
Often we would seek an interim payment at an early stage to assist the family.
Physiotherapy. Children with cerebral palsy need intensive physiotherapy. This may be a need they have when they are young of the claim involve a lifelong requirement for physio. The claimant is entitled to claim for such costs in the private sector and does not have to rely on the limited physiotherapy which might be offered by the NHS.
Occupational therapy. Occupational therapists advise and assist claimants with everyday activities – such as toileting issues. They can develop strategies to assist with independence. This is usually claimed for on a private basis so that the family does not have to rely on the NHS.
Case manager. Many families find that they need help in managing the care of their child. They need the services of a Case Manager. They will be responsible for coordinating the carers, physiotherapists, occupational therapists and speech and language therapists. They can make all the necessary arrangements in terms of managing recruitment of staff, managing payroll and dealing with HR issues. They provide an incredibly useful service to both the parents and staff and act as a hub to circulate information.
Loss of earnings. Mild Cerebral Palsy may limit the job opportunities available to the Claimant. A more severe form of Cerebral Palsy may mean that they will never be able to work. In these cases the claimant will be entitled to claim for loss of earnings. In some cases the court will consider the occupations of the mother, father or siblings to establish what the claimant's likely earnings may have been. Future wage losses can be claimed from 18 to retirement age, so this aspect of the claim can be substantial.
Aids and equipment. A claim can be made for mobility aids, such as wheelchairs or other specialist equipment. Again, it is recognised that the NHS provision is limited and the claimant is entitled to claim for aids and equipment costs on a private basis.
Private therapies. Many families find that the NHS is limited in what it can offer their child. This may be due to geographical issues or a lack of resources. If this is the case then the family can make a claim for the costs of such therapy in the private sector. This might be any kind of therapy – from orthopaedic surgery to sensory therapies.
Transport. Claimants will often need a specialist vehicle such a Volkswagen Caravanelle, a Mercedes Vito or other similar type of vehicle. The vehicle may well need to be adapted to the needs of the claimant. When submitting the compensation case, Hodge Jones & Allen will include a claim for the need to replace the vehicle on a regular basis over the claimant's lifetime.
Can I Bring A Claim On Behalf Of My Child?
Any injured person under 18 is considered to be a child. They are considered unable to have 'capacity' to conduct the claim themselves and deal directly with Solicitors.
A claim involving a child is therefore conducted by a litigation friend, who acts on the child's behalf. A litigation friend is often one of the child's parents or a guardian, however anyone that the Court deems suitable can be a litigation friend, for example a relative or family friend, a Solicitor or someone who has a Lasting Power Of Attorney.
Before a Court appoints someone as a litigation friend, it will assess whether that person meets certain criteria to ensure they can do the job properly. The Court must be satisfied that the person in question:
does not have any conflicting interests with the child's interests
can fairly and competently conduct proceedings on the child's behalf
agrees to pay any costs that the child may be ordered to pay
If you wish to apply to be a child's litigation friend, you must file and serve a certificate of suitability. This is a form which asks you to formally consent to act as a litigation friend, and sets out your suitability for the role.
If the child reaches the age of 18 during the claim, the litigation friend's authority to act on their behalf ceases. All the parties involved in the proceedings will need to be notified, and the former child will need to sign a statement that they intend to carry on with the proceedings.