Personal Injury
Personal Injury Support Groups
The personal injury service at Hodge Jones & Allen is so much more than just helping you with your personal injury claim. We work alongside various nationwide charities and community networks to offer holistic support to people who have had their lives turned upside down by an injury.
Our personal injury lawyers aren't solely focused on getting you the compensation you deserve. Beyond that, we understand you may need to make practical changes to accommodate for your injury.
We currently actively support and work with organisations that provide case worker support including the Child Brain Injury Trust, Sudden Bereavement Helpline and Brake, the road safety charity.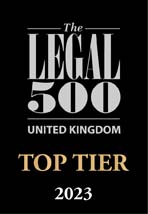 "Hodge Jones & Allen is a well known and popular claimant law firm, with a reputation for taking on complex cases that require excellent legal knowledge and courage." – Legal 500, 2023
Our Personal Injury team has been ranked in the Chambers & Partners 2023 legal directory. The team was described as "highly consistent and attentive" and were praised for providing "well-thought-through advice" our clients "could trust".