Personal Injury
Leading Personal Injury Solicitors in London
If you have suffered a personal injury, our team of personal injury solicitors can help. Our experienced team are based in London and have a nationwide reach.
We're recognised as some of the country's leading injury accident claims and accident injury solicitors, with over 40 years' experience helping clients and their families throughout the nation who have suffered personal injury through no fault of their own.
Our incredible track record of successful settlements of personal injury claims across the UK has garnered fantastic reviews from our clients as well as a number of awards and commendations, including consistently high rankings from trusted legal research firms such as The Legal 500 and Chambers & Partners. Our specialist personal injury claims team is accredited by APIL (Association of Personal Injury Lawyers) and many of our team are individual members of The Law Society Personal Injury Panel.
Our accident claim solicitors can help you get the compensation you deserve, should you fall victim to accident or personal injury. We cover a wide range of specialisms within personal injury, from workplace accidents to car accident claims, and because we work on a no win, no fee basis, our accident claims services carry no financial risk for you.
Call us today on 0808 271 9413 or request a call back.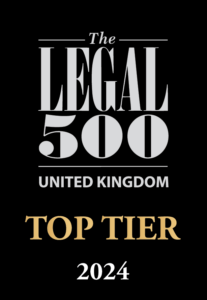 "Hodge Jones & Allen is a well known and popular claimant law firm, with a reputation for taking on complex cases that require excellent legal knowledge and courage." – Legal 500, 2023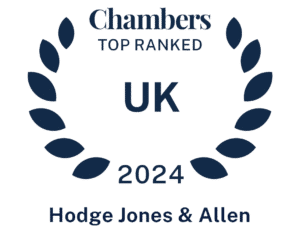 Our Personal Injury team has been ranked in the Chambers & Partners 2024 legal directory. The team was described as "very attentive in every regard" and were praised for providing "solid advice tailored to each request."
Personal Injury Services:
Specialist solicitors from our personal injury team explain how they work closely with you throughout the personal injury claims process to help get your life back on track.
Successful cases
Bike Accident Claims
Our client was cycling in London when a car coming from the opposite direction, pulled across his path into a parking bay and knocked him off his bike.
nature of injury
Open spiral fracture to right leg
Fatal Accidents & Injuries
Our client was riding a motorbike which hit another motorbike which was lying down in the road after a previous accident. He was subsequently hit by a car killing him.
nature of injury
fatal accident
Post Traumatic Stress Disorder
Our client was employed as a forklift truck driver. His work colleague was operating a forklift truck and moving a concrete block (of an estimated weight of 2 tonnes) when he dropped it onto some timber, which fell, injuring our clients leg and crushing his ankle. As result, our client sustained significant physical problems and psychological symptoms.
nature of injury
Post Traumatic Stress Disorder
Serious & Complex Injury
Our client was walking home and as he went to cross a pelican crossing that was showing a green man, he was hit by the defendant at least 40mph who had run a red light.
nature of injury
bruising to the brain
Passenger Injury Claims
Our client was a passenger in a car. Unbeknown to the client, the driver of the vehicle was driving without insurance. The driver of the vehicle in which the client was travelling was speeding and he lost control of the car and crashed into a lamppost. The client suffered significant injury. The client was not wearing a seat belt and was ejected from the car.
nature of injury
fractured skull
Motorbike Accident Claims
one of our clients sat as a pillion passenger on a motorbike, driving on the main road. As a result of dangerous driving, a car pulled out of a side road and collided with the motorbike, knocking our client unconscious. Our client sustained complex regional pain syndrome from this accident. If the driver had been more careful and aware of their surroundings, this accident would not have occurred.
nature of injury
complex regional pain syndrome (CRPS)
Cycling & Bike Accident Claims
The Claimant was cycling along Albert bridge, he was waiting for the traffic lights to turn green before he cycled off the bridge. When the lights turned green, the Claimant proceeded forward. Then the Defendant came from the right hand side and collided with the Claimant, in result, knocking him off his bike on to the road. This caused the Claimant to sustain injuries and losses.
nature of injury
ligament pain & bruising
damages awarded
£20,380.90
Accidents Abroad & On Holiday
Our client was staying at a hotel during her visit to London. Three days into the trip, the client stepped into the bathtub, when the water was not turned on, and as she stepped in, she slipped and fell down. The client advised that there were not any handles on the wall or the tub to help her get in. Since the accident, she has not had time off from work, and the injury has affected her workload. She also has to get friends to take her shopping and do her chores for her, as she cannot drive and carry out everyday tasks.
nature of injury
broken ankle
Accidents in Public Places
Our client was walking to work on a day when it was raining heavily. He stepped on newly laid marble flooring outside a restaurant which was very extremely slippery causing him to fall heavily onto the ground.
nature of injury
complex fracture to the dominant right wrist requiring reconstructive surgery
Road Traffic Accident
Client hit on the leg by a reversing car. She had an operation on her knee and a plate was put in. She will not be able to walk for 3 months.
nature of injury
broken knee
Road Traffic Accident
Our client was a pedestrian standing on the pavement when a car mounted the pavement and collided with him. As a result, our client had four broken toes, a crushing injury to his heel and his instep and had to undergo a number of skin graft operations. He continues to suffer from his injuries and requires assistance with many crucial aspects of living.
nature of injury
client suffered a degloving injury to his left foot
Passenger Injury Claims
Our client was a rear seat passenger involved in a road traffic accident. The driver of the car in which he was travelling was speeding and then lost control on a bend colliding with a telegraph pole at high-speed. He was sitting behind the driver and was not wearing a seatbelt.
nature of injury
post traumatic stress disorder
Accident at Work
Our client had recently returned to the work place as a trainee chef, after a break due to ill health. His colleague spilt water on the kitchen floor causing him to slip and land heavily on his left arm.
nature of injury
post traumatic stress disorder
Accident at Work
The Claimant was working on site installing signal cable. He was asked by his supervisor to go down a 15 foot hole with some cables. There were foot wells down the hole for him to stand on. However, someone from one of the sub contractor companies had tied rope to the foot well, and on this occasion the ropes had incorrectly been tied across the hole and onto the foot well, which is used to climb in/out of the hole. The Claimant was stepping up to exit the man hole, and placed his right foot on the rung. Due to the ropes being tied to the footwell, he slipped and his body became tangled in the ropes.
nature of injury
Dislocated knee and ligament damage
Brain Injury
Our client, a Swedish national, was walking near Waterloo Station in the early hours when he was struck by a taxi, causing catastrophic injuries, including a severe traumatic brain injury, multiple skull and facial fractures, nine fractured ribs and punctured lungs. His injuries have had a major impact on his quality of life, as he is unable to work and requires 24/7 care.
nature of injury
catastrophic brain injury
damages awarded
£2.78 million (32 million SKR)
Personal Injury
Our client whilst away in a hotel contracted legionnaires' disease as a result of poor water and ventilation system. On returning home, they started to experience flu-like symptoms and spent two weeks under intensive care.
nature of injury
Legionnaires' Disease
Personal Injury
Our client had an accident in their home. They opened a newly-installed window which came away from its fixings and as a result fell on their head and pinned them to the floor, which in turn knocked them unconscious. Our client initially appeared to have memory/amnesia symptoms. Paramedics were called as they appeared confused and forgetful, so were taken to hospital and treated for a head injury. In the weeks following the incident our client had ongoing neck pain, migraines, headaches and concussion, which required medication.
nature of injury
neck injury, minor head injury symptoms, concussion, headaches & migraines.
Personal Injury
Our client was loading a dumper truck onto the back of a lorry when they slipped off the lorry and their arm was crushed by the roll bar of the dumper. The colleagues who were with them at the time helped to get them up and call for an ambulance. Our client completely broken 2 bones in their lower arm, had to have a skin graft and their blood vessels were severely damaged near their wrist. Our client had to have multiple operations and whilst their walking and hand movement is still limited, they hope to recover movement with ongoing therapy.
nature of injury
Arm crushed at work
eye injury
Our client works for a large supermarket chain as a maintenance technician. He was instructed to clear a yard of rubbish into a skip. As he was dismantling a wooden crate with a crowbar it ricocheted towards his face and hit him with force in the forehead and eye. A risk assessment had been carried out but it was not noted that goggles were required, so our client was not wearing eye protection - he sustained a major eye injury. The eye was crushed into 4 pieces, and although his eye was saved he has lost complete sight in his eye. He also suffered severe headaches, flashbacks and depression following the incident.
nature of injury
eye injury
Accidents in public places
The Claimant was cycling on his way home. As the Claimant was cycling forward near to the junction, the Defendant driver suddenly turned right without indicating, and cut right in front of the Claimant's way. As a result, the Defendant collided with the Claimant causing him to go fall onto the road. This caused the Claimant to sustain injuries and losses.
nature of injury
laceration and dislocation to knees
accidents at work
Our client suffered an accident at work. He was walking up a metal staircase, leading to an office, on site when he slipped on the wet slippery staircase causing him to fall down several steps. No caution signs were displayed to alert people to the dangers of water on the metal stairs and there were no foot grips on the stairs. As a result of the fall our client suffered a dislocated shoulder and potential ongoing nerve damage. Our client undergoes ongoing physiotherapy treatment.
nature of injury
fall on stairs at work
accidents at work
Our client was working on a construction site in London when a steel metal beam, sitting on two pieces of timber, caused a concrete slab to fall on top of him and broke his leg. He was operated on the following day to have a steel plate inserted into his leg. Since his operation, our client struggled with his recovery and has experienced difficulties with sleeping, whilst trying to improve on the weight he can put on his injured leg.
nature of injury
leg injury at work
accidents at work
Our client was a self-employed carpenter sub contracted to build a framework. Whilst on site he cleared away plywood from his working area and whilst doing so fell three metres down to the next floor. He had not been informed of the hole and, from his fall, he sustained two broken vertebrae, and required surgery to insert two rods and 6 screws to stabilise his spine. There were a good number of people working at the site but nobody made him aware that plywood had been used to cover up the hole. Our client has not worked since the accident and struggles with many daily tasks that, before his accident, he would have found find quite easy to undertake. Further surgery has been undertaken and physio is ongoing.
nature of injury
sub-contractor injured on work site
accidents at work
Our client was working for a major housebuilding company. He was instructed by the site manager to fit some low drains and drop drains. Our client asked whether he was able to not perform this task, as it was raining and the building was on slanted; he believed it to be unsafe. The site manager still instructed him to do this as there was an inspection the following day. Our client proceeded to do the work and had to use only a set of ladders as there was no scaffolding erected. His foot slipped off the ladder due to the wet weather and he fell. His leg got caught in the ladder as a result, causing him leg injuries and financial losses. He had two surgeries to insert metal rods into his leg and spent around 3 weeks in hospital in total. He was not able to walk freely on the leg before about 8 weeks and is currently using a crutch to get around the home. As part of his recovery, he has now started physiotherapy.
nature of injury
broken tibia and fibia
road traffic accidents
Our client was passenger in a car, travelling in the rear when the vehicle was involved in a high speed collision on the motorway. As a result of the incident our client suffered a significant fracture to her neck. Initially she could not move her fingers and toes or feel her limbs in the aftermath of the accident. She wore a brace for a few months and then underwent physiotherapy. After a period of long-term care, the client was advised that she did not require an operation on her neck which was a huge relief and our client continued with her physiotherapy and made an exceptional recovery. The accident did, however, affect her life in many ways, including disrupting her education. Our client was not wearing a seatbelt, at the time of the accident, and medical evidence indicated that the injuries would have been lessened had she been doing so. When settling the claim consideration was given to pain, suffering, loss of amenity, physiotherapy charges, private treatment costs, potential loss of earnings and potential future loss of earnings.
nature of injury
Road Traffic Accident
accidents at work
Our client was working as a waitress in a restaurant. She went to wash her hands at the end of the shift. A tap was already running by a chef who had been using the sink. The Claimant placed her hand in the sink to wash and the water was piping hot and caused a burn injury to her right dominant hand. Our client was unaware that the water would be so hot and there were no warning signs in place to indicate that the tap could reach such high temperatures. Liability was admitted by the Defendant. Our client was assessed by a plastic surgeon and a clinical psychologist. She sustained burns to the right hand and scarring. She also suffered from Post-Traumatic Stress Disorder and had a course of CBT treatment which helped her to recover from the psychological symptoms. Fortunately the scarring improved significantly 2 years following the accident.
nature of injury
burns and scarring
road traffic accidents
Our client was waiting on the pavement at a bus stop. He had his back to the oncoming traffic when a car mounted the kerb and hit him, knocking him over. He sustained soft tissue injuries to his neck, left shoulder and arm.
nature of injury
soft tissue injuries to neck, left shoulder and arm
road traffic accidents
Our client was out jogging with his headphones on along his usual route. He was crossing a side road when a bus turned into that road and into collision with him. Liability was denied in full on the basis the driver alleged that our client suddenly appeared before him giving him no opportunity to avoid the collision. Our client suffered a moderately-severe traumatic brain injury (TBI) evidenced by a right occipital skull fracture with bilateral subarachnoid haemorrhage and subdural haematoma, a brief period of immediate loss of consciousness, initially reduced GCS and a period of post-traumatic amnesia lasting up to 24 hours. Multiple rib fractures. A comminuted fracture of the olecranon (left elbow) and an injury to the left ring finger. He suffered a psychological injury.
Read more
nature of injury
traumatic brain injury
accidents in public places
We represented a client who had been to a stadium to watch a rugby match. When the client left the stadium, she was walking along the road to get back to her car. As she was walking, she tripped over a raised paving stone. She sustained a laceration to her left knee requiring 13 stiches and was left with residual scarring and pigmentation. A claim was submitted and liability was admitted about 2 months after being submitted. Our client became self-conscious about the appearance of her knee. For example, she would no longer wear skirts above the knee. As part of the claim she recovered the costs of camouflage make up which is used to help disguise the appearance of the scarring.
nature of injury
laceration to left knee
damages awarded
£23,520.00
accidents in public places
We represented a Claimant who had an accident whilst wakeboarding and sustained a serious eye injury – retinal detachment and a secondary retinal detachment as well as facial scarring. The Claimant required surgical intervention to treat the retinal detachments after which their eye symptoms and vision gradually improved. Expert evidence concluded the Claimant was at an increased risk in the future of developing early onset cataracts and would need surgical intervention for this. The Claimant was also psychologically affected and required counselling. The Claimant required time off work to recover following the accident and surgeries that led to a significant loss in commission earnings. Liability was in dispute however the Defendant Insurer funded rehabilitation which helped to progress the Claimant's recovery. Damages were agreed, and we secured the cost of future surgery which will allow the Claimant to have the necessary treatment on a private basis.
nature of injury
retinal detachment and facial scarring
damages awarded
£75,000.00
road traffic accident
We represented a client who was injured when he was knocked off his push bike. The Defendant driver had stopped and allowed his passenger to open their door into our client's path. Our client sustained soft tissue injuries to his ankle, wrist and back. He was unable to work for 4 days. The medical expert was of the opinion that he made a complete recovery within 4 months of the accident. Liability was initially denied on the basis that the driver's dashcam did not show the accident. This was challenged as the dashcam was only forward facing and would not have shown an accident which took place at the side of the vehicle and ultimately the insurers agreed to deal with the claim without making a formal admission of liability.
nature of injury
soft tissue injuries to ankle, wrist and back
damages awarded
£3,200.00 
road traffic accident
We represented a client who was standing on the pavement at the bus stop with his back to the oncoming traffic when the driver of the bus mounted the kerb and collided with our client causing him injuries. He sustained soft tissue injuries to his neck, left shoulder and left arm and PTSD for which Cognitive Behavioural Therapy (CBT) was recommended. Our client was a minor at the time of the accident and his injuries restricted his sporting hobbies for up to 6 months. Liability was admitted for the accident and medical evidence was obtained from a Consultant Orthopaedic expert and a Consultant Psychologist. An MRI scan was recommended and arranged in order for the Consultant Orthopaedic expert to provide his final prognosis on our client's injuries. Settlement was agreed. This was a global offer from the Defendant's insurer. Our client turned 18 during the claims process therefore an infant approval hearing was not required.
nature of injury
soft tissue injuries to neck, shoulder and arm & PTSD
accident at work
Our Client was working as a prison officer when he was stabbed by an in-mate twice, once in the back and again on the back of the tricep muscle on his left arm. Our Client was taken to hospital for treatment. Both stab wounds were cleaned and stitched back together, with antibiotics prescribed. He also suffered with back pain. When he returned to work, he was put on the segregation unit and had to assist the prisoner who had stabbed him. This caused a severe psychological injury. The trauma of the incident caused anxiety for our client but, his employer failed to offer any support with his mental health. He was unable to work for a year due to ongoing psychological conditions. Due to experiencing high levels of anxiety, our client stopped working there - he wasn't provided any support in regards to his mental health. The employer failed to provide any psychological help/support and our client was unable to work for 12 months. To manage a return to work, the former Prison Liaison Officer has now established himself in a self-employed role, but his earnings are less than his previous role.
nature of injury
prison officer stabbed
damages awarded
37,500.00
Accidents in Public Places
We represented a client who had an accident as a customer in a supermarket who tripped over a cardboard box that was left on the floor. Liability was admitted for the accident but an allegation of 40% contributory negligence was raised by the Defendant. This allegation was disputed and the client was advised that no more than 20% contributory negligence should be conceded when agreeing a settlement figure. As a result of the accident the client sustained a shoulder injury and the fall aggravated an underlying degenerative change. The client was examined by an orthopaedic surgeon who concluded that in the absence of the accident he may have developed a mild degree of symptoms in the long term and that the acute symptoms were 50 to 70% related to the accident.  He considered overall there was a 2 year acceleration period and that his remaining symptoms would be permanent. Settlement negotiations went back and forth and the claim settled.
nature of injury
shoulder injury & underlying degenerative change
damages awarded
£7,000.00
Accidents at Work
We represented a client who had an accident at work in a warehouse. Our client was wrapping pallets and as he walked around a loaded pallet, he tripped over a pallet that had been left lying around. Liability was initially admitted by the Defendant insurer subject to an allegation of 50/50 on liability. Our client disputed this allegation on the basis he had not received training. He did concede that he should have been aware of his surroundings and we resolved the issue of liability as 80/20 in our client's favour. As a result of the accident, our client sustained a right hip fracture. He was examined by an orthopaedic surgeon who considered that he would be restricted with the right hip for 2-2.5 years following the accident and thereafter he would be able to do everything. After negotiations the claim settled.
nature of injury
nature of injury
damages awarded
£18,000.00
View all
Do I qualify to make a personal injury claim?
If you have suffered an injury as a result of another person's negligence, you have a legal right to make a claim for compensation.
The amount of compensation you receive will reflect the seriousness of the injury. Compensation may be awarded for ongoing medical care, lost earnings and other expenses that can make a massive difference to your life at a difficult time. Try our personal injury compensation calculator to see how much you could claim.
Of course, it can be difficult to know when you have a valid case. If you think you might have grounds to make a personal injury or accident claim, get in touch with our specialist team of accident injury solicitors and we'll be able to offer you an honest analysis of where you stand.
How do I start a personal injury claim?
We follow a simple, easy-to-follow personal injury claims process as detailed above under "Our personal injury claims process" section.
As far as you're concerned, your claim starts by getting in touch with our team. From there, we'll look to get a full understanding of your case, advise on whether we think you have grounds to make a claim and offer the best course of action.
As for the rest of the legal process, we'll be there to guide you through the whole thing and take care of all of the complexities involved.
Who pays the compensation?
If your personal injury claim is successful, the party who is at fault will pay. In most cases, that party in question will have an insurance provider who we will negotiate with on the compensation number.
Try our personal injury compensation calculator to learn more about how much you could receive.
How much will a claim cost me?
Under a 'no win, no fee' agreement, you will only pay for our services if you win your case and receive damages. If you lose your case, your accident claim will not cost you any money in legal fees. Alternative funding options are also available to you depending on the circumstances of your case. We can explore these with you when you call.
Hodge Jones & Allen will arrange an insurance policy for you. The policy covers any liability to pay for disbursements and the costs of your opponents. The premium for the policy is self-insured, which means you do not have to pay for the policy in advance.
How long does a personal injury claim take?
A personal injury compensation claim can vary in terms of how long it will take to complete. Generally speaking, the length of your case will depend on a number of factors. These include:
The extent of the injuries faced
The length of time you have been in hospital and/or at home and off work
Care required
Whether the other side denies responsibility
For a very simple claim, where there is an admission of liability and the injury is relatively minor, this can be a matter of weeks.
If there is no admission of liability and the injuries are more serious, cases can take considerably longer. This is because the case will involve more in-depth evidence gathering and consultation with experts. It may also be necessary to issue court proceedings.
Our personal injury solicitors will be able to give you a better idea of timescales once you have told them more about your case and we will keep you updated throughout the process.
Is there a time limit for making a claim?
With any personal injury claim, there are strict time limits that need to be adhered to. You typically have three years after the injury occurred, which is usually the date of the accident, to make your claim. Learn more about personal injury time limits here.
There are some exceptions to this rule for claims for medical accidents (known as medical negligence), where the injury or condition may not become apparent for years. In these circumstances, the time limit period may begin on the date that you became aware.
What makes a successful claim?
To make a successful personal injury claim, you need to provide clear and compelling evidence that establishes the fault of the other party in the incident beyond all reasonable doubt.
We can advise you on how likely your claim is to be successful when we first talk to you, but a typical personal injury case will rely on the strength of evidence sources, such as independent expert medical opinions and witness statements. It's essential that the evidence you provide is fully honest in its nature, as cases where one side has been found to be 'fundamentally dishonest' can lead to you being personally financially liable in defeat or being embroiled in contempt of court proceedings.
Our accident injury solicitors will take care of compiling all the relevant evidence for you to ensure your case is as strong as it possibly can be.
What's the difference between general and special damages?
Personal injury compensation is assessed by looking at two types of settlement.
General damages – the actual injury element of the settlement
Special damages – the financial losses that flow from the injury
General damages
This covers damages for the physical and/or mental pain and suffering, disfigurement or impairment, and lowered quality of life (due to physical and mental limitations, such as no longer being able to undertake previous favourite sports or hobbies).
Special damages
Special damages take into account the financial losses that are a direct result of your injury. The most obvious instance of special damages is the loss of earnings due to incapacity to work. This also includes remuneration if the medical evidence indicates that you are unlikely to work in the future. A pension loss calculation may also be appropriate.
Additionally, the time a loved one spends looking after you in the immediate aftermath of the accident can be recovered. Treatment expenses, such as physiotherapy, cognitive behavioural therapy (CBT), prescription costs, unused gym membership, travel expenses to and from the hospital and damaged items of clothing also fall into this category.
This is not an exhaustive list as every case is different. We will discuss this with you and make sure that all financial losses that can be recovered are included.
What are disbursements?
Disbursements are costs that our solicitors will have to pay to third parties to help prepare for your case, such as hiring a medical expert or court fees. Disbursement fees are covered by the losing side or insurance, meaning you won't be liable for them when represented by us.
What compensation do I receive if I win my case?
You will receive damages awarded, plus fixed or assessed costs
You will not recover the insurance premium, our success fee and some basic charges
We aim to keep deductions to a minimum, these will include any unrecovered costs
For more information about how much compensation you could receive, try our compensation calculator.
What do I have to pay if my claim is unsuccessful?
With a self-insured premium, you do not have to pay the cost of insurance
All costs are waived ('no win, no fee')
Your disbursements will be paid by insurance
Under the rules of the court, your opponent's costs are not payable by you unless:
Proceedings have been struck out
Your claim is found to be fundamentally dishonest
Your claim includes a claim for the financial benefit of someone else
NOTE: You will not have to pay any expenses as your case proceeds, Hodge Jones & Allen will pay them on your behalf.
Can I make a claim if I was injured while abroad?
Yes, you can make a personal injury claim if you were negligently injured while abroad on holiday or for work. As your injury occurred outside England and Wales, the law of the country where you were injured may apply. Our specialist solicitors will be able to advise you directly when you call us, and we have extensive experience in working on accident claims outside of the UK.
What types of personal injury can I claim for?
If the accident was not your fault but rather through the negligence of someone else, we can make a claim against them directly or against their insurance company.
You can claim compensation for different types of physical and mental injury. Broadly speaking, most personal injury claims fall into the following areas:
However, there are many more specific personal injury types that can be claimed for. Take a look at our section above on personal injury claim specialisms to get a more detailed understanding of the areas our accident injury solicitors cover.
How much compensation from a personal injury claim can I expect to receive?
The compensation awarded to you will be dependent on the type and seriousness of your injury, as well as the circumstances around the incident. How compensation from personal injury cases is calculated depends on the individual case and includes loss of earnings and medical expenses.
Take a look at our personal injury compensation calculator and successful case studies above to get an idea of the compensation amounts we have successfully earned our clients for varying types of personal injury.
What is a 'no win, no fee' personal injury claim?
A 'no win, no fee' or Conditional Fee Agreement are needed in the vast majority of personal injury cases. This type of agreement means you will not be required to pay legal fees if your claim is unsuccessful.
Learn more about no win no, fee personal injury claims here. 
Will I need to have a medical examination?
Yes, we will need to see your medical records and you will need to undergo a medical examination. This isn't something to worry about, however, as all necessary procedures will be arranged for you and will be conducted by a medical expert.
Our personal injury solicitors will always want to achieve the best possible outcome for you and they will spend time gaining all the relevant details from you regarding the incident and your injuries. They will wish to understand early on the injuries you have sustained, any complexities and how long it is likely to take for you to recover and whether there will be any lasting injuries or effects that you will need to deal with.
A thorough medical examination can help our accident claims solicitors attain this understanding and pursue your claim accordingly. Give the team a call and they will discuss the procedure in more detail with you. We want to make sure all our clients completely understand the process and are clear on every step they will need to take.
Will I need to go to court?
Whilst the majority of personal injury claims settle without the need to issue Court Proceedings, there are some instances when it is necessary.