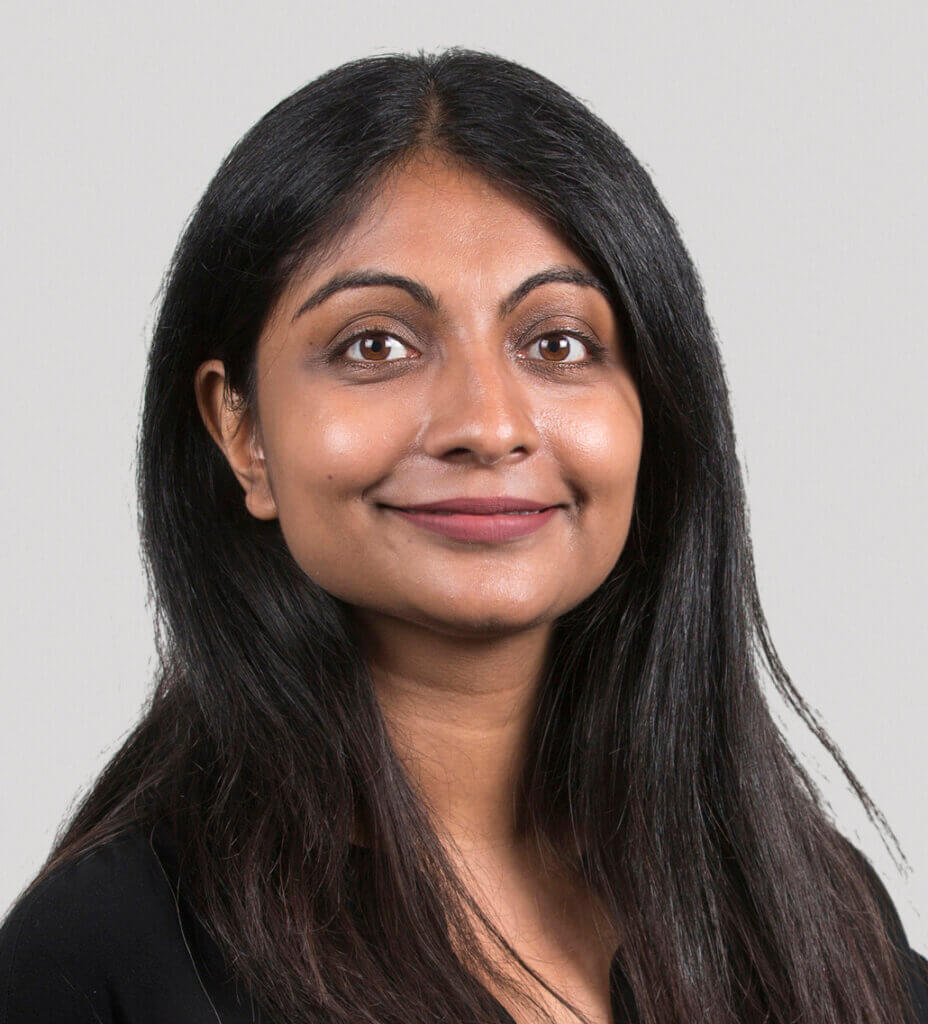 About Usheena Patel
Usheena joined Hodge Jones & Allen in April 2014. She qualified as a Solicitor in July 2012 and specialises in dealing with a variety of Personal Injury cases to include Road Traffic Accidents, Employers Liability and Public Liability cases.
Usheena also has valuable experience in managing litigated and complex cases as well as assisting on Multi Track and Catastrophic injury cases.
"The service I received from Usheena Patel was faultless as she really explained all of the legal processes during my case and was always on hand to answer the many questions I had."
Notable Cases
A 61 year old chef who suffered a fall whilst walking down a narrow staircase which was in a poor condition. He sustained a right knee injury which accelerated a patellofemoral joint degeneration which was previously asymptomatic by a period of three to five years. The Defendant admitted liability for the accident and the Claimant was awarded £47,500.
A 68 year old lady who slipped on wet floor during a visit to her local supermarket causing a rotator cuff shoulder injury which required surgical intervention. The case settled for £22,000.
A 57 year old pedestrian who was hit by an oncoming vehicle when he stepped out into the road. He sustained a dislocated glenohumeral joint which resulted in a prominent deformity on his shoulder. The Defendant Insurers initially admitted liability and thereafter withdrew their admission. Liability was agreed on a split liability basis, 25% in the Claimant's favour. The Claimant received £3,000 in damages.
A 65 year old male who tripped over a pothole and suffered a fractured nose. He underwent surgery to realign his nose and was left with a deviation to his nostril. The Claimant received £5,500.00.
A young carpenter who was struck in the mouth by a falling hammer whilst at work. He suffered loss of his four upper front teeth which required replacing. The claim settled for £8,734.64.
A kitchen assistant who slipped on cooking oil at work and sustained a volar avulsion fracture from the base of the middle phalanx of the left middle finger. The Defendant admitted liability however disputed the value of the Claimant's injury. The Claimant was awarded £5,034.98 by a Judge at a quantum hearing.
A pedestrian who suffered from Downs Syndrome and Atypical Autism. The Defendant collided into the Claimant whilst she was crossing the road. She suffered soft tissue injuries to her left thumb, arm and abdomen as well as a psychological adjustment disorder. The Court approved settlement in the sum of £6,500.00.
A senior engineer who slipped at work and suffered soft tissue injuries to his right groin and thigh. The Claimant required 15 sessions of physiotherapy treatment and symptoms had a detrimental effect on the Claimant's domestic, social, personal, recreational and professional activities for around six months. The case settled for £7,500.00 after court proceedings were issued against the Defendant.
A young female who suffered an injury in a nightclub when an employee of the nightclub walked past her with a waste bag containing broken glass. The glass lacerated her thigh causing a permanent keloid scar. The Claimant's medical expert recommended surgery to improve the appearance of the scar. Court proceedings were issued and the case settled for the sum of £11,250.00.
A male who suffered a needlestick injury whilst clearing drains at work. Due to the incident, the Claimant suffered post-traumatic stress disorder and a moderate depressive episode. The Claimant's medical expert recommended Cognitive Behavioural Therapy to assist with the Claimant's recovery. The Claimant received settlement in the sum of £6,000.00.
A client who suffered an umbilical hernia during manual handling activities at work. The Claimant required surgery to repair the hernia. The Defendant disputed the occurrence of the accident however the case settled in the sum of £15,000.00 after negotiations.
I had Usheena Patel she was amazing when helping me with my personal injury claim. This was my first time having to go through something like this. She made the experience easy and stress free. I was able to get a good ending claim based on the advice she gave me.
"Usheena is an absolute star in my opinion. Had it been anyone else, I do not know if I would have received the same satisfaction. Fantastic communication throughout the whole process. Made the whole process very easy to follow and painless. Quick response to telephone calls, willing to listen even though I suspect I waffled quite a bit and the advice I was given was very much on point. I cannot comment on others that work there but I would whole-heartedly recommend Hodge Jones & Allen as long as Usheena works there."
"We were very lucky to have Usheena assigned to our case. She was professional and approachable throughout the process and we never had to chase her to do things, she was on top all the time. We would highly recommend her ."
"This firm is outstanding, my representative did an amazing job on handling my case from start to finish and cared about my wellbeing throughout my ordeal, the communication was great and understood how I felt plus she was down to earth and kept it real. Would recommend anyone to use Hodge Jones & Allen for a great solicitor as they've done an immense job with me!"
"The team at HJA showed empathy and the highest level of professionalism to my situation, and turned around a possible injustice, in my not getting compensation, for an accident the driver had admitted liability for which had seriously impacted on both my physical and mental well being… I'm extremely grateful. I wouldn't give 5 stars if it wasn't deserved and it certainly was in my case. Many thanks again Hodge Jones & Allen particularly Usheena."
"Very happy with the service they provided. [Usheena] solved my case with professionalism and managed to secure more funds from my accident that initially estimated."
"Thank you Usheena for your diligence and vigour regarding my case. And for listening and understanding what I wanted to achieve! Would highly recommend HJA in future!"
Usheena and the team were extremely helpful, focused and dedicated to help me win my personal injury claim. Usheena provided an excellent professional service throughout my claim to reach the best possible outcome. I would like to say a BIG thank to Usheena and all that have helped not to forget the time, effort, energy and hard work also giving me reassurance and keeping me updated throughout the claim.
"The service from start to finish was second to none. Usheena Patel my solicitor was incredibly professional, so efficient and friendly."
"I am very happy with the service I received. Usheena the solicitor who dealt with my case, did so professionally, swiftly and always kept me up to date with what was going on."
"So helpful, always returned my calls if they were unable to talk when I rang. Explaining everything in great detail and always friendly."
"I am very impressed with HJA from the beginning to the end. Would definitely use again."
"Ms Usheena was very helpful and definitely worked in my interest. She was very informative about everything, friendly and polite. I would be using them again if needed."
"I would like to take this opportunity to say thank you for handling my case in a very quick and professional manner and hope you have a merry Christmas and happy new year."
"Very pro active, always keep you updated with what's going on and would try get the best for you."
"This company were fantastic from start to finish, I took a few years to get to the end but this was down to the other party and not our side. Would highly recommend this company as they are friendly and caring about your case."
"Not having used a personal injuries solicitor before and it all being new. to me, Hodge Jones & Allen were very helpful and professional. They kept me updated step by step throughout, answered all my queries in a way I totally understand. The lady there that helped me Usheena Patel has been amazing, I'd recommend using Hodge Jones & Allen to all friends and family. Thanks for all the great help."
"I was injured as a result of an accident at work and with two young children and a very small support network the whole experience was really stressful for myself and my wife. However, the service I received from Usheena Patel was faultless as she really explained all of the legal processes during my case and was always on hand to answer the many questions I had, which left me more at ease to focus on my rehabilitation. I would highly recommend Hodge, Jones & Allen to anyone without hesitation!"
"Once again I would like to thank you for your true professionalism and tenacity in securing this sum, which is very much appreciated. I would have no hesitation in recommending your services to both friends and family and would like to also convey my sincere and very best wishes in all that you do in your future career."
"On visiting HJA's office I was struck by how equally courteously they treated all clients even though some were obviously in poor circumstances. I had many initial questions before signing my agreement. I visited on two occasions and had these questions fully and clearly answered by members of staff who could not have been more helpful and straightforward. I felt they were proud of their role and committed to the firm. After signing up, the solicitor who was mostly responsible for my case was Usheena Patel. She could not have been more helpful. Whenever I had a query I would receive a very prompt response with full answers to my questions. Usheena was always clear about next steps, the options available to me and the pros and cons of various courses of action. I needed two medical reports – the first was slow in coming and needed numerous corrections. Usheena made sure that the second expert delivered his report more quickly and accurately. In the end my case was settled out of court. I was well-advised about the procedure and the context for making counter offers. The sum I received was more than I had expected and it arrived promptly. Overall I feel that my case could not have been handled better in any way whatsoever."
"Hodge Jones & Allen settled my case with honesty and professionalism. They were easy to work with and explained everything clearly and kept me updated regularly. I am very grateful for all that they have done for me and would definitely recommend them to a friend or family member if they ever needed help."
"I would like to thank you for the tolerant & considerate way in which you have dealt with my `Personal Injury Claim`. It`s been a pleasure to speak & correspond with you…I will certainly consult you or your practice with any legal problems that arise in the future."
"Usheena Patel did a great job on my case, she showed interest and patience when wasn't easy to reach me. Thank you."
"[I am] very happy with outcome and helpfulness of all the staff. Sometimes it's difficult to understand the legal jargon [but] they make it easy. Usheena, one of the solicitors there helped me through everything. Thank you so much. I would recommend"
"I am very pleased with this result and most grateful for your cool head and for all the work you did to make it happen."
"From day 1 following the initial call to ascertain my claim, I have found Hodge Jones and Allen to be very professional and always there for me. My solicitor handling the case kept me well informed and on a timely basis, and have always offered me expert advice that has allowed me to make an informed choice as to how the case proceeded."
"Thank you for taking my case, and in pursuing it vigorously over the last few years, as without this guidance, I would not be where we find ourselves today."
Career & Personal Interests
Career
Minster Law, Solicitor (November 2013 – April 2014)
Quindell Legal Services (June 2009 – November 2013)
Osbornes Solicitors, Personal Injury Paralegal (August 2008 – June 2009)
Education
College of Law: Legal Practice Course (2007-2008)
University of Leicester: Law LLB Honours (2004-2007)
Personal Interests
Usheena enjoys movies & cinema, retail therapy and watching Formula 1.