Financial Crime & Regulatory
Bribery & Corruption
Bribery and corruption inquiries can be devastating for the individuals and organisations concerned. Investigations, can hugely damage reputation and business.
All UK law enforcement authorities – including the Serious Fraud Office, (SFO), the National Crime Agency (NCA), and City of London Police – have prioritised, and stressed the importance of corruption and bribery investigations.
The Bribery Act 2010 and the introduction of the Deferred Prosecution Agreements have been game changers in how UK authorities investigate and prosecute allegations of corruption and bribery. As well as the Bribery Act 2010, many investigations continue under the old regime, such as under the Prevention of Corruption Act 1906, the Prevention of Corruption Act 1916, the Public Bodies Corrupt Practices Act 1889, and common law offences of bribery.
Our Financial Crime & Regulatory team has been ranked in the Chambers & Partners 2023 legal directory. The team was described as "very friendly and professional" and "effective in the financial crime area."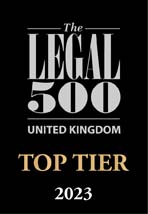 "As a firm they have a real team spirit, always sharing knowledge and experience with each other, to the benefit of their clients. They have a superbly dynamic and diverse team of lawyers in the team." – Legal 500, 2023
"HJA's criminal solicitors are amongst the leading criminal solicitors in the country. They have been involved in countless landmark cases but also in hundreds if not thousands of important protest cases in the magistrates courts."- Legal 500, 2023
Featured Cases
Bribery And Corruption
We represented a senior executive at BAE Systems during the SFO corruption inquiry into deals with several countries. Overall, there was no further action taken against the Executive after our representation.
Bribery And Corruption
We represented a defendant in criminal proceedings brought by the SFO into the Securency scandal. Securency was part owned by a UK company and the Australian Reserve Bank. It had allegedly secured contracts in relation to currency production in several countries by corruption. Joint investigation between SFO and Australian National Police, with defence investigations across Australia, Seychelles, Brazil, Nigeria, South Africa and the UK.
Bribery And Corruption
Represented an Executive in SFO prosecution into FH Bertling – The case was about corrupt payments in relation to the supply of freight forwarding services for a North Sea Oil exploration project, known as Jasmine. The executive was acquitted.
Bribery And Corruption
Represented an individual in relation to the NCA investigation into the sale by NAMA (National Asset Management Agency) of their Northern Ireland portfolio to a US Investment Fund for £1.2 billion.
View all