Personal Injury
Sports Injury Compensation Claims
If you've suffered a sports-related injury within the last three years due to an incident that could have been prevented, you may be eligible to claim for financial compensation. Our expert personal injury lawyers can help you.
Whatever sport you play, whether it is a hobby or at professional level, there's always the risk of suffering an injury. But that doesn't mean the injury is any easier to take. A severe injury can lead to time away from your chosen sport, as well as having an impact on your ability to work and your earnings.
Injuries are not just limited to players either, and can also include sporting spectators.
To find out if you are entitled to make a claim and to get expert legal advice, contact our team of experienced and knowledgeable personal injury solicitors. Our team is always on hand to help you understand the ins and outs of your claim, as well as giving you all the support and representation you need.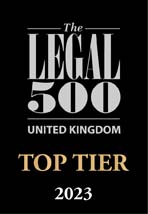 "Hodge Jones & Allen is a well known and popular claimant law firm, with a reputation for taking on complex cases that require excellent legal knowledge and courage." – Legal 500, 2023
Our Personal Injury team has been ranked in the Chambers & Partners 2023 legal directory. The team was described as "highly consistent and attentive" and were praised for providing "well-thought-through advice" our clients "could trust".
we can help.
0808 271 9413
Contact our specialist team today for a free initial telephone consultation about the process and your options. Free 24 hours a day.
What can I claim for?
In addition to compensation for your personal injuries you may be able to claim for financial losses including medical treatment costs and time off work.
To see how much compensation you may be able to claim for your injury, you can use our personal injury compensation calculator.
Will I be able to have private medical treatment to assist with my recovery?
Depending on the circumstances it may be possible to access support such as rehabilitation and physiotherapy.
How do I prove my claim?
Firstly, early reporting of the incident to the relevant body and medical agencies is important as is gathering as much documentary evidence as early as possible such as witness and photographic evidence.