Personal Injury
Will My Personal Injury Claim Go To Court?
Whilst many personal injury claims settle without the need to issue Court Proceedings, there are some instances when it is necessary. Examples are as follows:
Liability is denied and a court decision is required to determine who was responsible for the injuries and losses

Liability is admitted but the value of the claim cannot be agreed with the Defendant

The

personal injury

claim is going to be statute barred under the Limitation Act 1980

If the Defendant is unwilling to voluntarily make or offers an inadequate interim payment.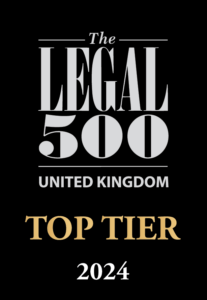 "Hodge Jones & Allen is a well known and popular claimant law firm, with a reputation for taking on complex cases that require excellent legal knowledge and courage." – Legal 500, 2023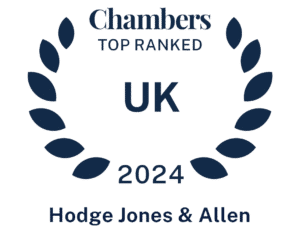 Our Personal Injury team has been ranked in the Chambers & Partners 2024 legal directory. The team was described as "very attentive in every regard" and were praised for providing "solid advice tailored to each request."
Will I actually have to attend Court and give evidence?
The personal injury claim will need to be prepared on the basis that it will go to Court.
There is however a lot of time between issuing Court Proceedings and the trial date. Negotiations still take place and the majority of cases settle without having a full Court trial or assessment hearing.
if you're in need of advice on personal injury claims call us on
0808 271 9413
or request a call back.
Back to top
What is a Joint Settlement Meeting/mediation?
The Court also promotes Alternative Dispute Resolution (ADR) and will expect the parties to co-operate and see if a settlement can be achieved. Financial penalties may be incurred if a party refuses to do so.
Where the personal injury compensation award is likely to be substantial, the parties can arbitrate/ mediate using an independent/impartial third person who can help the parties talk though the issues, or the parties can set up a Joint Settlement Meeting (or JSM for short). These meetings can be beneficial for both Claimants and Defendants. The aim is to:
Achieve an early and amicable settlement for a certain sum;

Reduce costs;

Avoid the stress and risk of attending court.
The meeting usually takes place either at the barrister's chambers or our offices (although recently some JSMs have been carried out online).
A meeting date is agreed for the Claimant and their representatives and the Defendant and their representatives to meet. Three rooms are allocated. The Claimant's team will sit in one room, the Defendant's team sits in another and the 3rd room is a 'neutral' room used by the legal teams for discussions/negotiations and to narrow the issues in dispute. Both liability (i.e. who is responsible) and quantum (i.e. the value of the claim) can be discussed.
It can be quite a long, drawn out day where offers and rejections go back and forth before a compromise is reached.
Not all personal injury claims end in agreement but many do and it can be a helpful way of concluding a case, without incurring the time, stress and expense of a court hearing.
Back to top
Will my whiplash claim go to court?
The majority of whiplash claims are settled out of court. If your opponent has accepted fault for your accident it is usual to negotiate a settlement without going to court. It may become necessary to take your whiplash claim to court if liability is denied and you wish to challenge the denial, or if an agreement cannot be reached on the amount of compensation you receive.
How long does a court claim take?
The quick answer to this question is that each claim is unique so there's no fixed timeframe. Once your claim has been issued a timetable will be drawn up by the Court and the Court will list the case for Trial. Depending on the complexity of your claim and the severity of your injuries it could take 1 to 2 years for your case to get to trial, however the majority of cases will settle before a trial takes place.
Can I withdraw my case from court?
In certain circumstances it can be possible to stop court proceedings that have been started but unless you can agree this with your opponent there are likely to be costs consequences. If you withdraw your case from court you won't be able to recover any settlement money and could end up being liable for both the defendant's costs and your own. It is therefore important that you are willing to see your claim through to the end before starting it.
Will my car accident go to court?
If the Defendant admits liability then the majority of cases settle without the need to go to court. If the Defendant denies fault for your injuries or we are unable to reach an agreement then it may become necessary to start court proceedings, however most Defendants prefer to settle out of court and very few personal injury claims end up going all the way to trial.