Personal Injury
Motorbike Accident Compensation Claims
Motorbike accidents are incredibly common on British roads. They are found to be among the most serious traffic-related accidents, with victims more susceptible to injury than other road users.
We know that the aftermath of motorbike accidents can be devastating, whether you're dealing with pain, fighting to recover from injury or struggling financially through a loss of earnings.
If you, or a loved one, have been involved in an accident on a motorbike that wasn't your fault, you may be entitled to seek a motorbike accident injury claim for the damage you have suffered as a result. You could also be entitled to claim for losses and financial problems that have occurred because of your accident.
At Hodge Jones & Allen, we specialise in helping those who have suffered serious injuries and have successfully dealt with a variety of motorbike accident claims. We work as a team to make sure our clients' needs are addressed and empathise with the strains and struggles presented, no matter what the accident may be.
We are no win, no fee motorbike accident claim solicitors, which means you'll only have to pay us if your claim is successful.
If you think we can help you, call us on 0808 271 9413 or request a call back today to find out how we can assist with your motorcycle accident claim.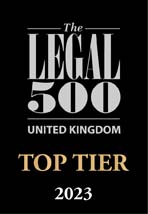 "Hodge Jones & Allen is a well known and popular claimant law firm, with a reputation for taking on complex cases that require excellent legal knowledge and courage." – Legal 500, 2023
Our Personal Injury team has been ranked in the Chambers & Partners 2023 legal directory. The team was described as "highly consistent and attentive" and were praised for providing "well-thought-through advice" our clients "could trust".
we can help.
0808 271 9413
Contact our specialist team today for a free initial telephone consultation about the process and your options. Free 24 hours a day.
Motorbike accident claim: featured case
Motorbike Accident Claims
one of our clients sat as a pillion passenger on a motorbike, driving on the main road. As a result of dangerous driving, a car pulled out of a side road and collided with the motorbike, knocking our client unconscious. Our client sustained complex regional pain syndrome from this accident. If the driver had been more careful and aware of their surroundings, this accident would not have occurred.
nature of injury
complex regional pain syndrome (CRPS)
View all
Motorbike accident claim FAQs
The time it takes for a decision to be made on your claim is dependent on the case. It can be affected by the severity of your injury, how long it takes to gather the relevant evidence and whether your opponent denies liability.
Your motorcycle accident lawyer will do everything they can to make the process as seamless as possible, but sometimes these cases can take years to conclude.
We will be able to provide you with an accurate time frame once all the information and evidence we need has been received.
How long do I have to make a motorbike accident claim?
You will have three years from the date the injury or negligence occurred to make your claim.
However, in some cases and exceptional circumstances, the court may decide to extend the time limit, depending on the individual. For example, a child has three years from their 18th birthday to claim if a parent or guardian doesn't do it on their behalf beforehand. Or, if someone lacks the mental capacity to claim themselves, someone can do it on their behalf, therefore the time limits can be changed.
For an estimate of how much you could claim for your injury, please see our personal injury compensation calculator.
Can I make a claim on behalf of someone else?
Yes – there are certain instances where you can make a claim on behalf of someone else, whether that be a child or another family member who has been severely injured from the accident, or who has sadly passed away.
What happens if the defendant denies liability?
You have to prove that the defendant is responsible for your accident in order for your claim to succeed. If the defendant denies liability, your solicitor will carry out a thorough review of your claim to make the relevant next steps and seek out justice for the right party.
What if the medical evidence does not support my claim?
It's highly unlikely that your claim will succeed if the medico-legal expert struggles to link your injuries to the accident that occurred.
However, the medical evidence you provide will possibly be found to link some of your symptoms, and therefore you will be entitled to compensation for those particular injuries that have been found as a result of your motorbike accident.
How often will I be updated on my claim?
We will always contact you as soon as we hear from your opponent(s) or if we have any crucial updates in the case. We'll also get in touch if we require information from you in order to progress your claim.
We aim to keep you updated about your claim at least once every four weeks, but if you need to contact us for any reason, your solicitor will be more than happy to answer any questions throughout the entire claim process.
I am partially responsible for the accident – can I still make a motorbike accident claim?
Yes, you can still make a claim despite being partially responsible for the accident. The liability will be split and the blame will be appointed between parties.
For example, you may be held 30% responsible for the accident, meaning your compensation will be reduced by this amount. You would then retain 70% of the total amount claimed.
What can I claim under special damages?
Professional care: The severity of your injury may require the claimant to receive additional care from paid carers and professionals. Depending on the level of disability, the claimant could potentially have a team of carers working on a rota basis. Carers who are employed on this basis can often be incredibly expensive, and this part of the claim is usually one of the highest amounts of compensation received.
Accommodation: Individuals who have received severe injuries may have become wheelchair dependent and will need compensation to adapt their home to suit their new requirements. This type of claim is often addressed first if liability is admitted by the defendant. We would seek an interim payment at an early stage if assistance were required.
Physiotherapy: The nature of the sustained injury could require the claimant to undergo physiotherapy. They would be eligible to claim for these costs through the private sector rather than relying on limited availability provided by the NHS.
Loss of earnings: The claimant's job responsibilities and opportunities may be limited by severe injuries and long-lasting effects of the motorbike accident. In this case, the claimant will be entitled to loss of earnings. In some instances, the court will consider the occupation of the claimant to establish what their likely earnings may have been.
Aids and equipment: A claim can be made for various mobility aids that are required as a result of the injury, such as wheelchairs or other specialist equipment that will aid with day-to-day life. The claimant will be entitled to receive costs for equipment from the private sector.
Private therapies: The psychological and emotional effects from an accident can certainly have an impact on your quality of life. Many people live with depression and anxiety following such an incident. The NHS can often have a long waiting list and limited resources, so the claimant is entitled to receive compensation for private therapy.
Motorbike repairs or replacement costs: Claims for motorbike damage may be covered by your own insurance, however an excess is often payable, which is something that can be recovered from the opponent. Alternatively, a claim can be placed for motorbike damage as part of special damages.
Some claimants may potentially require a specialist vehicle that is adapted to the needs of the individual. We understand the stress that this can cause, so Hodge Jones & Allen include a claim so the vehicle can be replaced regularly over the claimant's lifetime.