Medical Negligence
Care Home Neglect Compensation
Placing a family member into a care home is a very difficult decision. Many studies have shown that community-based care is best but at some stage a home can be an unavoidable option for some elderly people.
Elderly relatives often want to remain independent for as long as possible, but when the time comes to move to a care home their relatives will want the best for them.
We all want to be sure that our loved one is treated with dignity and that all their health care needs are met in a professional and caring fashion. It is devastating if the care you expect is not delivered, leading to a physical injury or medical complication.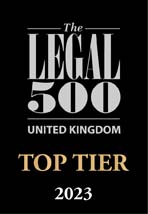 "Hodge Jones & Allen have a team of experienced and dedicated clinical negligence practitioners. They offer an excellent service to their clients and are highly empathetic. They persist in investigating claims where other firms might not." – Legal 500, 2023
The team has been ranked in the Chambers & Partners 2023 legal directory. The team was described as "very friendly, approachable, client-focused", and whose "client care is really excellent."
Contact our specialist Care Home Negligence Claims team on
0808 271 9413
or request a call back.
Why do you need a specialist solicitor?
The clinical negligence team at Hodge Jones & Allen have extensive experience of care home negligence claims.
If your loved one does not have capacity to instruct a solicitor then we can advise on the appointment of a "Litigation Friend" to provide us instructions on their behalf. They will act in their best interests in relation to any legal proceedings.
In the event that your care home claim succeeds we can advise on the instruction of a Deputy to manage their finances or in relation to a lasting power of attorney. This only applies if the injured party does not have the capacity to manage their own finances.
"They have a spirit of wanting to help people and the community. They are a very dedicated and strong team." Chambers UK, 2021
Back to top
Common care home negligence cases involving the elderly:
Poor nursing care leading to deterioration of the patient's condition.
Failure to prevent pressure sores – this is often caused by a failure to mobilise or turn the patient regularly in bed.
Pressure sores frequently can develop on the heels, elbows, hips and base of the spine. They often develop gradually, but can sometimes form in a few hours in elderly patients with mobility issues.
Poor manual handling – e.g. attempting to move a patient manually when a hoist is required.
This can lead to fall and fractures – elderly people are often vulnerable to suffering fractures of their hips due to falls.
These injuries often occur when attempting to transfer a patient from their bed to a chair or vice versa or when transferring a patient for personal care.
Negligent monitoring or supervision of patients with psychiatric problems leading to absconding and injury.
Failure to ensure adequate hydration or nutrition.
Prescription error cases – this can involve giving the wrong medication to a patient or miscommunication with a GP or pharmacy resulting in an overdose or underdose of medication. A failure to cope with complex medication, such as anticoagulants are often a cause for a claim.
Back to top
Can I bring a claim on behalf of a deceased relative?
Yes, it may possible for you to bring a claim on behalf of a deceased person. In order to do so the family of the deceased will need to obtain a Grant of Probate. Applying for Probate is a process in which forms are submitted to the Probate Office. Only when Probate has been approved does the legal system recognise the Administrator or the Executor as being able to deal with the Deceased's estate. The Grant of Probate is issued by the local Probate Registry. The process can take several weeks.
An 'Administrator' is a person who is granted Probate when there is no will in place when a person passes away. An 'Executor' is the person granted Probate when the deceased has made a will.
An Administrator or Executor is able to bring claims for all of the Dependants of as a patient who has passed away.
Once the Grant of Probate has been made the Executor will instruct Hodge Jones Allen to investigate the case. The Executor or Administrator is responsible for including all of the Deceased's dependants in the claim.
How can I fund my claim?
Although the vast majority of our cases are funded through 'no win, no fee agreements', solicitors are obliged to advise of all the available funding options. There are four possible ways of funding your claim.
No win no fee or conditional fee agreement
The vast majority of our cases pursued under a Conditional Fee Agreement (CFA), also known as a 'no win, no fee agreement'. This means that we would not charge you any legal fees unless you won your case, and would seek to recover our costs from your opponent in the first instance. The agreement permits a maximum deduction from your damages of 25%.
ATE insurance – When we are acting on a no win no fee basis we may also advise our clients to take out a specialist type of insurance called After the Event Insurance Policy (ATE insurance). This is to protect you in the event your claim did not succeed. Your solicitor will explain this in more detail if you instruct us.
Legal Aid funding
Legal aid or Public funding from the Legal Aid Agency is still available for some cases. However, Legal Aid is now limited to cases where a child has suffered a brain injury during pregnancy or birth, or shortly after birth, which has resulted in severe physical or mental disability. Legal Aid is means tested but it is the child's assets who are assessed, not the parents. Consequently, virtually all new born children will be eligible for legal aid.
Before the event legal expenses insurance – also known as BTE insurance.
Many people have this type of insurance but are unaware of it. Please carefully check any insurance policies that you have, including motor and household insurance, and credit card agreements. You should also check any union membership you have as this may include a form of BTE insurance. It is important to check these things as recent changes to the law mean that 'no win, no fee' arrangements may result in some deductions to any compensation you recover. BTE insurance can sometimes quite restrictive in terms of who you can instruct and how they can pursue the case for you.
Private funding
If we are not able to act for you on a no win no fee basis then it may be possible to instruct us to act on a private retainer.