Medical Negligence
GP Negligence Claims
Medical mistakes will inevitably have consequences and sometimes these can be life changing. If, for example, you are unable to work as a result of your injury or illness.
If your GP or nurse associated with your GP practice has given you bad advice, not taken your concerns seriously, and this has led to a delay in diagnosis of your condition, you may have a claim. If you have been given the wrong treatment, or your doctor has made a misdiagnosis as a result of which you have suffered an injury, you may be entitled to claim for compensation.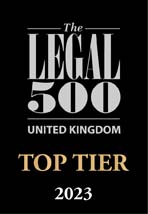 "Hodge Jones & Allen have a team of experienced and dedicated clinical negligence practitioners. They offer an excellent service to their clients and are highly empathetic. They persist in investigating claims where other firms might not." – Legal 500, 2023
The team has been ranked in the Chambers & Partners 2023 legal directory. The team was described as "very friendly, approachable, client-focused", and whose "client care is really excellent."
Contact our specialist GP Negligence Claims team today on
0808 271 9413
or request a call back.
Common GPs negligence cases we have dealt with include:
Failure to refer to a specialist
Delayed treatment due to misdiagnosis
All our cases work on a no win, no fee basis, meaning you only have to pay us for our help if we are successful.
"She's [Agata Usewicz] knowledgeable, experienced and balanced in her judgement and appraisal of the situation." "She handles complex cases with calm efficiency." Chambers UK, 2021
Back to top
Why Hodge Jones & Allen solicitors?
Our highly experienced team of specialist GP negligence lawyers are here to assist and to advise. They will advise you comprehensively about the merits of your claim, funding and ensure that you and your family get the best possible results.
Many of our solicitors are members of the Law Society's and AvMA's (Action Against Medical Negligence) Specialist Clinical Negligence Panel and are accredited by the Association of Personal Injury Lawyers (APIL).
Back to top
Can I request a copy of my medical records?
Under the Data Protection Act 1998 everyone has the right to access their NHS and private healthcare medical records. Normally, the parents of children under 18 will be able to access their child's medical records.
The healthcare provider disclosing the records is entitled to charge up to a maximum £50 to cover their administration fees. The records should be provided within 40 days of the request. If there has been more than one healthcare provider involved in providing treatment then separate requests will need to be made to each healthcare provider.
Can I obtain a copy of my deceased relative's medical records?
If you are a Personal Representative or Executor of the deceased person or have a claim resulting out of their death, you have a right to request the Deceased's medical records under the Access to Health Records Act 1990. You would have to provide evidence to support your request, for example a copy of the Grant of Probate or Grant of Letters of Administration. If you are unsure whether you fall into either of these categories, you can find out more information about claims relating to deceased persons here.
Whilst the procedure is much the same as when you request your own medical records, the £50 administration charge limit does not apply; a per page fee does.
Click here to access more detailed information about requesting medical records, and a template request form.
How do I make a complaint against my GP?
Making a formal complaint to your GP will not lead to compensation. A GP's complaint service can only offer an explanation of your treatment. Complaints will be investigated internally by the GP practice – they are not obliged to call in external investigators.
It may take some weeks for your complaint to be investigated. You may be invited to attend a meeting to explain your side of the complaint. It may be that you would prefer to deal with matters just by letter or email and there is no set process that must be followed.
At the end of the investigation you will receive a letter setting out the response to your complaint.
Alternatively, if you do not wish to complain directly to your GP then you can complain to the local Clinical Commissioning Group. A full list of all of the CCGs can be found here.