Medical Negligence
Misdiagnosis Compensation Claims
If you've received an incorrect diagnosis from a healthcare professional, you might have a misdiagnosis claim. This means you can claim compensation for the issues and complications caused by your misdiagnosis to help make your life that little bit easier.
Our expert medical negligence team have years of experience in supporting people who've been misdiagnosed in winning their claims and getting the right compensation.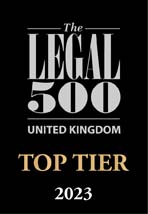 "Hodge Jones & Allen have a team of experienced and dedicated clinical negligence practitioners. They offer an excellent service to their clients and are highly empathetic. They persist in investigating claims where other firms might not." – Legal 500, 2023
The team has been ranked in the Chambers & Partners 2023 legal directory. The team was described as "very friendly, approachable, client-focused", and whose "client care is really excellent."
we can help.
0808 271 9413
For more information about misdiagnosis and pursuing a claim, contact our medical negligence team.