Medical Negligence
Fatal Medical Negligence Claims
An inquest is a very specific legal investigation conducted by a Coroner, (independent judicial officers who are usually lawyers or doctors with appropriate training in law). The coroner's court is unlike any other civil or criminal court in that its role is limited to the determination of the facts surrounding a death. It is not for the coroner to seek to apportion any blame.
In general terms the purpose of an inquest is to establish the circumstances surrounding the person's death including how, when and why the death occurred.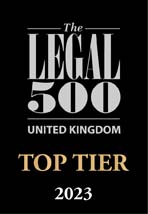 "Hodge Jones & Allen have a team of experienced and dedicated clinical negligence practitioners. They offer an excellent service to their clients and are highly empathetic. They persist in investigating claims where other firms might not." – Legal 500, 2023
The team has been ranked in the Chambers & Partners 2023 legal directory. The team was described as "very friendly, approachable, client-focused", and whose "client care is really excellent."
Call our specialist Medical Negligence Claims team on
0808 271 9413
or request a call back.
When is an inquest necessary?
An inquest is usually held where the death was:
When the deceased was in a state detention including prison/police custody or detention under the Mental Health Act
When the cause of death is still uncertain after a post-mortem
"Dawn Treloar is exceptional. Brilliant with clients but at the same time incredibly thorough and has great analytical skills." Legal 500, 2021
Back to top
What happens during an inquest?
An inquest will generally be "opened" soon after the death. This allows the death to be recorded and the deceased to be identified and the Coroner to give authorisation for a burial or cremation to take place as soon as possible.
Once the inquest has been opened it may be adjourned to allow for any other investigations to be completed. During an inquest the Coroner is entitled to ask appropriate witnesses to attend and give evidence. The Coroner will usually ask each witness to summarise the events in their own words before asking them questions to clarify any points.
Anyone who is considered to have "a proper interest" can also question a witness.
Someone with a proper interest is:
Parent, spouse, child, civil partner, anyone acting for the deceased
Anyone who gains for a life insurance policy of the deceased
Any insurer who issued such a policy
Anyone whose actions a coroner believes may have contributed to the death accidentally or otherwise
Any person appointed by government department.
Most inquests are carried out by the Coroner, although in some circumstances the Coroner will call a jury to decide the verdict. Juries are usually called when the death occurred in prison or in police custody.
Back to top
Do you need representation?
Relatives of the deceased can attend the inquest and are able to ask the witness questions provided these are limited to the medical cause and circumstances of the death.
It is possible for the relative(s) of the deceased to be represented by a lawyer if they consider that legal representation will be of some assistance.
Our highly experienced team of specialist medical negligence lawyers are here to assist and to advise. They will advise you comprehensively about the merits of your claim, funding and ensure that you and your family get the best possible results.
The majority of our cases are funded by way of a conditional fee agreement, more commonly known as a no win no fee agreement. This means there is no financial risk to you.
Back to top