Financial Crime & Regulatory
Unexplained Wealth Orders
It's vital that anyone made subject to an Unexplained Wealth Order (UWO), or who fears this development, seeks immediate, specialist advice.
We have unparalleled experience in dealing with asset seizure and forfeiture. We know how to navigate this complicated landscape where the burden of showing legitimacy is put on the Respondent.
We understand the challenge of having to prove that property isn't earned through crime, and what's required in managing such cases. We can also assist with dealing with any international dimension such cases may have.
Our Financial Crime & Regulatory team has been ranked in the Chambers & Partners 2023 legal directory. The team was described as "very friendly and professional" and "effective in the financial crime area."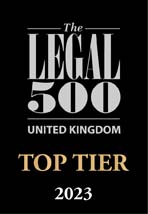 "As a firm they have a real team spirit, always sharing knowledge and experience with each other, to the benefit of their clients. They have a superbly dynamic and diverse team of lawyers in the team." – Legal 500, 2023
"HJA's criminal solicitors are amongst the leading criminal solicitors in the country. They have been involved in countless landmark cases but also in hundreds if not thousands of important protest cases in the magistrates courts."- Legal 500, 2023