Financial Crime & Regulatory
Professional Discipline & Regulatory
We provide specialist regulatory advice to individuals and corporates from a range of backgrounds and industries.
Investigations and professional discipline proceedings can take many forms and we have lawyers available to immediately assist in any situation. Our team of lawyers have represented different professionals including doctors, dentists, suppliers of medicinal products, teachers and those within the financial sector.
Your profession is important to you. So, being subjected to regulatory investigations and proceedings is stressful and intrusive. We understand this and take an empathetic approach focused on achieving the best possible outcome for you.
We provide clear advice, based on years of experience in securing outstanding results for our clients. Having a leading team on your side to support you through the process makes all the difference.
Our Financial Crime & Regulatory team has been ranked in the Chambers & Partners 2023 legal directory. The team was described as "very friendly and professional" and "effective in the financial crime area."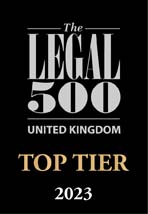 "As a firm they have a real team spirit, always sharing knowledge and experience with each other, to the benefit of their clients. They have a superbly dynamic and diverse team of lawyers in the team." – Legal 500, 2023
"HJA's criminal solicitors are amongst the leading criminal solicitors in the country. They have been involved in countless landmark cases but also in hundreds if not thousands of important protest cases in the magistrates courts."- Legal 500, 2023
Why choose Hodge Jones & Allen?
Our specialist lawyers can help navigate and guide you through the law, procedure and tactics at any stage in the investigation or proceedings. We encourage our clients to instruct us at the outset. This ensures the best possible handling of any investigation, especially in an era where regulators have more powers and are increasingly proactive in their approach.
We represent individuals, organisations and corporates. As a full-service law firm, we can draw expertise from all areas including employment, criminal litigation, civil litigation, public law and dispute resolution. We can offer a full service to meet your needs with all specialists under one roof. This provides a cost-conscious, convenient and joined-up approach to your case.
"Very professional and personal service and advice. Extremely knowledgeable and their robust approach of your defence is next to none. I totally felt at ease every step of the way with them by my side and in my corner."
Back to top
We can assist at any stage with advice and representation when dealing with a regulatory matter. We commonly help clients who:
Have been notified that they are subject of an investigation
Would like advice about self-reporting
Are going to be interviewed
Are facing an application by their regulator, such as an interim order
Are facing fitness to practise proceedings
Want to make representations to a regulator
Want to appeal a decision made by a regulator
Back to top