Financial Crime & Regulatory
Conspiracy to Defraud
Conspiracy to defraud involves an agreement by two or more people to dishonestly deprive a person of something that belongs to them, while knowing you have no right to do so.
If there is evidence of an agreement to carry out actions such as this, it does not matter whether the plan actually comes to fruition – those who planned it could still be at risk of conviction.
Sound legal advice at the earliest opportunity can be crucial if you are facing an investigation for conspiracy to defraud. On many occasions, where we have been involved from the outset, we have successfully stopped a case from going any further by proving the innocence of those involved.
We know that being accused of a serious crime like this can be a terrifying and distressing experience, so we want to help wherever we can. If you have been arrested or accused, contact our experts as soon as you can so we can advise you as best we can.
Our Financial Crime & Regulatory team has been ranked in the Chambers & Partners 2023 legal directory. The team was described as "very friendly and professional" and "effective in the financial crime area."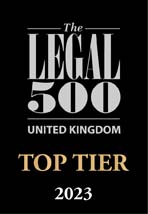 "As a firm they have a real team spirit, always sharing knowledge and experience with each other, to the benefit of their clients. They have a superbly dynamic and diverse team of lawyers in the team." – Legal 500, 2023
"HJA's criminal solicitors are amongst the leading criminal solicitors in the country. They have been involved in countless landmark cases but also in hundreds if not thousands of important protest cases in the magistrates courts."- Legal 500, 2023
Why choose Hodge Jones & Allen?
Our hands-on approach from the start has secured acquittals in cases spanning many different industries in the UK, including one of the largest fraud cases ever brought.
We are highly qualified in analysing complex financial evidence in this area of law, including records obtained from countries around the world. Outstanding client care is always our highest priority and our record speaks for itself.
We are available 24 hours a day. So, no matter the time of day or night, if you have been arrested, call Hodge Jones & Allen to access expert legal support and get the advice you need to protect your interests. 
Back to top
Raj Chada is currently acting for an employee involved in a conspiracy to hack into a bank's central computer system to facilitate the transfer of several million pounds.
Raj is also representing an individual in connection with an advance fee fraud which involves international investigations in Zurich and Nigeria.
Ruth Harris represented a client in a case involving an alleged charity. MPs, church leaders and other key people were persuaded to lend their support and provide the 'charity' with a veneer of respectability. 
Three men were charged with conspiracy to defraud after they were said to have used the charity as a front for concealing huge sums of stolen money. While these three defendants were convicted, our client was found not guilty by unanimous verdict. She returned to caring for her two young children and elderly father without a stain on her character.
Ruth Harris is also currently advising an individual in connection with a multi-million-pound, multi-jurisdictional boiler-room scam.
In addition, members of HJA's Financial Crime & Regulatory team have previously dealt with the following cases:
Represented the directors of a company investigated by the Serious Fraud Office (SFO) following a "dawn raid." It was claimed that the company had been involved in asset stripping running into tens of millions of pounds. Following a rigorous Judicial Review of the SFO's case, no further action was taken against our client.
Represented the Financial Director of a charity which aimed to assist refugees who had come to the UK. It was alleged that fake companies had been set up and fraudulent invoices rendered to defraud the charity of tens of millions of pounds. This case involved detailed analysis of bank accounts and company records.
"The team at HJA are amazing and will do their very best to help you. They go above and beyond to make sure your matter is solved. They will strive for the best outcome and ensure an excellent service."
Represented a client in a case involving multi-jurisdictional conspiracy to defraud, money laundering, counterfeiting and forgery. There were also links to terrorism. The prosecution alleged that our client acted as a banker and forger. They said our client was involved in a fraudulent website offering "novelty items" which were false ID packages – including bank statements, utility bills and passports. More than 1.5 million pages of evidence were served by the prosecution, who calculated the loss at £60m.
Back to top