Financial Crime & Regulatory
Financial Crime & Regulatory Costs
Hodge Jones & Allen has always been committed to equal and fair access to justice for all.
Whether you are publicly funded, or paying privately, you can be assured that we offer value for money and are completely transparent in our charging. This means that you will always be in control of your costs and fees, and you'll experience no surprises.
Depending on your particular circumstances you may be eligible for one of the following funding options.
Our Financial Crime & Regulatory team has been ranked in the Chambers & Partners 2023 legal directory. The team was described as "very friendly and professional" and "effective in the financial crime area."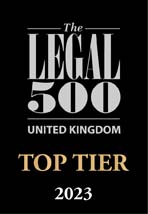 "As a firm they have a real team spirit, always sharing knowledge and experience with each other, to the benefit of their clients. They have a superbly dynamic and diverse team of lawyers in the team." – Legal 500, 2023
"HJA's criminal solicitors are amongst the leading criminal solicitors in the country. They have been involved in countless landmark cases but also in hundreds if not thousands of important protest cases in the magistrates courts."- Legal 500, 2023