Personal Injury
Passenger Compensation Claims
Car and road accidents can be a very frightening and distressing experience, with injuries and mental trauma lasting far beyond the incident itself. In most cases, the driver is the first to be considered. But many road traffic accident victims are passengers in the car, who can also suffer the same, and sometimes more serious, injuries than the driver.
If you have suffered an injury as a passenger in a car or bus that was involved in a road traffic accident, you could be eligible for compensation. 
Passengers can also claim against local authorities if it can be proved that road conditions contributed to an accident. This may include poor lighting, or the general upkeep of the roads. 
Accidents can happen to all road users, including passengers. If you've been involved in an accident that wasn't your fault, get in touch to find out how our expert team can help you.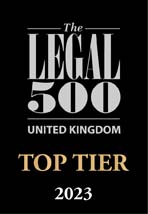 "Hodge Jones & Allen is a well known and popular claimant law firm, with a reputation for taking on complex cases that require excellent legal knowledge and courage." – Legal 500, 2023
Our Personal Injury team has been ranked in the Chambers & Partners 2023 legal directory. The team was described as "highly consistent and attentive" and were praised for providing "well-thought-through advice" our clients "could trust".
we can help.
0808 271 9413
Contact our specialist team today for a free initial telephone consultation about the process and your options. Free 24 hours a day.
Successful case
Passenger Injury Claims
Our client was a passenger in a car. Unbeknown to the client, the driver of the vehicle was driving without insurance. The driver of the vehicle in which the client was travelling was speeding and he lost control of the car and crashed into a lamppost. The client suffered significant injury. The client was not wearing a seat belt and was ejected from the car.
nature of injury
fractured skull
Passenger Injury Claims
Our client was a rear seat passenger involved in a road traffic accident. The driver of the car in which he was travelling was speeding and then lost control on a bend colliding with a telegraph pole at high-speed. He was sitting behind the driver and was not wearing a seatbelt.
nature of injury
post traumatic stress disorder
View all
If my family and I are involved in a road traffic accident can we all claim compensation?
If you were all in the car and the accident was somebody else's fault, you can all claim compensation and be represented by the same solicitor. The amount of compensation that you each receive will vary depending on the nature of your injuries.
For an estimate of how much you could claim for your injury, please see our personal injury compensation calculator.
When would my passengers and I need to find alternative representation?
If you are the driver of a car and the other party denies liability, your passengers could take action against you. This would be a conflict of interest and, at this stage, your passengers would need to find alternative representation.
If my passengers are children can they make a claim?
Yes, children who are passengers in a car can make a claim. They will need a Litigation Friend to act on their behalf. This can be a parent or family member. It is advisable to appoint an independent family member if, for example, a parent is the driver and there is potential for a dispute as to who caused the accident.