Personal Injury
Spinal Injury Compensation Claims
If you or a loved one's life has been affected by a spinal injury, we can help you bring a claim.
We understand the impact a spinal injury will have on almost every aspect of day-to day-life, from additional care, support, aids, equipment and accommodation. We will assist and support an injured person in adapting to the changes and challenges faced.
Our specialist injury solicitors understand that each client has different and complex needs following a spinal injury and we adopt a holistic approach to address those needs. We have extensive experience of acting for both children and adults with spinal injuries nationwide.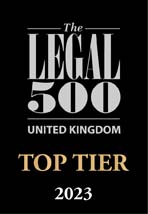 "Hodge Jones & Allen is a well known and popular claimant law firm, with a reputation for taking on complex cases that require excellent legal knowledge and courage." – Legal 500, 2023
Our Personal Injury team has been ranked in the Chambers & Partners 2023 legal directory. The team was described as "highly consistent and attentive" and were praised for providing "well-thought-through advice" our clients "could trust".
How long will my claim take to conclude? Will I need to go to court?
The length of time your particular case will take to conclude will depend on a number of factors. These include:
The extent of the injuries

The length of time you have been in hospital and/or at home and off work

Care required

Whether the other side denies responsibility
Our solicitors will be able to give you a better idea of timescales once you have told them more about your case. We promise to keep you updated throughout the process.
What are the time limits to bringing a claim?
Yes. There are strict time limits that apply to making a personal injury claim. You have three years after the injury occurred, which is usually the date of the accident.
There are exceptions to this rule for claims for medical accidents (known as medical negligence) where the injury or condition may not become apparent for years. In these circumstances, the period may begin on the date that you became aware of the conditions.
Take a look at our personal injury compensation calculator to see how much your claim could be worth.