Personal Injury
Public Injury Compensation Claims
The aftermath of an accident can be hugely distressing for you and your family. Depending on the severity of your injury, it can impact your ability to work, look after yourself and live a normal day-to-day life.
You should be able to live your life without the risk of injury. If you've suffered an injury in a public place, from tripping on a loose pavement to being hurt by falling signage in a shop, you could be entitled to make a personal injury claim. 
At Hodge Jones & Allen, our personal injury solicitors are experts in helping clients bring claims for compensation for an injury in a public place.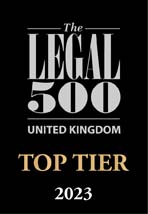 "Hodge Jones & Allen is a well known and popular claimant law firm, with a reputation for taking on complex cases that require excellent legal knowledge and courage." – Legal 500, 2023
Our Personal Injury team has been ranked in the Chambers & Partners 2023 legal directory. The team was described as "highly consistent and attentive" and were praised for providing "well-thought-through advice" our clients "could trust".
Accidents in public places:
Accidents in Public Places
Our client was walking to work on a day when it was raining heavily. He stepped on newly laid marble flooring outside a restaurant which was very extremely slippery causing him to fall heavily onto the ground.
nature of injury
complex fracture to the dominant right wrist requiring reconstructive surgery
accidents in public places
Our client was crossing a road in Central London when they tripped over a pothole, within the a black section of a zebra crossing, so making it difficult to see. The pothole was not marked to indicate a hazard. The injuries sustained from the fall included a broken ankle requiring urgent hospital treatment.  Our client was self-employed and was not able to work during recovery.
nature of injury
fall caused by pothole on public crossing
View all
What should I do after a personal accident in a public place?
Whilst accidents in public may be painful, embarrassing or disorientating, what you do following the accident can be instrumental in being awarded compensation.
First and foremost, you should seek medical attention and make sure that you're safe. It's also important to take down as many details as you can about the accident, whilst it's fresh in your memory. Evidence such as photos and videos can also prove crucial.
What details do I need to collect at the scene?
Whilst at the scene, it's helpful if you can collect information such as:
The names of those present, including witnesses (it helps to obtain contact details too)
The address where the incident took place
Insurance details, if applicable
The date and time of the incident
Weather conditions and lighting details
Pictures of damaged or dangerous equipment or structures
Evidence of any injuries (photos and videos)
CCTV camera locations
How long does a public injury claim take?
Each individual case is different, so our lawyers will be able to advise you after we learn more about your injuries and circumstances. The timeframe depends on factors such as the extent of the injuries and how long it takes the other party to respond productively to the claim. If you're unsure if you were at fault or not, it might take your solicitor a little bit longer to work through this process.
How soon should I make a claim?
Whilst in most circumstances you'll have up to three years from the date of the accident to make a claim, it's in your best interests to do so as soon as possible. This can make it easier to obtain key evidence and it helps that the accident is still fresh in your memory.
Learn more about the 3 year limitation period and exceptions here.
How much will I pay my solicitor if I win?
The general rule in a No Win No Fee personal injury claims is that the 'losing' party pays the 'winning' party's costs. So, if you bring a personal injury claim and are awarded compensation then you can expect some of your legal costs to be paid by the other party.
In the vast majority of No Win No Fee cases the amount a lawyer receives in costs from the other party does not cover the amount of work they have done in order to bring the claim to a successful conclusion however this is taken into account with the No Win No Fee Agreement.
Entering into a No Win No Fee Agreement means that your solicitor will only get paid if you win your claim. The shortfall in costs as well as the insurance premium and the solicitors success fee will generally be covered from a deduction from a client's compensation which will be agreed at the start of a claim
Learn more about No Win No Fee agreements here.
How much compensation could I get for my personal injury claim?
Inform the reader that their compensation depends on the nature of their injury, so this is a difficult question to answer. Include keywords and relevant phrases wherever possible, inserting them naturally into a sentence or two.
Every claim for an injury in a public place is unique, so the compensation amount you may be entitled to will be personal to you based on the circumstances of your injuries. Personal injury compensation comes in two forms:
General damages – This is compensation paid in relation to your suffering, specifically to your pain, the consequences of your injuries, and the impact these have had on you and your family. We always use the most recent edition of the Judicial Guidelines when assessing how much compensation you could receive for general damages.
Special damages – Compensation paid for financial losses you have incurred, including medical bills, loss of income and rehabilitation.
You can use our personal injury compensation calculator to see an estimate of how much your claim could be worth. As your case develops, speak to your solicitor to find out how much compensation you may be able to win through your personal accident in public claim.