Personal Injury
Public Injury Compensation Claim
The aftermath of an accident can be hugely distressing for you and your family. Depending on the severity of your injury, it can impact your ability to work, look after yourself and live a normal day-to-day life.
You should be able to live your life without the risk of injury. If you've suffered an injury in a public place, from tripping on a loose pavement to being hurt by falling signage in a shop, you could be entitled to make a personal injury claim. 
At Hodge Jones & Allen, our personal injury solicitors are experts in helping clients bring claims for compensation for an injury in a public place.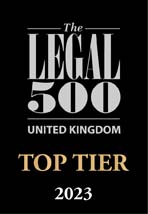 "Hodge Jones & Allen is a well known and popular claimant law firm, with a reputation for taking on complex cases that require excellent legal knowledge and courage." – Legal 500, 2023
Our Personal Injury team has been ranked in the Chambers & Partners 2023 legal directory. The team was described as "highly consistent and attentive" and were praised for providing "well-thought-through advice" our clients "could trust".
Accidents in public places:
Why choose Hodge Jones & Allen
At Hodge Jones & Allen, our personal injury lawyers have decades of experience in getting clients the compensation they deserve for accidents that weren't their fault. We're widely recognised as industry leaders in the field, so when you instruct Hodge Jones & Allen, you know you're getting access to a personal injury expert you can rely on. 
We offer a free consultation when you call to help us learn more about your injury and how it has impacted your life. We then operate on a No Win No Fee basis, which means you can make a claim for compensation without any financial risk.
If you've been injured in a public place and it wasn't your fault, we want to help you get back on your feet by getting you access to the compensation you deserve.
We'll fight your corner every step of the way, building a case for your compensation while looking after you and ensuring you get the care and medical attention you need. Rehabilitation is our number one concern. That's why we always look to ensure we can secure an interim payment at an early stage, to cover any medical expenses you accrue, without leaving you out of pocket.
"I WAS PARTICULARLY IMPRESSED WITH THE PERSONAL SERVICE YOU PROVIDED, AND OF COURSE, YOU WINNING MY CLAIM!"
Back to top
How do I make a claim for an accident in a public place?
An accident in a public place can take many forms, including: 
Accidents in places governed by local councils.
Public places can be anywhere from a pavement owned by a local authority, to a business premises. In these instances, the business or council is responsible for any accidents that take place. 
If you have been injured in an accident, the first thing you should do is seek medical attention for your injuries. Try to also keep and note down any details of the accident, including what happened and who was involved. It can also help to speak to any witnesses to the accident and get their contact details.
From there, you should contact Hodge Jones & Allen. Our expert personal injury lawyers will speak to you to learn more about what happened and what injuries you have sustained. We will then work tirelessly to gather evidence that will help us get you the compensation you deserve, whether that's gathering CCTV footage, speaking to witnesses or asking independent experts to assess your condition. 
Afterwards, we speak to those responsible for the accident, whether that's a local authority or a private business, to see if they accept blame. If they do, we will try to negotiate a settlement out of court to get you the compensation you need.
Back to top
How much compensation will I get?
Every claim is different, so the amount of compensation you'll get for an injury caused by an accident in a public place will be personal to you. It all depends on how the accident happened and the extent of your injuries. You can claim for two types of compensation. These are: 
General damages –

Awarded for the injury and any impact it has had on your life

Special damages –

Awarded based on loss of income caused by you not being able to work or having to pay for specialist care.
Is there a time limit?
Claims for injuries caused by an accident in a public place need to be brought within three years of your injury, or within three years of you becoming aware of the injury, so it's important you act fast. Contact an expert personal injury solicitor as soon as you can to get started with your claim for an accident in a public place.
Back to top
Accidents in Public Places
Our client was walking to work on a day when it was raining heavily. He stepped on newly laid marble flooring outside a restaurant which was very extremely slippery causing him to fall heavily onto the ground.
nature of injury
complex fracture to the dominant right wrist requiring reconstructive surgery
accidents in public places
Our client was crossing a road in Central London when they tripped over a pothole, within the a black section of a zebra crossing, so making it difficult to see. The pothole was not marked to indicate a hazard. The injuries sustained from the fall included a broken ankle requiring urgent hospital treatment.  Our client was self-employed and was not able to work during recovery.
nature of injury
fall caused by pothole on public crossing
View all