Personal Injury
Eye Injury Claims
Loss of sight will have a major impact on your working life. Not only that, it will affect you with respect to how you interact with your friends and your family. It will affect all aspects of your daily living.
A lack of 20/20 vision could mean you are unable to work in certain professions and lack of vision will affect you being able to work in many areas, for example, as a driver or on a construction site. Total blindness in one or both eyes will have an even greater impact.
Therefore no matter how your eye injury has been caused you should consider whether someone else is fully or partly responsible and take advice from one of our specialist eye injury claim solicitors about whether you're likely to be able to claim compensation for your injury.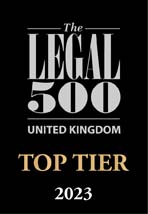 "Hodge Jones & Allen is a well known and popular claimant law firm, with a reputation for taking on complex cases that require excellent legal knowledge and courage." – Legal 500, 2023
Our Personal Injury team has been ranked in the Chambers & Partners 2023 legal directory. The team was described as "highly consistent and attentive" and were praised for providing "well-thought-through advice" our clients "could trust".
Successful Cases
eye injury
Our client works for a large supermarket chain as a maintenance technician. He was instructed to clear a yard of rubbish into a skip. As he was dismantling a wooden crate with a crowbar it ricocheted towards his face and hit him with force in the forehead and eye. A risk assessment had been carried out but it was not noted that goggles were required, so our client was not wearing eye protection - he sustained a major eye injury. The eye was crushed into 4 pieces, and although his eye was saved he has lost complete sight in his eye. He also suffered severe headaches, flashbacks and depression following the incident.
nature of injury
eye injury
View all
How much compensation for loss of sight in one eye?
The way in which your claim is valued is to look at previously decided cases of similar fact. These are called precedents. Your specialist personal injury solicitor will look at your age, the type of injury and the prognosis given by the medical expert and reach a figure based upon case law.
Your specialist personal injury solicitor will also look at the Judicial College Guidelines. This is a tariff which is used by judges to consider what bracket an injury should fall into.
These figures are changed every year and are very broad ranges but currently please note the following:
Total loss of one eye
£54,830 – £65,710. The level of award would depend upon age, psychiatric consequences and cosmetic effect.
Loss of sight in one eye
£49,270 – £54, 830. However this will depend upon the extent and severity of the eye injury.
If you have suffered an eye injury in an accident then it is important that you get early and good advice from a specialist personal injury solicitor who has experience of dealing with eye injury claims.
Can I make an eye injury at work claim?
If you have experienced an eye injury at work that was not your fault, you may be eligible to make an accident at work claim for compensation. When you are at work, your employer owes you a duty of care and must implement safe working practices and protect employees from potential hazards, including providing you with the correct equipment and training to reduce risk of injury. If you're injured as a result of your employer's negligence (and in some cases your colleagues' negligence), you may be able to bring a personal injury claim for damages.
What is a chemical eye injury?
The vast majority of chemical eye injuries occur in workplaces because various industries use chemicals in their daily business. If you suffer a chemical eye injury at work and your employer has failed to implement adequate safety regulations around their use, you may be able to bring a claim for compensation. Chemical burns to the eye can be divided into three different categories:
Alkali Burns: These are usually the most severe type of chemical burn, as they can penetrate the surface of the eye and cause considerable damage to the internal structures. Common substances that can cause these injuries include potassium hydroxide, ammonia and ammonia.
Acid Burns: Acids usually only cause damage to the external parts of the eye and do not penetrate into the internal parts of the organ. However, they still have the potential to cause injuries as severe as blindness. Common substances that cause acid burns include hydrochloric acid, sulphuric acid, nitric acid and hydrofluoric acid
Irritants: Irritants are the least dangerous of each of the substances and are the least likely to cause long-term damage to your eye. These include common household detergents and are therefore, much more readily accessible that the chemicals that cause alkali and acid burns.
What is a penetrating eye injury?
A penetrating eye injury refers to any sort of trauma to your eye's structure, caused by a foreign object entering your eye. Penetrating injuries can cause lacerations, retinal tears or detachments and over time, scarring can also lead to cataracts and glaucoma. Such injuries can have a serious impact on your vision if not treated as quickly as possible and could even cause the loss of sight in one eye (or both). Injuries of this nature often occur at work and employers must ensure you are provided with the right protective eye wear while working to minimise the risk of this type of injury.
What is a traumatic eye injury?
The term 'traumatic eye injury' refers to a wide range of injuries that can occur to your eyes and the surrounding areas. In all types of traumatic eye injuries, there is an event or series of events that lead to damage to some part of the eye. Injuries of this nature can occur in a number of different ways, including mechanical trauma (blunt or penetrating), chemical agents, or radiation (ultraviolet or ionising), for example. Traumatic eye injuries include corneal abrasions, penetrating injuries, retinal detachments, bruising and orbital fractures. Any event that damages the eye or the area around the eye can have a lasting impact on vision and appearance.