Asbestos & Mesothelioma
Our Asbestos & Mesothelioma Client Stories
At Hodge Jones & Allen, we know the impact of Asbestos can be devastating. Lung diseases and Mesothelioma can leave people with long-lasting health problems and even lead to death. That's why we want to work with those who have had health problems due to Asbestos, and their families, to help them get access to the compensation they deserve.
With more than 40 years of experience, our team knows Asbestos litigation inside out, so we have the experience and knowledge to guide you through a claim if you have suffered through being exposed to Asbestos.
Below, we look at some of the Asbestos and Mesothelioma compensation cases our specialist team has worked on, successfully recovering damages for a wide range of clients.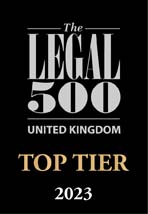 "Hodge Jones & Allen is a well known and popular claimant law firm, with a reputation for taking on complex cases that require excellent legal knowledge and courage." – Legal 500, 2023
Our Asbestos Team has been ranked in the Chambers & Partners 2023 legal directory. They were described as "a good team of specialists, all of whom are very experienced", "helpful and reassuring." 
Contact us on
0808 271 9413
if you have been diagnosed with an Asbestos-related lung condition or have been negligently exposed to asbestos at work. Our specialist team offer a free initial telephone consultation about the process and your options. Free 24 hours a day.
This is the story of Margaret Ward, a grandmother and keen gardener from County Durham

who passed away after being diagnosed with Mesothelioma
Provisional settlement
We acted for a gentleman who had been a joiner. During his apprenticeship, and with subsequent employers, our client had been exposed to Asbestos dust and developed Asbestosis as a result.
He had machined Asbestos board to make fire doors, replaced Asbestos ceiling tiles, and worked alongside laggers applying and removing Asbestos insulation.
We sued three of his former employers, one of whom admitted liability. After receiving the engineers' reports, we negotiated a settlement with the remaining employers, settling the claim on a provisional basis for a five-figure sum for the effects of the condition to date. We also retained the option to seek a further award if his condition deteriorates or he develops another asbestos disease, providing security against future risks.
Asbestosis claim
Retired Electrician Mr L instructed Hodge Jones & Allen solicitors about lung disease caused by occupational exposure to Asbestos.
He first suspected the link in 2014, when he was referred to hospital to investigate his shortness of breath and pain in his lower back and ribs. At first, Mr L was told that he had Idiopathic Pulmonary Fibrosis (IPF), his doctor being unable to determine the cause.
[Click here to read on]
Back to top
Family compensation claim
Our client's husband died from Mesothelioma. She had instructed other solicitors to bring a claim against his former employers, whose insurers denied liability.
We took the case on, issued a witness appeal and obtained evidence to prove exposure to Asbestos at work with one of the employers, whose insurers then conceded liability. No settlement offer was forthcoming, so we issued court proceedings, obtained judgement for our client and an interim payment of £50,000.
Shortly before the final hearing, we negotiated a six–figure settlement, achieving an increase of £20,000 on the first offer made.
Low exposure compensation claim
Our client had developed Mesothelioma but was unsure where he had been exposed to Asbestos. He had served in the merchant navy in catering. Our enquiries revealed degraded asbestos lagging on steam pipes connected to equipment he used.
He also maintained supplies on board, including Asbestos products. This was a difficult claim, as it involved low exposure levels, but having initially denied liability following the issue of court proceedings, and faced with client's evidence, the defendant's insurer capitulated and the claim was settled for a six-figure sum, out of court, during the client's lifetime.
Diffuse Mesothelioma Payment Scheme settlement
Our expert Asbestos Team were instructed by a client suffering from Mesothelioma. We took full instructions from him and established that his exposure to Asbestos dust most likely came from previous employment when he was just 20 years old.
Our client was exposed to Asbestos dust during the 1970's when carrying out servicing and repairs of boilers. Evidence was obtained from our client and a witness that the boilers and associated pipework were lagged with Asbestos lagging, which was disturbed when repairs and servicing were being carried out.
[Click here to read on]
Former teacher wins claim against previous employers over Asbestos exposure
We were instructed by a living Mesothelioma client who was exposed to Asbestos during an isolated incident whilst employed as a teacher and lecturer. Our client was employed in a College environment for many years.
During the late 1980's, workmen came into our client's work area and the linked main corridor to remove Asbestos containing ceiling tiles. The exposure to Asbestos lasted for approximately one week in total. The workmen did not partition off the areas in which they worked and as such our client was exposed to Asbestos fibres from the ceiling tile removal works.
[Click here to read on]
Mesothelioma sufferer secures compensation from Government Scheme
Our Client was employed in the 1950's for nine months as a bricklayer's labourer in the Greater London area. Whilst our Client did not personally undertake Asbestos-related work, he was working in the close vicinity of others who were carrying out activities that generated asbestos fibres, specifically pipe lagging work. Our Client was present when the Asbestos lagging was being mixed and applied to the relevant building structures. These activities caused our Client to be exposed to a significant amount of Asbestos dust.
[Click here to read on]
Six-figure sum secured for client
Our Client was employed from the late 1950's until the mid-1960's, working for a relative's business as an apprentice labourer. During this period of employment, our Client was exposed to a significant amount of Asbestos fibres. He regularly removed and cut up Asbestolux sheeting which was used on garage roofs and he spent much time fire-proofing stairs and doors, as well as carrying out partitioning work.
[Click here to read on]
Secondary Asbestos exposure claim
We were instructed by a lady with Mesothelioma who had not had Asbestos exposure though her own work. It became apparent she had been exposed while washing her son's work clothes.
Our client died shortly after we met. We represented her family at the inquest. The son's employer, whose insurers denied liability, were sued. They argued that Asbestos products had been largely phased out and that they offered laundry facilities, so any exposure to our late client would have been negligible.
We traced witnesses, who refuted the insurer's claim. We received a first settlement proposal. After further negotiations, the client accepted an increased settlement which they felt did some justice to their mother's suffering.
Successful Asbestos settlement claim
We were instructed by a client who had been diagnosed with Mesothelioma. He was a retired lift engineer and had worked for the same elevator company for many years.
Our client was heavily exposed to asbestos dust when handling, cutting, filing and drilling various Asbestos materials and components needed to maintain, repair and install elevators in commercial buildings. His work included the use of and disturbance of electric cables wrapped with asbestos string, asbestos brake shoes, asbestos arc shields, Asbestos panelling and Asbestos lagging. Our client was not provided with any sufficient respiratory protection or training about the dangers of Asbestos from his employers.
[Click here to read on]
Vital witness evidence
We were instructed by the family of a deceased instrument engineer who had been exposed to asbestos at the BP oil refinery in Kent. In 2016, he was diagnosed with Mesothelioma, an Asbestos-related cancer, which is both aggressive and terminal. Sadly, he died in 2018 after suffering an increasingly debilitating illness involving invasive treatment. Throughout his illness, he was cared for by his family and medical team.
The Coroner had opened an enquiry into the cause of His death by the time we were instructed. Fortunately, his widow was able to put us in contact with a former friend and colleague of her husband's. The two men had completed their apprenticeships, qualified and worked at the same refinery and so we were able to pass this evidence on to the Coroner.
[Click here to read on]
Peritoneal malignant Mesothelioma claim
Mr N from Northamptonshire instructed Hodge Jones & Allen solicitors following a diagnosis of peritoneal malignant Mesothelioma, a rarer form of the disease affecting the lining of the abdomen. This was caused by lengthy exposure to asbestos dust at work.
Mr N was exposed to heavy amounts of the deadly dust by two former employers, Saunders & Taylor Limited, and Matthew Hall Mechanical Services Limited, between 1962 and 1997. He worked for the companies as a pipe fitter and was involved in removing asbestos-lagged pipework from inside old buildings and boiler houses over a 30-year period.
[Click here to read on]
Widow Sues Thames Water Utilities for Husband's Asbestos-related Death
Our client was exposed to Asbestos between 1975 and 1997 whilst employed by the GLA, then by Thames Water. Our client cleaned up dust and debris left behind from stripping Asbestos based insulation. As he was not provided with any breathing protection, he inhaled significant quantities of Asbestos fibres. As a result of that exposure, our client developed malignant Mesothelioma; an aggressive and cancer of the lining of the lung, caused by inhalation of Asbestos fibres.
[Click here to read on]
Back to top