Being falsely accused of a crime you did not do will feel frustrating and invasive.
There are a number of reasons why an innocent person might find themselves wrongly accused of a crime. Whatever those reasons it will often be a hugely distressing time for those accused.
If you or a family member has been falsely accused or wrongly convicted of rape or any other sexual offences the criminal defence team at Hodge Jones & Allen can help you. We know how to defend your legal and human rights. Our large specialist team are available – day or night.
Our Financial Crime & Regulatory team has been ranked in the Chambers & Partners 2023 legal directory. The team was described as "very friendly and professional" and "effective in the financial crime area."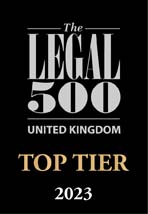 "As a firm they have a real team spirit, always sharing knowledge and experience with each other, to the benefit of their clients. They have a superbly dynamic and diverse team of lawyers in the team." – Legal 500, 2023
"HJA's criminal solicitors are amongst the leading criminal solicitors in the country. They have been involved in countless landmark cases but also in hundreds if not thousands of important protest cases in the magistrates courts."- Legal 500, 2023