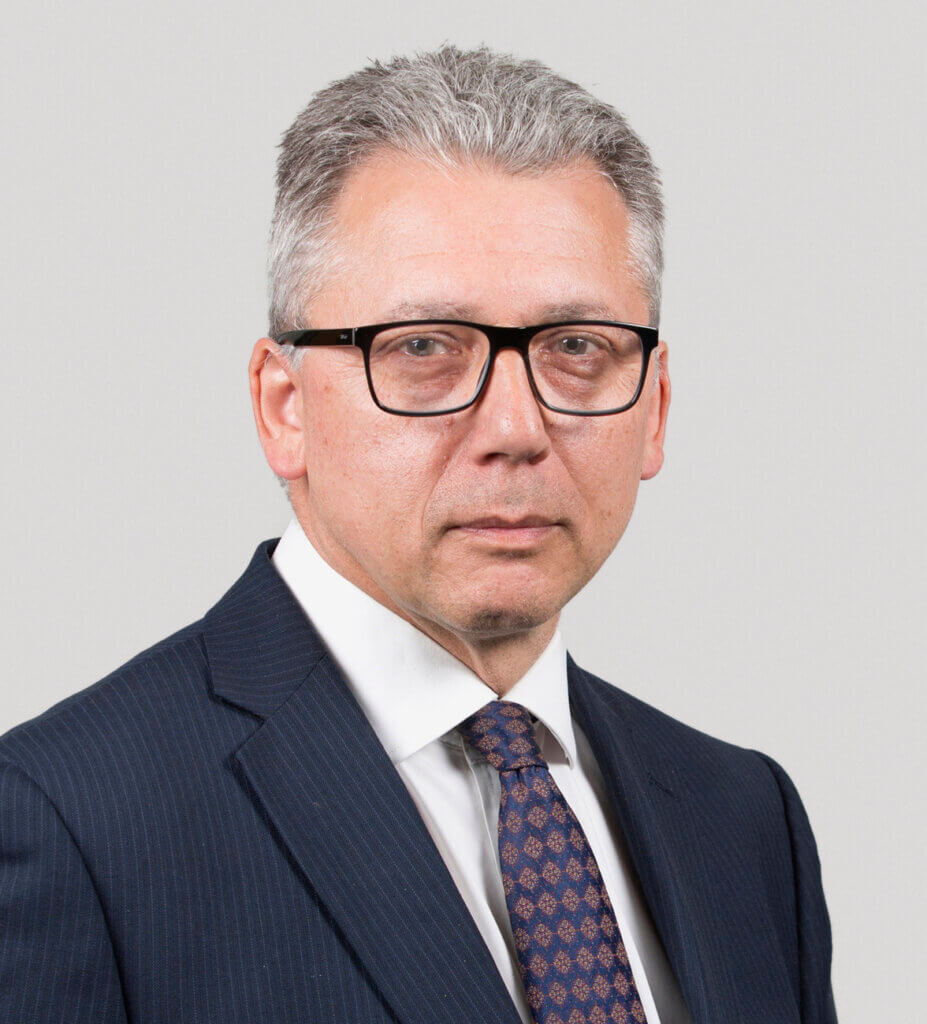 About Graeme Hydari
Graeme was honoured to receive the award of Criminal Defence Legal Aid Lawyer of the Year 2017 from my peers at the Legal Aid Practitioners Group. This award was given to him primarily for his work with Autistic suspects and defendants.  Graeme undertakes all types of Serious Criminal Defence work and Serious Fraud work; including murder, grievous bodily harm, drug supplying and public disorder.
Graeme practised for many years in Tottenham and defended some of those involved in the Broadwater Farm estate riots in 1985 and the later riots in London in the summer of 2011.
He is knowledgeable about addictions (drugs, alcohol, pornography, gambling) and Mental Health conditions (depression; anxiety; bi-polar; paranoia; schizophrenia).
However Graeme specialises in 3 main areas namely:-
Representing vulnerable clients particularly those with Autism Spectrum Disorder (which includes Asperger's Syndrome) and Learning Disability. These cases often involve allegations of harassment; stalking and internet offences.
Sexual offences including rape, indecent images/ internet offences, particularly where there are child complainants and historic allegations.
Serious and Complex Fraud. See separate section on Fraud.
"He is without doubt a leading solicitor in the UK helping those with autism in the criminal justice system." Professor Simon Baron – Cohen Autism Research Centre
Graeme has a special interest in representing those vulnerable clients with disabilities such as Autism and providing them with the necessary support and help they need to participate in their trials.
He believes in equality; inclusion and diversity; and stand up against any type of discrimination.
Notable Cases
Appeals
R v Francis conviction for murder overturned. No re-trial
R v Paraskeva ( " Justice for Joe " campaign ) prison life sentence for arson by patient in hospital overturned and replaced by Mental Health Hospital Order.
Sexual Offences
Sidney Cooke infamous child sex offender/paedophile and child killer
R v KG multiple allegations of rape / multiple complainants
R v DM historic allegation of multiple rapes against cousin when both were children. Client autistic. Acquitted of all charges.
R v ( a child ) 15 year old Autistic boy charged with multiple rape of his young child cousins. 13 years old at time of offence.
Fraud
R v JA and others " Operation Mecklenburger " Conspiracy to Money Launder up to £60 million of proceeds of crime through a Bureau de Change on behalf of international drug dealers and tax evaders.
R v Dixon Accountant in music business, fraud; theft and false accounting involving high profile bands including Suede and Primal Scream.
Serious Crime
R v NO "Operation Manningtree" / "Scumoween" Violent public disorder (biggest since London Summer riots in 2011) on Halloween 2016 in South London following illegal rave. Client Autistic.
R v JB Violent Disorder London Summer 2011 riots and conspiracy to supply Class A drugs. Client gang member.
R v WH "Operation Ranto" Attempted possession of firearm and ammunition and supplying class A drugs on the "dark web"
Client Comments
"Hodge Jones & Allen is one of the best firms in London, lending expertise from Solicitor, Graeme Hydari, one of the many areas he specialises in is representing people with Aspergers. I highly recommend this Criminal Defence Solicitor and his team for taking this battle out of my hands, assisting to serve justice, giving me faith in their representation with compassion & reassurance. The advice I have been given to my complicated demoralising situation, has resulted in a move in the right direction, A Win. Trusting in the mercy of the process leaves me optimistic for the future. I appreciate your support. Thank You, Viola"
"I've not been placed in custody but instead have a community sentence. I'd would like to thank Hermione, Graeme, my Counsel and everyone else who have worked hard on my case to bring this about and ensure the best outcome for me. I'm incredibly grateful for all your efforts and I will be sure to make good on that and make the best of the opportunity provided by your efforts."
"a big relief indeed….I can't thank you enough for all your assistance and guidance…your advice worked. Thank you."
"I can't thank you enough for your amazing and outstanding work. We are grateful to you all. I will highly recommend you to all my family and friends." Mrs M.B. 
"We needed a solicitor who has had dealings with and understands 'special needs/autistic' young adults, which Graeme Hydari does, we wish we had found him first before going to court. I would highly recommend Graeme to anyone, he was always responsive to emails and professional throughout our time using him."
"I would like you extend my utmost gratitude to yourself for all the work you put in and for helping me through what has been one of the most difficult journeys in my life. I can move forward and start to rebuild my life. I thank you so much for ensuring this could happen." Mr D.R.
"The difficulties my brother faces because of his disability have brought tensions in our family, but I have been amazed by the way Graeme has been able to step in and diffuse situations through his calm, knowledgeable and authoritative manner. He is completely non-judgmental." LM
"The best solicitors they got me NFA" [police took no further action after our client's initial arrest and interviews].
"Even after one conversation with Graeme, I knew we were in safe hands. Finally I was talking to someone who treated my son like a human being and understood the challenges of his disability. Graeme is extremely professional and an excellent communicator." IH
"After just one phonecall with Graeme I felt a huge weight lift. Graeme made me understand that we are not alone and we were not the only family experiencing trauma. I learnt more in that initial call with Graeme than I did throughout the entire relationship with our original local solicitor. This is a man who will really go that extra mile. We have the very best person we could possibly find fighting our corner. Graeme came into our lives when we were desperate and has been a life–saver. He is approachable, compassionate and most of all knowledgeable." SE
"Graeme was an effective adversary for my son, and without him the court and the police would not have been fair." SP 
"Our son felt he could talk to Graeme and more importantly trust him." SB
"Your legal assistance was done in such a professional and compassionate way, it is much appreciated." CY
"Thank you so much for all your help during this case with amazing results." CB
"Thank you very much for your assistance, your kindness and good advice was a great help to me and I appreciate it hugely. I am so relieved."
Professional Comments
"Graeme Hydari and Alex Pecanac are an absolute pleasure to work with and always provide the first class service you expect from the HJA Crime Team." Counsel Amelia Clegg
"He is without doubt a leading solicitor in the UK helping those with autism in the criminal justice system." Professor Simon Baron – Cohen Autism Research Centre
"Graeme is the number one solicitor in the specialised field of representing autistic clients." Elizabeth Lambert, Barrister
"I work with legal professionals regularly and Graeme outstrips them all in terms of his knowledge and empathy, particularly with those on the autism spectrum." Dr Carly Wilson, Psychologist 
"He doesn't just know the law, he knows about mental illness and the impact of autism on an individual and family life. He is excellent with clients and their families, displaying exactly the right level of empathy, clarity and firmness." Julia Krish, Barrister 
Memberships & Appointments
Present Memberships
London Criminal Courts Solicitors Association
Past Appointments
Independent Peer Reviewer for the Legal Aid Agency
Member of the specialist Law Society Criminal Law Committee for 11 years
Special Educational Needs School Governor and fundraiser for special school for those with disability
Member of Lord Bradley Review Group on Mental Health and Criminal Justice
Member of the "Care not Custody" diversion coalition at the Prison Reform Trust
Career & Personal Interests
Career
Partner Hodge Jones & Allen, Sept 2016 to date
Consultant Solicitor Hodge Jones and Allen, Oct 2011 –Sept 2016
Consultant Solicitor Needham Poulier and Partners, 2008-2011
Senior/ Managing Partner/Proprietor Porters Solicitors Tottenham London, 1994 -2008
Partner Alistair Porter and Co, 1988-1994
Solicitor Alistair Porter and Co London, 1985-1988
Solicitor Corkers Solicitors, 1984
Professional Qualifications
Qualified as a Solicitor 1984, so have been qualified for 37 years
Duty Solicitor Courts and Police Stations
Higher Criminal Courts Advocate
Educations
Articled clerkship Corkers Solicitors London 1982 -1984
University of Northumbria Newcastle upon Tyne 1977-1981 B.A. (Hons) degree in Law and Law Society Solicitor Final Examinations
Argyle House Independent Grammar School
Personal Interests
Politics; music, art and literature.
Sunderland Football Club