General Crime
Criminal Litigation Solicitors in London
Being accused of a crime, whatever the circumstances, is one of the most stressful and worrying experiences anyone can face.
Allegations of any nature can lead to reputational damage and leave you unable to work. And that's before even considering the potential for conviction.
If you have been arrested, it's important that you get the representation you need as soon as possible – whatever the circumstances. At Hodge Jones & Allen, we have an experienced and knowledgeable team of Criminal Defence Lawyers. They will be able to represent you every step of the way, from an interview at the police station to any court hearings or regulatory or disciplinary hearing.
Our Financial Crime & Regulatory team has been ranked in the Chambers & Partners 2023 legal directory. The team was described as "very friendly and professional" and "effective in the financial crime area."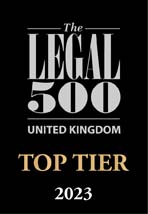 "As a firm they have a real team spirit, always sharing knowledge and experience with each other, to the benefit of their clients. They have a superbly dynamic and diverse team of lawyers in the team." – Legal 500, 2023
"HJA's criminal solicitors are amongst the leading criminal solicitors in the country. They have been involved in countless landmark cases but also in hundreds if not thousands of important protest cases in the magistrates courts."- Legal 500, 2023
we can help.
0808 271 9413
If you've been arrested for any reason, get in touch with us as soon as possible to get the support and representation you need.
What To Do If You Are Arrested?
If arrested and taken to police station:
You will be informed of the grounds for your arrest
and you have a right to independent legal advice.
For most offences, the police can take your photo, finger prints & DNA can be taken at the police station. If you are under 18, an appropriate adult needs to be present for this to happen. There are some offences, for which the police cannot take these samples. If you want to check about this, you can ask your solicitor.
You have the right to see a doctor if you are unwell.
If you are under 18, you have to have an appropriate adult (parent/legal guardian or other responsible adult) with you at the police station and throughout the police station process.
Unless certain conditions are met, you can inform someone of your arrest.
DO NOT answer any questions about the offence from the police until you have spoken to a lawyer from our firm.
If you are arrested, contact us on
0808 274 8226
or ask for Hodge Jones & Allen
Back to top
At Hodge Jones & Allen, we know that being accused of a crime can be a terrifying prospect. That's why we look to treat every case with the care and attention it needs, making sure you get a fair hearing and the best possible representation, whatever the nature of the charges that are being brought against you.
We are widely acknowledged as one of the leading Criminal Defence Lawyers in the UK. Highly recommended by the leading legal directories (Legal 500 and Chambers and Partners), our expert lawyers have worked on some of the most high-profile and complex cases ever prosecuted in this country. No matter the case, we pride ourselves on the highest quality of representation for all HJA clients.
This commitment to excellence has seen our Criminal Defence Solicitors win numerous national awards. We look to secure the very best outcome for our clients, which is why you can rely on us to give you the best representation possible.
Our winning formula is not just based on decades of experience and knowledge, but on understanding our clients. Our lawyers are supportive and empathetic, taking the time to know and understand the most important person in the case – our client.
A member of our team will assist you in your case from the first hint of an investigation. We can work to avoid any prosecution taking place. If your case does end up in court, we can guide and represent you through the entire process, right up to appeals.
We take the time to understand your case and your approach to it so that we can work more effectively on your behalf. Our lawyers' patient, diligent and approachable manner is appreciated by our clients.
Contact Our Criminal Ligation Experts Today On
0808 271 9413
or request a call back.
If you are calling outside our office hours (9:30am to 5:30pm), call our free phone 24 telephone 0808 274 8226. There will always be someone at the other end of the telephone to assist you.
Back to top
Featured Cases
Murder Offences
Our Criminal Defence Lawyers have been instructed in a wide number of complex and high-profile cases. We were instructed in the defence of Adham El Shalakany at the Central Criminal Court. Mr El Shalakany was arrested at home on 29th January 2019 and charged in connection with the murder of Tudor Siminiov on Park Lane on 1st January 2019. The charge was brought on a joint enterprise basis. The prosecution decided that they would not proceed with the murder charge against him.
drug offences
Our client was arrested & charged with possession of class A drugs, with intent to supply, as he was found with drugs in a rucksack. A criminal gang had beaten and threatened our client to force him to carry the drugs on their behalf. His criminal defence solicitor, Kerry Spence, partner at Hodge Jones & Allen referred his case to the Serious Crime Agency (SCA) as he was a victim of modern slavery. The Crown considered the facts under the Modern Slavery Act and accepted that our client was a victim of slavery and withdrew their case against him.
View all
General Crime Frequently Asked Questions
Getting answers to key questions to help you take the next step
In What Circumstances Will I Need A Criminal Defence Solicitor?
If you've never been arrested or in trouble before, you might not feel like you need a lawyer, because you've done nothing wrong. This can be a mistake. Criminal Law is a complex, specialist area, so you need the best possible representation when your liberty and reputation are at stake.
It's important to have a specialist Criminal Lawyer with you every step of the way, no matter the situation.
I've Been Told That I Have Been Released Under Investigation, (RUI) – What Does This Mean?
If you've been Released Under Investigation, this means the police or other investigators are continuing their enquiries and the investigation is ongoing. The authorities may be taking further witness statements, obtaining CCTV footage, having items forensically analysed or obtaining financial and other personal data. Having been Released Under Investigation, or bailed, the police have a number of options:
The police could decide to take no further action
The police might caution you
They might charge you, meaning that you would be required to go to court
If you're required to attend court, you should instruct a Criminal Lawyer to represent you who can give you expert advice, both in terms of the charge you are facing, and the how the court procedure works.
How Long Can The Police Keep Me On Bail?
Initially, you can be released for a maximum of 28 days, but this can be extended by up to three months (including those initial 28 days) by a senior officer if the criteria is made out. Further extensions can only be granted by a magistrates' court up to 12 months if the necessary criteria is made out.
Do You Have Any Expertise In Representing Vulnerable Clients?
Yes, we are very experienced in this area in relation to both young people and those with mental or developmental conditions. We have quick access to psychiatrists, psychologists and intermediaries who can assess you and produce reports for the court to help you in your case. We can make applications to the court for you to be assisted by an intermediary to sit with you and support you in order to help you understand what is happening in your case, and to help you give your account of what happened.
One of our senior Criminal Solicitors specialises in this area and is particularly knowledgeable about Autism (which includes Asperger's Syndrome) and Learning Disability.
We also have a specialist Youth Team which is highly regarded in the field of Youth Justice. We know that even when a child/young person has been charged with a very grown up criminal offence, they are still exceptionally vulnerable in the court process because of their age. The best interests of the child/young person is a central principle of the Youth Justice system and it's at the heart of our approach to fighting for our young clients.
Can I Call You To Discuss My Case Without Fees?
Yes, our team of Criminal Defence Lawyers will take your call any time of day or night to give you a free consultation, so you can understand your options. 
What Kind Of Cases Are Heard At Crown Court?
Crown Courts deal with the more serious offences and accusations. All cases will begin at a magistrates' court, before coming to the Crown Court. Cases heard at Crown Courts include: 
Robbery

Murder

Serious assault

Rape