General Crime
Representation
We have years of experience representing the innocent. We stand up to the prosecution who will always be represented by an experienced Solicitor or Barrister. We know how to fight and win cases and can help you in a number of different circumstances if you need legal representation.
Our experienced Crime Solicitors regularly represent a wide range of clients at police stations and in court. We're here to help you. 
Our Financial Crime & Regulatory team has been ranked in the Chambers & Partners 2023 legal directory. The team was described as "very friendly and professional" and "effective in the financial crime area."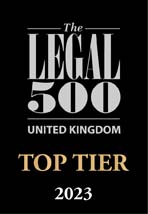 "As a firm they have a real team spirit, always sharing knowledge and experience with each other, to the benefit of their clients. They have a superbly dynamic and diverse team of lawyers in the team." – Legal 500, 2023
"HJA's criminal solicitors are amongst the leading criminal solicitors in the country. They have been involved in countless landmark cases but also in hundreds if not thousands of important protest cases in the magistrates courts."- Legal 500, 2023
Where Can We Represent You?
At The Police Station
You are always entitled to free legal advice and representation if the police are going to interview under caution, or you have been arrested.
At The Magistrate's Court
Our crime solicitors regularly represent clients in the Magistrates' Court which deals with the vast majority of criminal cases. All cases will start with a Magistrate and a large majority will be concluded in this court.
There are certain offences that can only be dealt with by a lay magistrate or a district judge and these are known as 'summary only' cases. These include most motoring offences.
At The Crown Court
The Crown Court will deal with more serious offences for example robbery, murder, serious assaults and rape. All Crown Court cases will start in the Magistrate's Court.
"VERY POLITE, PROFESSIONAL AND EXCELLENT ADVICE AND SERVICE. MADE ME FULLY AWARE OF MY LEGAL RIGHTS AND HOW TO CONDUCT MYSELF IN THE INTERVIEW."
Back to top
To gain free representation, we will need to make an application to the Legal Aid Agency, which include two tests:
Interests Of Justice Test
With this test the LAA will take into account a number of factors, for example the seriousness of the allegation or if a complicated point of law is involved. Our experienced Lawyers can usually tell you straight away whether your case is likely to pass this test.
Legal aid is rarely granted for motoring cases but there are exceptions. Call our team for further advice.
Financial Means Test
The LAA will also assess your income and expenditure to see whether you are eligible. We can carry out this assessment for you.
Private Representation
Don't worry if you're not entitled to legal aid – one of our Solicitors will represent you privately. Call our Solicitors and we will agree a fee with you. They are reasonable and we will agree with you, in advance. We promise there are no hidden extras.
Under 18s
You will not have to pay towards costs if you are under 18 when you make your application or, if you are receiving benefits – income-based jobseekers allowance, income support and other allowances.
Back to top
Why Choose Hodge Jones & Allen?
We have years of experience in supporting people like you in a range of different circumstances.
Our expert Lawyers have the knowledge to help you every step of the way when it comes to defending an alleged criminal offence. We know what to do to win cases and can help you to rebuild your life.
Back to top