Housing Help
Funding Your Housing Case
There are many funding options open to you depending on the type of case and your financial circumstances.
We understand that you don't want to add funding worries to the problems you already have and. So, we'll always clearly set out the options available to you as soon as we know the details of your case. We want to give you every assurance that we would never incur costs on your behalf without your full agreement and knowledge.
The various funding options are as set out below. Not all options will be open to everyone, but your dedicated Solicitor will discuss these with you in more detail once they've made their initial assessment.
Our Housing team has been ranked in Band 1 in the Chambers & Partners 2023 legal directory. The team was described as "progressive and robust in defending the rights of vulnerable tenants and homeless applicants."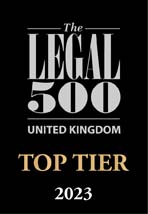 "Hodge Jones & Allen is an industry leader in social housing law. The firm provides an exceptional service for all of its clients in disrepair, possession and homelessness. The firm has a reputation for providing an exceptional level of service and advancement of the law in very high profile cases in the Court of Appeal and Supreme court." Legal 500, 2023