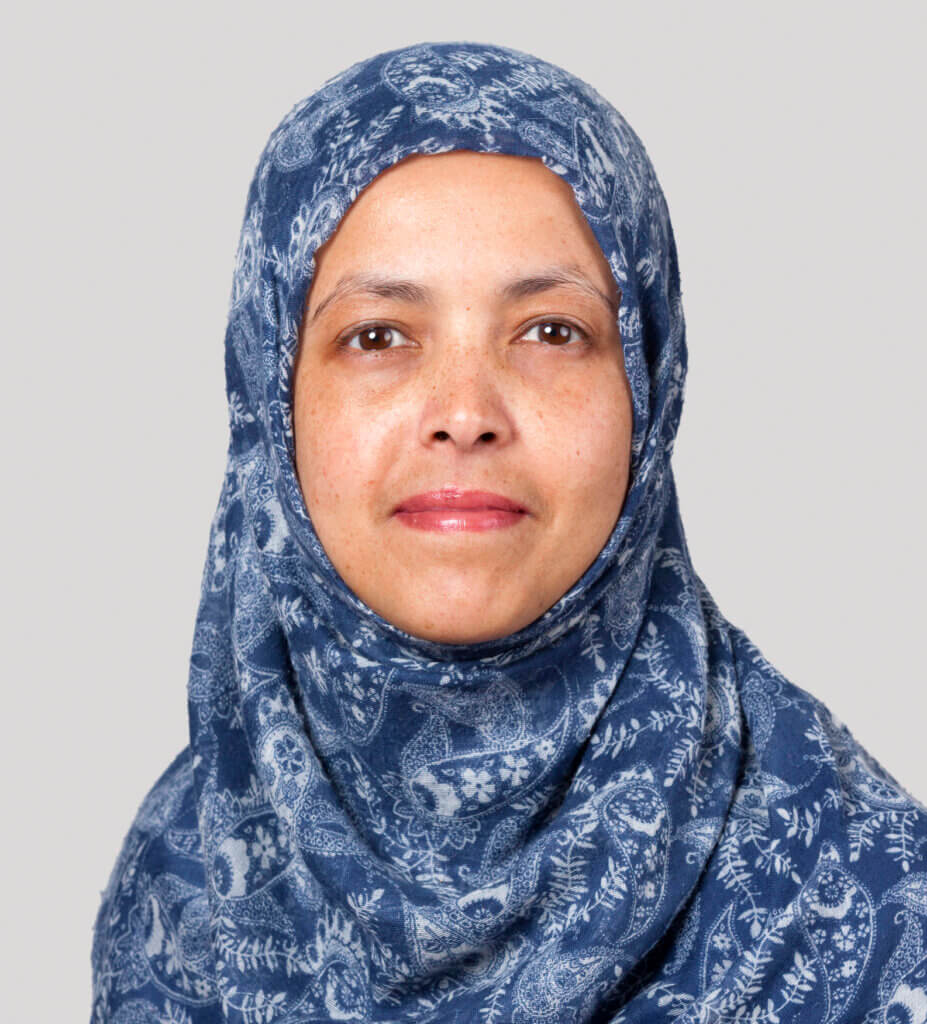 About Farzana Chowdhury
Farzana joined Hodge Jones & Allen in 2001 as a newly qualified solicitor. She was promoted to associate and then Partner in 2010.
She has a broad range of experience in all aspects of housing law. She has a particular interest in possession cases including anti-social behaviour, succession and subletting cases. She has earned herself a reputation for taking on difficult cases that no-one thinks can succeed – and has gone on to obtain excellent results for her clients. She also works extensively in other areas of housing including disrepair and homelessness.
Farzana is a recommended lawyer by the Legal 500, 2024 and ranked in Chambers 2024.
"Farzana Chowdhury is a tenacious lawyer and highly effective in securing repairs to dwellings of tenants and fighting for tenants rights. She has an extraordinary ability to connect with clients, to see the legal issues from the outset of the case and to clearly direct litigation in a way that achieves the very best possible outcome. Her knowledge of the law is second-to-none and she is a trusted pair of hands for large, complex housing cases." - Legal 500, 2024
"Farzana is extremely diligent and able." - Chambers, 2024
"Farzana Chowdhury – an exceptional lawyer who achieves exceptional results with quiet determination and exceptionally hard work." – Legal 500, 2023
"Farzana Choudhury is an excellent lawyer and very dedicated to the interests of her clients." Legal 500, 2022
"Farzana Chowdhury's standout characteristics include her ability to stay cool and calm in stressful situations, her ability to communicate with people from all walks of life, and her accommodating nature and honest approach." Chambers UK, 2019
"an excellent lawyer and has a vast knowledge of possession proceedings and disrepair claims" Legal 500, 2019
Notable Cases
Farzana represented a secure tenant in possession proceedings for alleged anti-social behaviour of a most serious nature. The police had obtained a closure order on the property as a result of which the tenant was barred from entering her home. Representations were made to the local authority and, after repeated debate and negotiation a duty was accepted to accommodate the tenant and her children. The case culminated in a 5 day trial with approximately 20 witnesses. The court made a suspended order for possession. Upon there being allegations of breach the Claimant applied for a warrant for possession and an eviction date was obtained. The Claimant also separately issued a further claim for possession on the ground of rent arrears. Negotiations were entered into regarding the second possession claim. This was settled by way of a payment of damages for disrepair in the sum of £4000 which extinguished the arrears. An application to suspend the warrant was issued for the first claim. This was heard at a 3 day hearing. The warrant was successfully suspended upon terms.
She also represented a client who was a secure tenant of a London authority. The tenant had arrears in excess of £3000 as a result of which possession proceedings had been issued. An outright order for possession had been made by the court in his absence. Upon a Notice of Eviction being issued the tenant sought legal advice representation. An application was urgently made to set aside the order for possession, with the effect of reinstating the tenancy retrospectively. The tenant was then advised regarding a potential claim for housing disrepair. A claim was issued in the county court and the local authority then counterclaimed for the rent arrears. Representations were made to the Housing Benefit department as a result of which backdated Housing Benefit was awarded to the tenant, reducing the arrears from over £3000 to just over £1000. The disrepair claim was thereafter settled on the basis that the balance of arrears would be cleared and the tenant would receive £7000 damages.
Client Comments
"She knows her stuff, very calm, and she's highly experienced."
"Farzana Chowdury helped me with my case. She was kind, caring and consistent with me. Loved her honesty and professionalism, couldn't ask for another person. Farzana and the entire team have been very helpful to me. I like their honesty and professionalism. I would highly recommend."
"I had a social housing matter to which I thought a court hearing was going to be necessary. On the contrary, after Farzana assisted me there was no need for a hearing, as after some communications, the local council decided not to escalate matters further with a hearing which was just amazing. I was kept in the loop with regular communications either by email or phone. I would most definitely recommend Hodge Jones and Allen for your social housing matters, as they are a leading name in the sector as well providing excellent communication and a high quality service."
"Hodge Jones & Allen helped me with my housing disrepair case. They were professional, consistent, honest and emphatic. Farzana my solicitor is a great lady who I got loads of support and encouragement till the end of my case so as Olivia the trainee solicitor. I'm very grateful for their support. I highly recommend them"
"I had the good fortune of having this firm recommended to me. Best decision I made going forward. This company and team are reliable, trustworthy, willing to listen, support through the tears I cried, laughed with me when needed. They communicated every step of the way. I can honestly recommend going to them if you have Landlord's that behave as if your needs are second to theirs, that take your rent, but forget to fix the basics of your home, landlords that leave you in sewage for 2 years even when you call regularly for help, landlords that know your home is damp with black mould and do nothing. This company, and all their team do a fantastic job, they will help to put things right and make your landlords take responsibility for the disrepair of your home. Farzana Chowdhury and her team are definitely the people to talk with. Glad my case has come to an end, sad that I will miss her and the teams wonderful support."
"The solicitor [Farzana Chowdhury] I used was great. She always responded quickly to me and gave me lots of reassurance during a difficult period."
"Farzana has amazed me once again with her amazing service would recommend her to anyone confidently."
"Excellent service, with rapid replies and outstanding customer service."
"We had a housing problem with our previous flat. A huge damp and mould situation where landlord and agency didn't cooperate or allowed us to leave. We were represented by the lovely Farzana Chowdhury who was very helpful and professional from day one until the final outcome. We truly recommend her services, Farzana made us able to end the tenancy in our favor after many attempts to sort the case with the agency/landlord ourselves. Strongly recommend Farzana Chowdhury services and Hodge Jones & Allen services. We are very happy."
"Very professional manner."
"It was a pleasure to work with Farzana Chowdhury, she is very patient and understanding. I am glad that I worked with her and I wouldn't have wanted to sort this matter with anyone else. Best solicitor. Thank you for all the support and advice."
Memberships & Articles & Publications
Memberships
Housing Law Practitioners Association
Articles & Publications
The Justice Gap – Grenfell Tower fire: tenants' rights and the gaps in the law
Career & Personal Interests
Career 
Hodge Jones & Allen, 2001
Trained, Duncan Lewis & Co
Education
School of Oriental and African Studies, University of London
Legal Practice Course at the College of Law, London