UK Rented Housing Disrepair Issues Report 2023
We've explored how common disrepair issues are in rental properties, and also offered advice on tenant rights to compensation if reported problems aren't fixed in a reasonable amount of time.
Renting property is big business in the UK, in fact latest statistics show the number of households renting has more than doubled in the last two decades.
With high demand comes higher prices too, and over half (51%) of private tenants have seen their rent increase in the last year – the average rise was 10.3% (comparing August 2023 with August 2022).
While higher rents are far from ideal for many, what's especially worrying is that an estimated 14% of rental households don't meet the government's 'Decent Homes Standard'.
Furthermore, one in ten (10%) rental properties are estimated to have a 'Category one hazard' present – which means there is judged to be significant risk to tenant health and safety.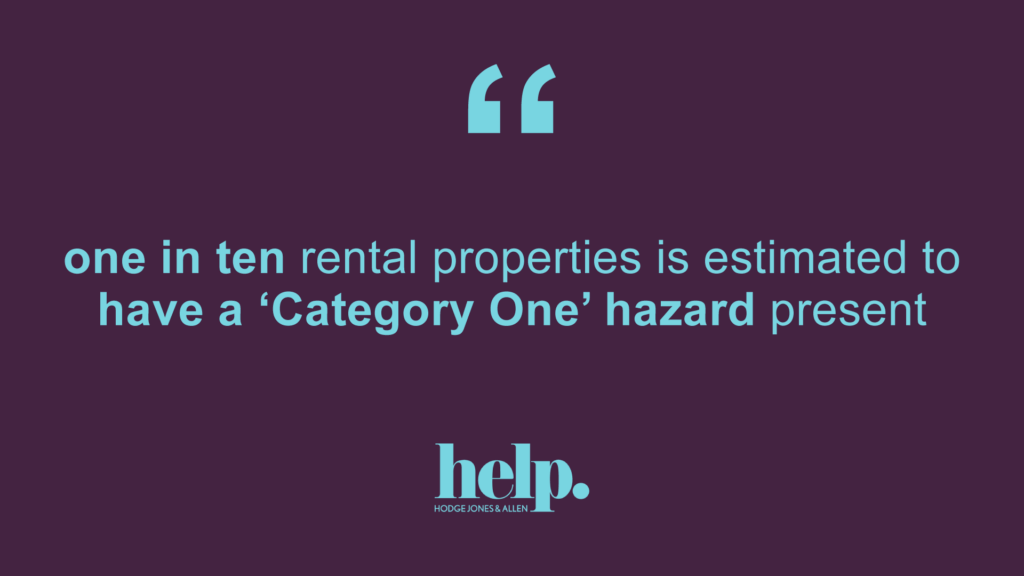 With this in mind, we wanted to revisit our 2021 report on housing disrepair issues across the UK, to see what issues tenants are facing, how common they are right now and where the hotspots are.
Read on too for advice from our expert housing disrepair solicitors about claiming compensation if a reported issue remains unresolved for an unreasonable amount of time.
How common are disrepair issues in rental properties?
We ran a survey in September 2023 and discovered that nearly half (48%) of current UK tenants are living with one or more housing disrepair issues.
These include, but are not limited to mould, damp, leaks, electrical hazards, heating or hot water issues or blocked drains.
Tenants aged 18-24 revealed that they are the most likely to be living with an issue (67%), followed by 35–44-year-olds (52%).
Local authority tenants are also more likely to have disrepair issues (61%) versus private renters (47%) and social housing renters (46%) according to our survey.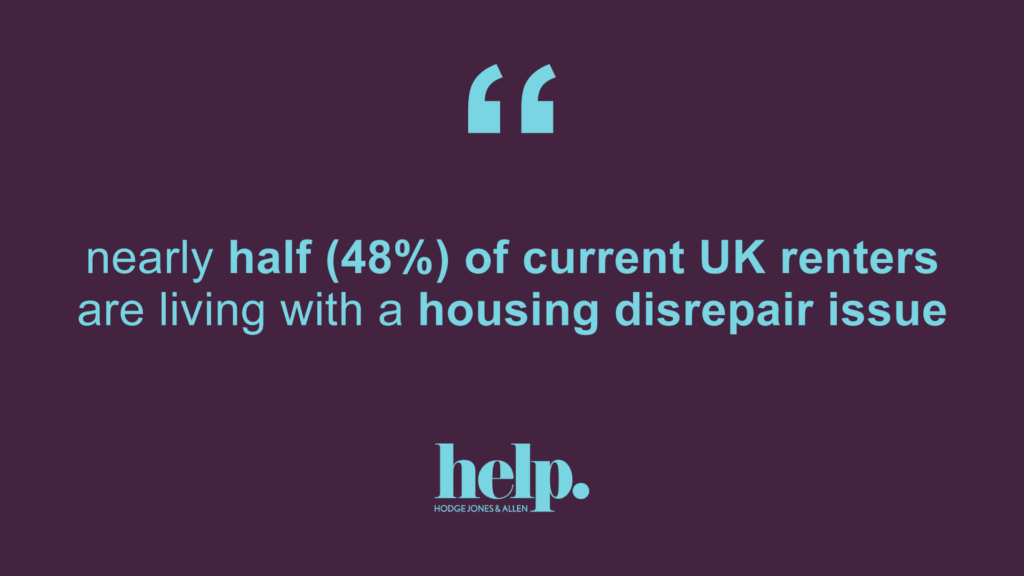 The UK capitals for housing disrepair issues (based on the % of rental tenants who said they are currently living with at least one) are:
Nottingham (60% are living with one or more issues)
Bristol (59%)
Manchester (58%)
Newcastle / Norwich (57%)
London (55%)

What are the most common disrepair issues?
Our survey showed that in September, the most common disrepair issues were…
Mould (48% have it in at least one room in the house)
Damp (47%)
Entrance defects (29%)
Roof leak (26%) / water leak (26%)
Blocked pipes / drains (24%)
Electrical hazard (23%) / heating or hot water issues (23%)
Structural damage (21%)
The absence of a working smoke detector (20%)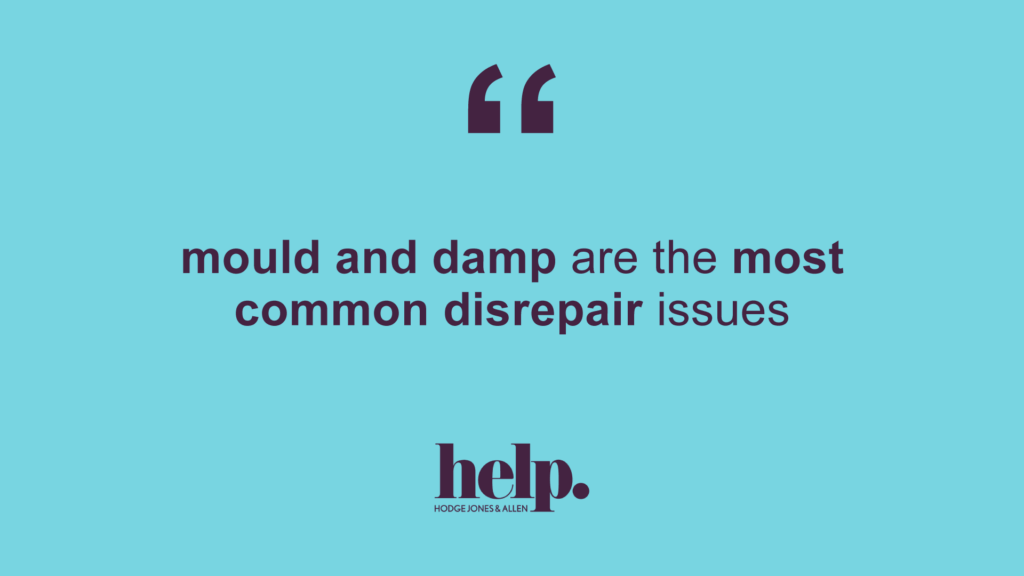 However, this appears to vary slightly by location. The most common housing repair issue in Nottingham was mould (60% have this), and it was damp in Bristol (59%) and Manchester (58%)
Over two-thirds of 18–24-year-old tenants (67%) said they're living with mould, and six in ten (61%) are living with damp.
Bedroom(s) and the kitchen were the most common locations for disrepair issues, which is especially worrying as these are areas of the home where we're most likely to spend a lot of time.
How long does it take for issues to be resolved?
The first step is reporting an issue, and not everyone does.
Most (83%) tenants affected by disrepair issues in their rental property said they have reported at least one of these issues to their landlord. However, this means that 17% haven't (yet).
Of those who haven't yet reported the disrepair issue(s) they are living with, over a third (36%) said it was 'too much hassle', or they thought there was 'no point as nothing would be done about it'.
Of those who have, they reported that the issues were usually fixed in six days. However, over a quarter (28%) of tenants have been waiting six months or more.
Social housing tenants are the most likely to have waited longer – eight days on average, but more than a third (36%) waited over six months.
Tenants in Norwich are also more likely to wait the longest for a repair to be made (10 days on average), followed by those in Leeds (9 days) and Liverpool (8.5 days).
That said, tenants in Edinburgh are the most likely to have waited over 6 months for a disrepair issue to be fixed (67%).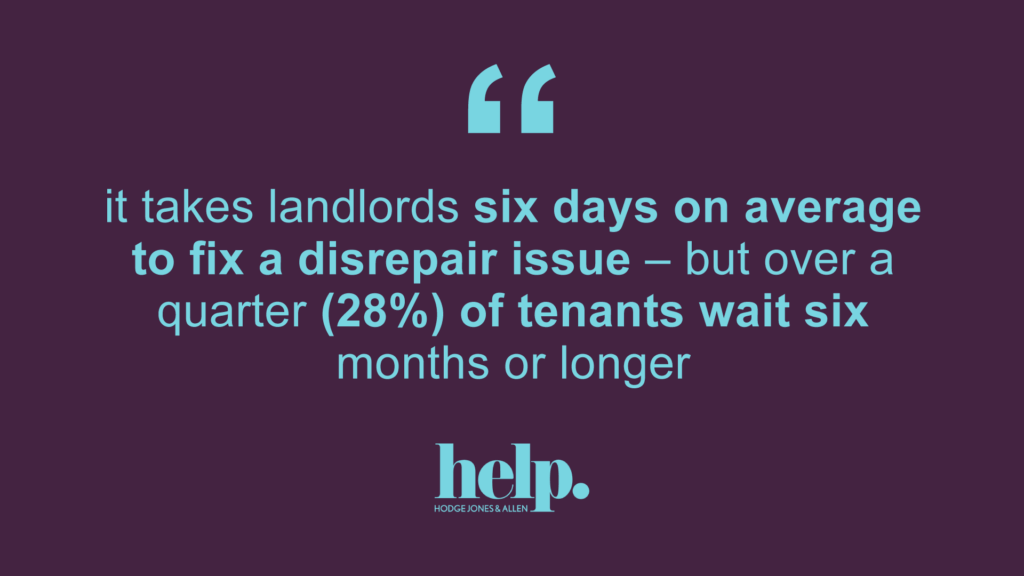 The latest English Housing Survey reported that more renters are 'dissatisfied' with the way their landlord carries out repairs, than two years ago – 23% said they felt this way, versus 21% in 2021.
More renters also said they are dissatisfied because their landlord doesn't bother with repairs or maintenance at all (33% in the latest report versus 30% in 2021) or because their landlord is slow to get things done (31% in the latest report versus 29% in 2021).
What standards are landlords expected to meet?
Various standards or guidelines are in place for landlords and local authorities to comply with. Not all of these apply to every type of landlord though or cover every area of the UK – many are just for England and Wales.
What's more, some of these are more about how to prevent hazards, rather than specifically what hazards are considered unacceptable.
That said, it's worth being aware of these as they can help you understand what disrepair issues are considered 'unacceptable' and therefore a landlord should really be taking action to remedy as soon as possible.
About the Decent Homes Standard…
The Decent Homes Standard sets the minimum standards that rental properties should be
It currently only covers properties in the 'social' rented sector – not private properties
Social housing is provided by either housing associations (not-for-profit organisations that own, let, and manage rented housing) or the local council
The definition of what is a decent home has been updated to reflect the Housing Health and Safety Rating System (HHSRS) which replaced the Housing Fitness Standard on 6 April 2006
Dwellings which fail to meet the current statutory minimum criterion are those containing one or more hazards assessed as serious ('Category 1') under the HHSRS
Around 21% of privately rented properties are understood to not meet these standards
About the Housing Health and Safety Rating System (HHSRS)…
The HHSRS is a risk-based evaluation tool to help identify and protect against potential hazards to health and safety in dwellings.
It applies to all residential properties in England and Wales
It's designed to help private landlords in particular to identify the type of work that needs to be done on their properties
That said, the HHSRS does not set out minimum standards. It is more concerned with avoiding issues.
Local authorities are expected to inspect private residential properties to ensure that private landlords are maintaining their properties sufficiently well, to minimise potential hazards.
Local authorities are under a duty to take action in the case of category 1 hazards that haven't been dealt with by the landlord
Category 1 hazards are those where the most serious harm outcome is at risk for example, death, permanent paralysis, permanent loss of consciousness, loss of a limb or serious fractures
If a hazard is less serious or less urgent, this is known as a Category 2 hazard
29 different hazards are assessed including (but not limited to) structural issues, damp and mould growth, excess cold, excess heat, asbestos, occupant crowding issues, inadequate natural lighting, excess noise issues (within the property), pests and refuse issues, electrical hazards, property security issues, sanitation and drainage issues, water supply contamination issues, and food safety facility issues.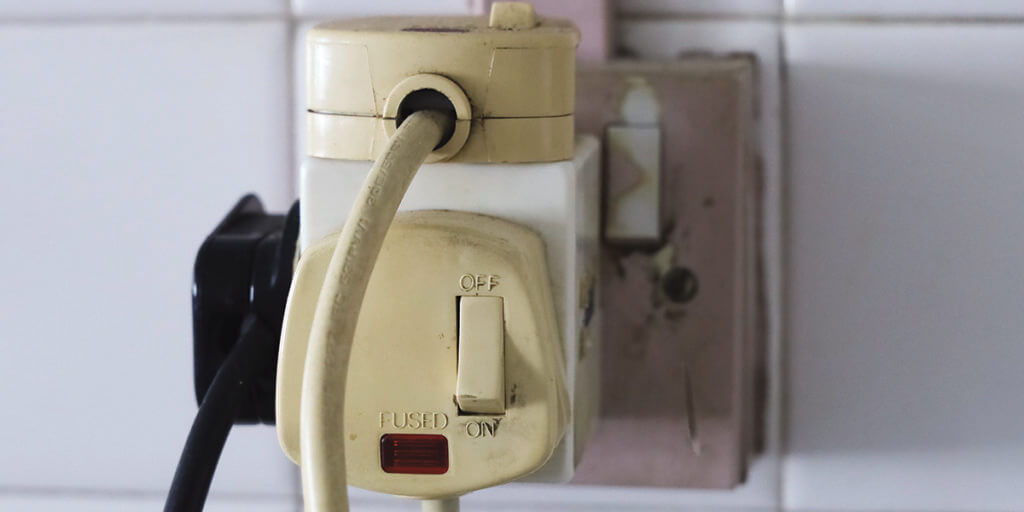 About The Homes Act…
All landlords in England must also comply with the Homes Act
Under this act, the landlord must ensure that the rental home is 'fit for human habitation', which means that it's safe, healthy, and free from things that could cause the tenant or anyone else in the household serious harm
Problems covered by the Homes Act include…
the building has been neglected and is in a bad condition
the building is unstable
there's a serious problem with damp
it has an unsafe layout
there's not enough natural light
there's not enough ventilation
there is a problem with the supply of hot and cold water
there are problems with the drainage or the lavatories
it's difficult to prepare and cook food or wash up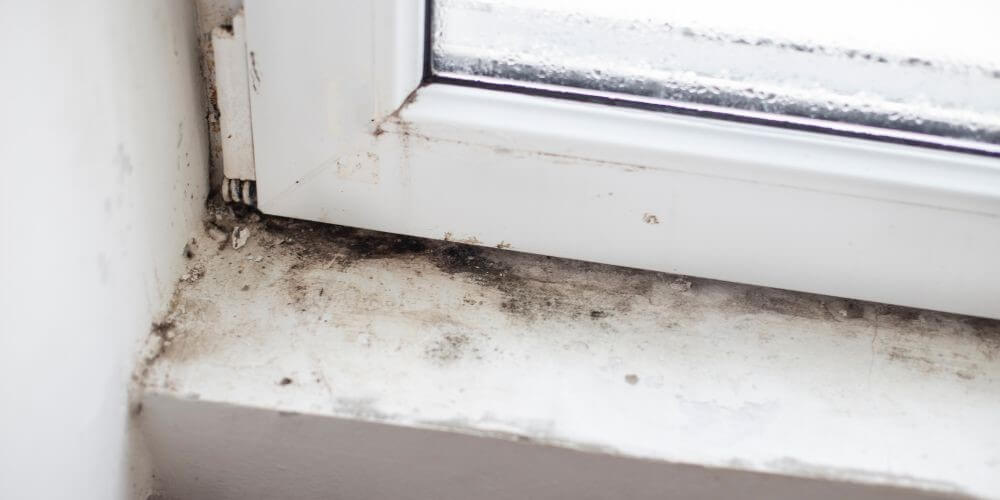 Advice to tenants affected by disrepair issues in their rented home
We also asked our survey panel if they knew that they could claim for compensations if their reported housing disrepair issues was not fixed by their landlord in a reasonable amount of time.
Half of tenants (50%) said they didn't know this.
Female tenants were more likely to be unaware of their legal right to compensation than men (55% versus 43%).
Social housing tenants were also more likely to be unaware of this (70%).
This also applied to tenants living in Cardiff (69%) and Edinburgh (65%) who were also more likely to be unaware of their legal right to compensations.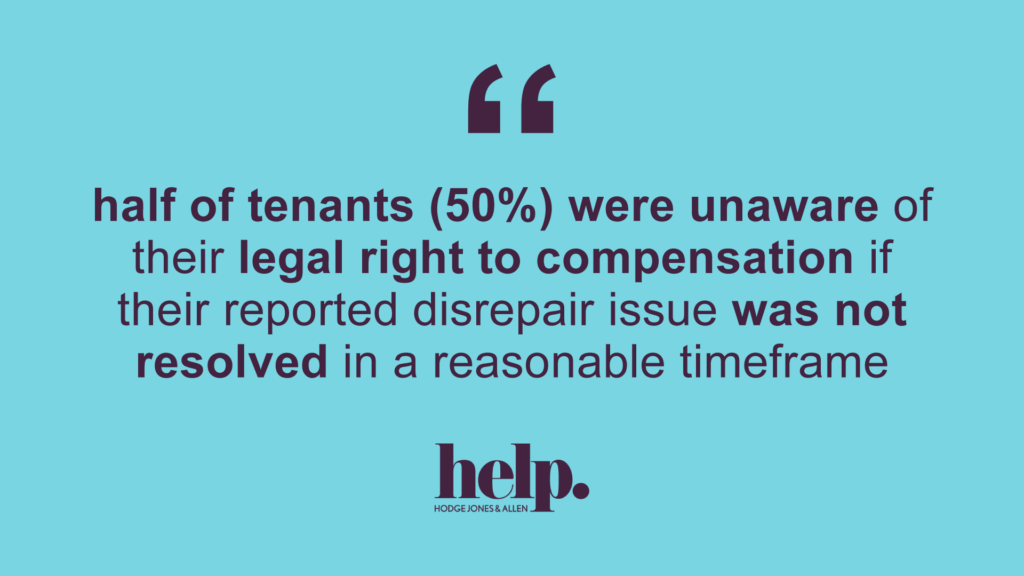 Farzana Chowdhury is a partner here at Hodge Jones and Allen, and also an expert in Housing Disrepair Compensation Claims. She has explained what tenants need to be aware of and do if they've been affected by a disrepair issue:
Issues must be reported to your landlord immediately, in writing (this includes emails and texts).
If you think your house or flat is in a seriously dangerous condition, you should also tell your local council.
Your landlord has a duty to repair any problems in your home in a reasonable amount of time. This amount of time will depend on what the problem is and how serious it is.
If a landlord fails to respond to their tenant's complaints regarding the conditions and fails to carry out repairs within a reasonable period of time, a tenant may wish to take legal action to require their landlord to carry out the necessary works.
A tenant may also wish to bring a disrepair claim against their landlord, which can include a claim for compensation.
You can claim compensation for any reasonable financial loss and expenses incurred as a result of the disrepair, including damage to your belongings. It's advisable to keep receipts for damaged items along with photographs for evidence.
You can also claim for distress and inconvenience suffered, and any personal injury you or a member of your family have suffered, as a result of the disrepair (through evidence of causation needs to be very strong).
Why you shouldn't withhold rent…
It is really important that tenants continue to pay their rent when it falls due, despite the poor conditions within their home. This is because it is a tenant's obligation to make such payments under their tenancy agreement and a failure to pay rent is a breach of the tenancy agreement and may lead to landlords seeking legal action against the tenant and can also claim possession if tenants fall into rent arrears.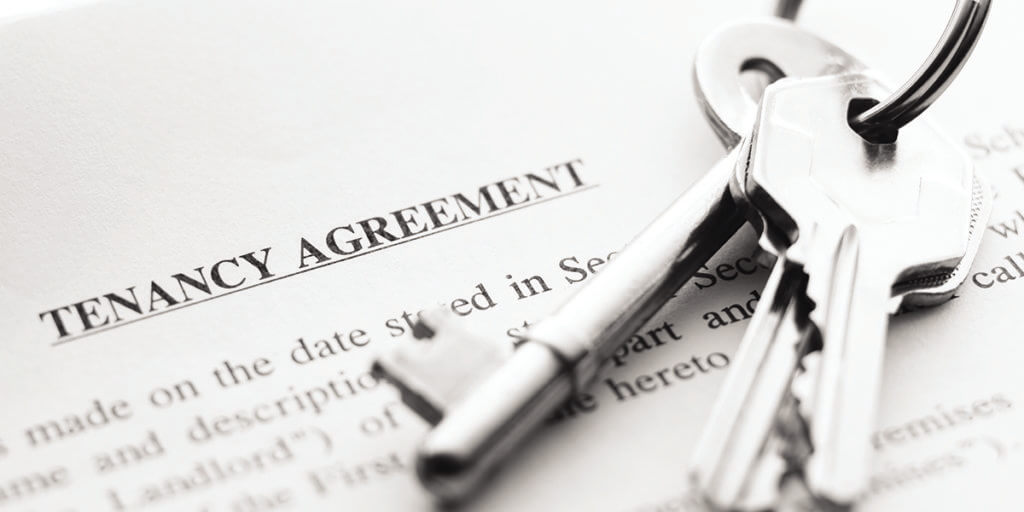 The five-step housing disrepair complaint process…
Determine the disrepair: Before making the complaint, you need to establish if the issue you are facing is due to disrepair or not, as a landlord is not responsible for all problems in the home. The landlord is responsible for the structure and exterior of the building and also the supply of water, gas, and electricity. Issues such as leaks, dampness and mould may also fall under the disrepair depending on their cause. If in doubt, seek legal advice.
Notify your landlord: It's really important that you inform the landlord about the disrepair issues in your property as no claim can be brought unless this has been done. This is referred to as providing your landlord with 'notice' and it should be done in writing via letter, email, or text message. Keeping records of your correspondence with your landlord can also be important if you end up putting a claim in. Ideally after receiving this notification about the issue, the landlord will carry out the repairs, but it's not always the case.
Write a letter of claim: If a reasonable time has passed and you either have not had a response, or your landlord refuses to carry out the necessary work, then the next step is to send a 'letter of claim' to your landlord. This would usually be asking for repair work to be carried out and to pay some compensation. You can draft this letter yourself or you can instruct solicitors to send a letter of claim on your behalf. This letter invites the landlord to put forward proposals to settle the case without the need to go to court proceedings. They have 20 working days to respond.
Obtain and expert report: After 20 working days without a response, you can get your legal representative to instruct an expert to inspect the property and produce a report on the disrepair. The expert will advise on how long the work would take to complete, and a then a schedule of repair can be produced.
Make a claim to the county court: If the matter can't be resolved through contact with your landlord, or they've refused to carry out the work or pay compensation, your disrepair claim can then be issued to the county court.
The ideal scenario for renters is that the disrepair issue is resolved in the initial stages of the complaint when you provide the landlord with notice. If this does not take place, you may be entitled to compensation for the delays.
A tenant should always bear in mind that if they are unsuccessful at court, they may be required to pay their landlord's legal fees.
More information can be found here.
About Compensation values
Based on the current average weekly UK rent (£291) and unresolved disrepair issue severity being classed as 'medium', tenants could claim £7.8k compensation if they've…
had damp in one bedroom for over a year
had mould in a bathroom for over a year
had a roof lead in a hallway for over a year
at inadequate heating in their home for over a year and so on
If the severity of the issue is classed as 'high', potential compensation rises to £15.6k
Issues that have been left unresolved for 2+ years could also lead to compensation of £15.6-£23.4k
Find out more about compensation values you could receiving by using our housing disrepair calculator.

Our study sources and methodology
We ran a survey with 1,000 current UK rental tenants in September 2023.
The data was split by respondent age, gender, nearest city and tenancy type i.e., private landlord, social etc.
We have also compared some stats from our 2023 survey with a very similar survey we ran in 2021.
Other data or insight used in this study was sourced from: