Housing Disrepair Issues Across the UK
A leaky roof, a broken boiler, no hot water, damp… these are all common housing disrepair issues that residential tenants across the UK are experiencing every day, and they can severely impact on peoples' lives. We wanted to find out more about the scale of the housing disrepair problem in the UK and so we've undertaken new research.
In September 2021 we surveyed 2,000 UK adults who have rented a home in the last five years1, to find out from them if they've experienced a disrepair issue, what the issue was and how long it took their housing association, local authority or private landlord to tackle the problem.
We found out that two thirds (66%) of recent or current renters have experienced some sort of disrepair issue. Supporting insight from the most recent English Housing Report2 stated that a quarter (26%) of social tenants (housing association or local authority tenants) were dissatisfied with repair and maintenance during their tenure. This figure was reduced to one in six (16%) for those in private rented properties, but still shows a high proportion of tenants.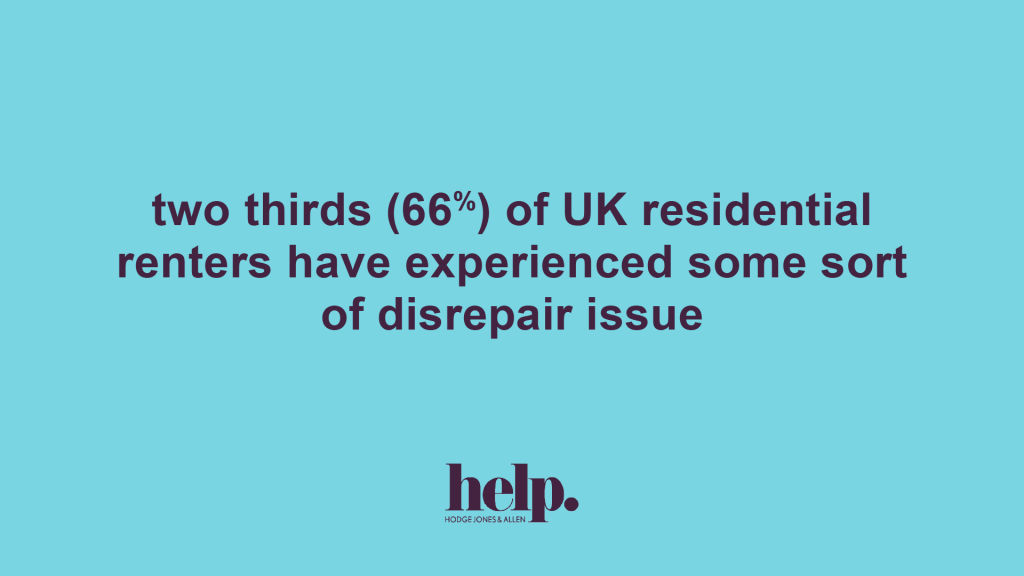 Damp is the most common disrepair issue
The most common issue in the UK is damp, with over a third (37%) of tenants saying they have seen signs of damp in their rented property. The latest English Housing Report also highlighted that half a million residential tenants in the UK reported damp in their house each year.
Winter is a time when households particularly need hot water and heating, however a broken boiler or similar is a common issue with over a quarter of renters (28%) reporting this.
Water leaks and roof leaks are other key problems, and mould has also been an issue for a quarter of recent or current tenants.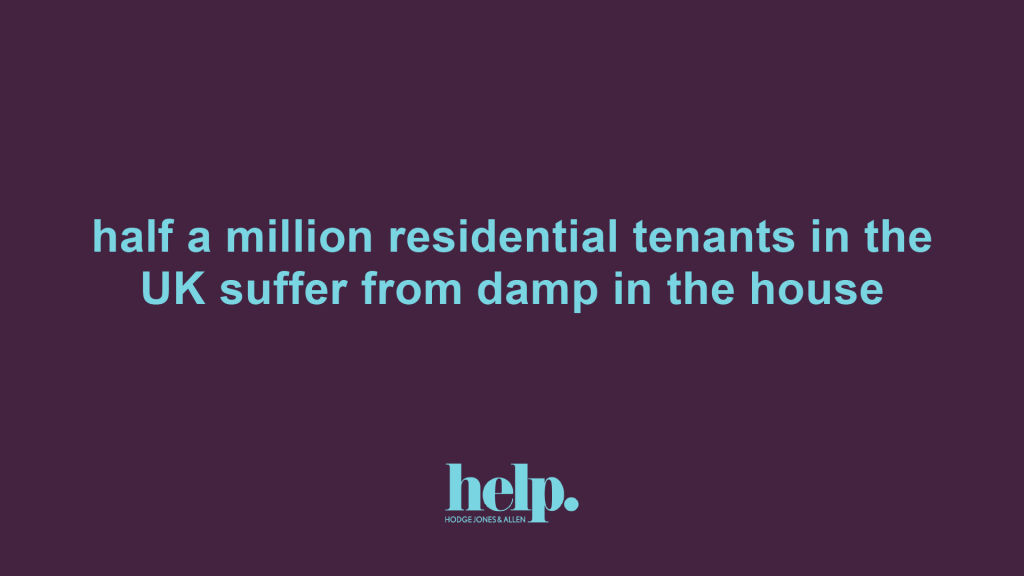 The bedroom is the most likely place for a disrepair issue
Any room could be impacted, but it seems that the bedroom is the room where the most issues seem to occur. Over half of people (58%) who have experienced disrepair issues, said their bedroom was affected.
Other main living areas the home – the kitchen (52%), bathroom (52%) and living room (48%) – are other rooms regularly affected by issues such as mould, damp and leaks.
London is the UK's housing disrepair capital
Our findings revealed London as the housing disrepair capital of the UK with nearly four in five (79%) tenants experiencing some sort of disrepair issue.
Manchester came in second place with three quarters of renters (75%) living with disrepair issues such as leaks, mould, and damp at some point during their current or recent tenancy agreement.
Northern Ireland's Belfast is another disrepair hotspot in the UK with 72% experiencing some sort of disrepair issue. Other hotspot locations included Newcastle (66%), Leeds (62%) and Liverpool (59%).
The average wait for a disrepair issue to be fixed is 41 days
Disrepair issues aren't unusual; however, it is a landlord's duty to ensure that repairs are made in a reasonable period of time.
The latest English Housing Report survey found that the main reason tenants were dissatisfied was because their landlord did not tackle repairs or maintenance issues promptly. This was the case for a third (35%) of private tenants and a quarter (26%) of social tenants.
The survey we conducted also showed that nearly one in five (18%) had a reported issue that has never been fixed. Furthermore, nearly a quarter of tenants had to wait at least six months for their issue to be fixed.
The analysis showed the top 10 cities in the UK where the most tenants reported that their reported disrepair issue has not been fixed are:
Cardiff (29%)
Southampton (24%)
Leeds (24%)
Liverpool (22%)
Norwich (22%)
Edinburgh (21%)
Birmingham (20%)
Sheffield (19%)
Belfast (19%)
Manchester (19%)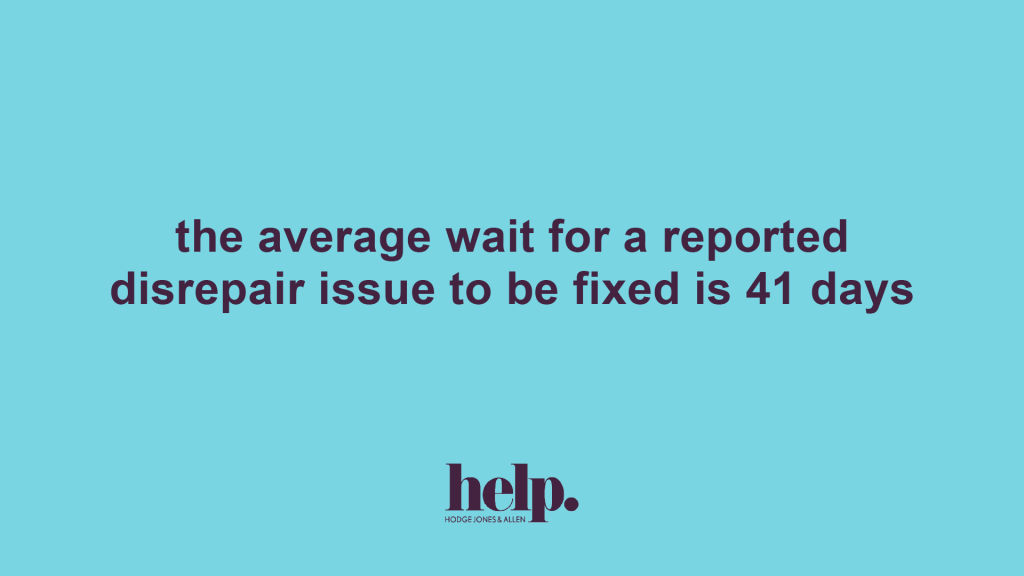 The average wait for a disrepair issue to be fixed is a shocking 41 days, but it isn't all bad news – half of landlords have fixed a problem within two weeks of it being reported, which would typically be considered a reasonable waiting time in most circumstances.
Housing disrepair success – leaks, inadequate heating, and structural issues
This property had been suffering from a variety of disrepair issues including leaks, water ingress and holes in the structure. Initially the landlord agreed to renovate the property but did no go ahead with his promise, meaning the disrepair went untreated.
After receiving an inadequate response to a letter of claim, the housing team issued proceedings against the landlord. Shortly before the trial, the landlord agreed to carry out all the necessary works, pay compensation and pay her legal costs.
The settlement agreed between the parties included a payment of damages of £14,950.
Housing disrepair success – mould and damp
Ms W had serious housing disrepair issues with damp and mould growth around her property. Over a period of two years there was intermittent water penetration from the flat above which resulted in the bathroom ceiling collapsing at the property.
The housing team sent a letter of claim and instructed an independent surveyor to attend the property and report on the conditions. This was sent to the landlord, but they failed to provide a substantive response. The housing team issued proceedings and shortly after filing a defence Ms W's landlord agreed to carry out all the necessary works.
The claim was settled afterwards for the sum of £7,000.
Farzana Chowdhury, Partner, Housing Help Team at Hodge Jones & Allen said: "Our research reveals just how many people are living in properties that are not being properly maintained by their landlord. It's worrying to see damp as the most common issue, as damp can cause health problems such as respiratory issues, respiratory infections, allergies or asthma. It also has the potential to affect the immune system.
"It's shocking that renters are waiting 41 days on average for their reported issue to be fixed. Often the problem could be tackled relatively cheaply and quickly too. It is inevitable that issues may occur but if the landlord deals with these in a timely manner then the tenant is often satisfied.
"Anyone who has experienced a disrepair issue that has not been rectified, within a reasonable timeframe, could bring a claim for an order for the repair works to be carried out and for compensation. Our specialist team of housing law solicitors provide advice on bringing a claim and getting the best outcome possible for tenants"
Find out what damages you may be entitled to receive due to your landlord's failure to keep your home in a good state of repair, using HJA's disrepair calculator. 

---
Methodology & Sources
– Survey of 2,000 UK adults who have rented a residential property in the last five years. Data collected in September 2021.
– English Housing Survey Reports – https://www.gov.uk/government/statistics/english-housing-survey-2019-to-2020-private-rented-sector, https://www.gov.uk/government/statistics/english-housing-survey-2019-to-2020-social-rented-sector and https://www.gov.uk/government/statistical-data-sets/dwelling-condition-and-safety