Housing Help
Unlawful Eviction
Eviction can be a traumatic experience in any circumstances, but especially if your Landlord is acting unlawfully. Fortunately, there are laws to protect you if you've been subject to harassment, abuse or unlawful eviction from your Landlord. We're well experienced in representing tenants faced with an unlawful eviction, so we understand how to protect your rights and fight your corner.
Sometimes, Landlords may fall foul of the law. For example, anyone who 'without lawful authority' uses, or threatens to use, violence to gain entry to occupied premises is committing an offence.
Even if they haven't done any of these things, it's generally illegal to evict someone from their home without giving proper notice and obtaining a Court Order; subject to the type of tenancy you have.

Our Housing team has been ranked in Band 1 in the Chambers & Partners 2023 legal directory. The team was described as "progressive and robust in defending the rights of vulnerable tenants and homeless applicants."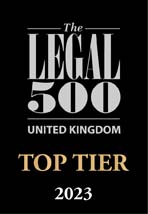 "Hodge Jones & Allen is an industry leader in social housing law. The firm provides an exceptional service for all of its clients in disrepair, possession and homelessness. The firm has a reputation for providing an exceptional level of service and advancement of the law in very high profile cases in the Court of Appeal and Supreme court." Legal 500, 2023
Evictions Without Notice
If you're evicted without a court order, we can assist you with obtaining an injunction against your Landlord to re-permit you access to the property. We can also assist with a claim.
Landlords must allow their tenants 'quiet enjoyment' of their property, and permit utilities like gas and electricity to be supplied. They are not allowed to evict you before the end of your tenancy, enter the house without your permission or unlawfully damage your property.
"My Solicitor was very helpful and has done the most she could regarding my housing matter and eviction also disrepair."
Back to top
Why Choose Hodge Jones & Allen Solicitors?
Our experienced Housing Lawyers can help protect you from unlawful eviction and, if your Landlord has broken the law, we can assist you with a claim for compensation.
We're recognised as one of the highest ranking law firms for social housing and tenant law in the UK. In fact, we're one of only four firms in the UK to be listed as a Tier 1 firm for this area of law in the Legal 500 guide. We're also recommended as a leading team in housing law by Chambers UK.
Our expert Solicitors are passionately committed to defending the rights of those in need of housing. We'll fight rigorously to get the best possible result we can achieve.
Back to top
Featured Cases
Unlawful Eviction
Due to the contract that we hold with Brent Council Tenant Services, we frequently assist tenants who have been threatened with eviction after a possession order or who have been unlawfully evicted. A tenant called us after he returned from work and found the locks to his flat had been changed by his private landlord. We contacted the landlord and requested they let the client back in with immediate effect. When the landlord refused we applied for an injunction on the same day that the client approached us. This was granted and the landlord was forced to let the client back into his home.
type of claim
Illegal Eviction
result
access to property
Housing Help
Our client's landlord issued a claim for possession on the grounds that there were alleged rent arrears exceeding £30,000. We defended our client on the basis that the actual arrears were a fraction of that alleged, and in brought a counterclaim for breach of quiet enjoyment, harassment, and disrepair. The premises suffered from water penetration, defective windows, and internal leaking. The landlord had failed to carry out the requisite repairs and had harassed our client to force him to pay the alleged outstanding rent and/or vacate the property. The landlord made regular threats of violence, switched off the gas and electricity supply by deliberately damaging the pipes, let himself into the premises without giving notice to the tenant and changed the locks. The possession claim was struck out and our client secured damages of £26,650, plus interest.
type of claim
Unlawful Eviction
damages awarded
£26,650 + interest
Unlawful Evictions
Our client suffered harassment from her landlord and was unlawfully evicted from her shared accommodation within 2 months of entering the tenancy. The eviction took place during the pandemic and the eviction ban that had been put in place by the government. After successful negotiation from our Housing Law team, it was agreed that she would be paid compensation.
type of claim
illegal eviction
View all
Will I Be Evicted If My Landlord Takes Me To Court?
The likelihood of your Landlord getting you evicted will depend on the type of tenancy agreement you have and the reason that the landlord is seeking possession. If you have an assured or secure tenancy, the court will not order possession unless grounds to do so have been proved.
There are many arguments that could be put forward in defence of any such claim. Although private tenants have less secure tenancies, there are often valid defences which can be put forward to avoid being evicted. We can advise you further in this regard.
My Landlord Has Been Threatening Court Action Unless I Pay Off My Rent Arrears Within The Next Few Weeks. If He Starts Court Proceedings Will I Be Evicted?
This will depend on the type of tenancy agreement you have and the value of your rent arrears. Most council tenants are secure tenants. Under this type of tenancy, it is unlikely that the court will make an outright possession order if there are compelling circumstances, which led to the rent arrears like housing benefit problems. You may even be able to claim backdated housing benefit and it may be possible to seek a postponed possession order, which means you will not have to leave your home, providing you pay a specified amount as ordered by the court.