General Crime
Police Station Representation
If you've been arrested, or think that you might be, it can be very unsettling. The police (or other investigative bodies) will either try to interview you as a "volunteer" or after arrest. You may have some idea what it is about. You may have none. This is where we can help.
If you're interviewed under caution, then you have the right to legal representation. An interview under caution is usually carried out because the police or investigating body in charge of an investigation. If the police want to interview you, you may be a suspect. It's vital that you safeguard your rights at the earliest opportunity by instructing a Specialist Criminal Lawyer, who can help protect your liberty and, in some cases, your marriage, career and reputation.
Our Financial Crime & Regulatory team has been ranked in the Chambers & Partners 2023 legal directory. The team was described as "very friendly and professional" and "effective in the financial crime area."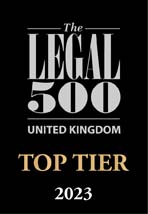 "As a firm they have a real team spirit, always sharing knowledge and experience with each other, to the benefit of their clients. They have a superbly dynamic and diverse team of lawyers in the team." – Legal 500, 2023
"HJA's criminal solicitors are amongst the leading criminal solicitors in the country. They have been involved in countless landmark cases but also in hundreds if not thousands of important protest cases in the magistrates courts."- Legal 500, 2023
Why Choose Hodge Jones & Allen?
Providing exceptional representation at a police station is a specialist skill. The police station interview is one of the most important stages in a criminal case. In fact, your case can be won or lost based on what happens during that interview.
We provide experienced representation at a police station 24 hours a day, 365 days a week. We'll make sure that whatever the crime, whenever you're at the police station, you'll get the best legal advice.
From the start, your case will be allocated to a specialist advisor as a matter of urgency. We use our skills and expertise to get as much information from the investigator as possible so that you can make informed decisions about what to do.
"I TOTALLY FELT AT EASE EVERY STEP OF THE WAY WITH THEM BY MY SIDE AND IN MY CORNER."
Before the investigator interviews you, we spend time and effort preparing you, advising you of your rights and considering the best action to take. If the police charge and try to detain you, we fight to get you bail and ensure that you're released as soon as possible.
Back to top
We have specialist teams that be called on for a range of cases, including:
Back to top
Why Would The Police Try To Arrest Me?
This is because the police are treating you as a suspect in a criminal investigation. In order to arrest, the police must have reasonable grounds to suspect that you were involved in a crime.
If you're arrested, this does not mean you're guilty. It means the police are investigating your involvement in an alleged criminal offence. Many people who are arrested are later released without any further action being taken. It's vital to have a specialist criminal lawyer by your side to maximise your chance of a positive outcome.
What Will Happen After I Am Arrested?
When the police arrest you, they will take you to a police station. Once there, they will take a sample of your DNA and records of your fingerprints. They will also take your photograph. This imagery and biometric data will then be retained on the Police National Computer.
What Are My Rights If I Am Arrested?
When at a police station, you have the right to consult the Code of Practice, which details how the police should treat you while you are detained. This document sets out your rights and entitlements. This includes the right to notify someone that you have been arrested, and the right to free and independent legal advice. At this stage, you should always contact a criminal defence lawyer as soon as possible to get the advice and help you need.
Am I Entitled To Legal Advice Whilst At A Police Station?
Yes, however there are some situations when the police can delay access to a solicitor, for example before a suspect provides the police with a breath sample. The police should ask you whether you want to have a solicitor whilst at the police station. 
If you do not know a solicitor or the name of a law firm, then you can ask for one via the duty solicitor scheme. In most cases the duty solicitor is available to provide you with initial advice over the phone, and see you in person, usually when the police are ready to interview you.
The duty solicitor is free of charge and is not means tested. You can also ask for your own solicitor who might also be free of charge under the legal aid scheme. This is also not means tested unless you wish to instruct them on a privately funded basis. There may be advantages for you to instruct us on a privately funded basis, which we can discuss with you.
How Long Can The Police Keep Me At The Police Station?
As a starting point the police can only detain you (without charge) for 24 hours. In some situations when the police are investigating serious crimes, they can extend the period of detention for a further 12 hours. Certain criteria must be satisfied for this to happen.
If the police need more than 36 hours, they can take the matter to the Magistrates court in order to ask for a further period of detention. If the Magistrates court agrees, a suspect could be detained for a maximum period of 72 hours.
What Is A Police Caution?
A police caution is an "out-of-court" disposal of a criminal charge. 
It is a way of dealing with a criminal allegation that avoids taking a person through the court system. If the accused admits to an allegation, the police can offer them a caution, in certain circumstances. Should that be accepted, the case goes no further, without the need for a sentence.
Will I Be Entitled To Legal Aid?
Legal Aid helps people who cannot otherwise afford legal costs to secure access to representation after being arrested or accused of a crime. To find out if you qualify for Legal Aid, you will need to make an application to the Legal Aid Agency (LAA). The application includes two tests:
Interests of Justice Test:

The LAA will consider several factors, for example the seriousness of the allegation or if a complicated point of law is involved.

Financial Means Test:

The LAA will assess your income and expenditure to see whether you are eligible. We can carry out this assessment for you.
I'm Not Entitled To Legal Aid – What Do I Do?
If you are not entitled to Legal Aid, our expert criminal defence solicitors can still represent you privately. When you get in touch, we will discuss the costs associated with your case and provide an estimate of what you will pay for your representation. Our costs are always fully transparent, with no hidden extras.