Financial Crime & Regulatory
Financial Crime & Regulatory Solicitors in London
If you're faced with financial crime charges, our experienced team of financial and regulatory lawyers may be able to help. We'll represent you every step of the way thanks to our wealth of expertise and skills.
Our London-based solicitors have years of experience, successfully representing clients who face business crime & regulatory allegations. They strive to understand the ins and outs of your case, so you know you'll have specialist skills and insights behind you.
Our Crime team have been ranked in the Chambers & Partners 2024 legal directory. The team was described as "extremely strong in terms of criminal defence and particularly protest cases" and were praised for their "dedication to clients".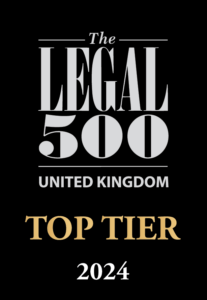 "Hodge Jones & Allen are possibly the best firm of criminal solicitors conducting publicly funded work, and also offer an excellent service to privately funded clients. They have a large team that has continually prospered through recruiting excellent trainees and investing in people." – Legal 500, 2024
OUR FINANCIAL CRIME & REGULATORY SOLICITORS DEAL WITH A WIDE RANGE OF SERVICES:
The police have arrived at my premises with a search warrant, what should I do?
Our specialist fraud lawyers have extensive experience dealing with raids, by the police or other investigative authorities. 
We can swiftly provide assistance at your premises to advise on the search procedures, the scope of any warrant and the legality of the search taking place. We can also advise on the protections available, particularly where the material is subject to conditions of confidentiality and/or Legal Professional Privilege.
I have been requested to attend the police station but am unsure why. What should I do?
If you are being interviewed as part of a criminal investigation, we can advise on whether this is as a suspect or a witness. 
The difference between those two is huge and knowing from the outset how you will be treated by authorities is important in helping you feel at ease and knowing what to expect. We also work to ensure your position is protected.
I have been arrested and taken to the police station, what should I do?
Our expert lawyers know that being proactive from the moment a client arrives at the police station is important in achieving the right outcome. 
We will work to obtain information about the investigation and advise you as to the procedure at the police station to ensure you are treated fairly. 
We will advise you clearly on the best strategy to adopt during your interview, including the sort of questions you should and shouldn't answer, and whether it is best to submit a written statement to set out your case. 
We have an outstanding reputation for high-quality client advice. Our proactive nature ensures the best possible outcome for you is at the heart of all we do.
Can I discuss my case initially with you, free of charge?
We fully understand that you need to feel confident in your legal team, so instructing the right team is key. We are happy to discuss your case and concerns as well as setting out how we can best assist you before you pay a penny.
I have received a Restraint Order, freezing all of my assets, what can I do?
A Restraint Order can be obtained before a person is charged with a criminal offence. The Restraint Order will prevent you from dealing with assets which are specified in the Order.
You will be required to serve a statement setting out your income and assets. Early legal advice is vital in such cases. We can advise you on the legality of the Order, as well as the drafting of the statement of assets and any applications to the Court for variation or discharge of the Order. 
A Restraint Order can have potentially devastating effects on an individual or business. We will act swiftly to ensure that any necessary applications are made to ensure you can get back to normal life as soon as possible.
I have received a summons to attend Court, what does this mean?
A summons is the formal issuing of prosecution in the Magistrates' Court, and it should detail a summary of the alleged facts. It will require you to attend court on a specified date, which should be outlined within. It is important that you seek legal advice as soon as you receive the summons so you can get the advice and preparation required. 
If you do not attend court when required, the Court could issue a warrant for your arrest. We will advise you as to the charges contained in the summons, as well as walking you through how the case is likely to proceed and representing you in court.
The police have seized cash from me, what can be done?
Cash can only be seized in amounts of £1,000 or more and only where the authority has reasonable grounds for suspecting the cash has been obtained through unlawful criminal conduct or is intended for use therein. 
Once cash has been seized, the prosecution can only retain the cash for 48 hours before they need to apply to the Magistrates' Court for the continued detention of the cash. The Court can only grant a period of detention for a period of six months at any one time, up to a maximum of two years. 
You can apply at any time for the return of the cash. In order for the cash to be forfeited, the prosecution has to show, on the balance of probability, that that cash was obtained through unlawful conduct or is intended to be used in unlawful conduct. 
Early legal advice is important to ensure cash has been seized legally and secure its return as soon as possible.