General Crime
Sexual Offences
Being accused of a Sexual Offence can be a stressful and worrying experience. At Hodge, Jones and Allen, we take Sexual Offence issues very seriously, and are here to help every step of the way, ensuring you get a fair investigation and trial.
The last ten years have seen a marked rise of investigations and prosecutions for Sexual Offences. During that time, our Sexual Offence Solicitors have been at the cutting edge of representing those accused of such offences.
Our award winning Sexual Offences Solicitors are experienced and knowledgeable when it comes to dealing with investigations of this nature.
The team is led by Nigel Richardson, author of the go-to guide on the subject: Sexual Offences – A Practitioner's Guide. Ranked as Band 1 in Chambers and in the prestigious Legal 500 Hall of Fame, Nigel is the acknowledged expert in this field and perhaps the only Solicitor in the country who acts exclusively in sex offence cases.
Contact our team confidentially on 0808 271 9413 or request a call back.
Our Financial Crime & Regulatory team has been ranked in the Chambers & Partners 2023 legal directory. The team was described as "very friendly and professional" and "effective in the financial crime area."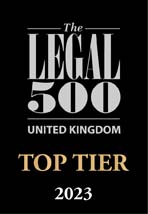 "As a firm they have a real team spirit, always sharing knowledge and experience with each other, to the benefit of their clients. They have a superbly dynamic and diverse team of lawyers in the team." – Legal 500, 2023
"HJA's criminal solicitors are amongst the leading criminal solicitors in the country. They have been involved in countless landmark cases but also in hundreds if not thousands of important protest cases in the magistrates courts."- Legal 500, 2023