Personal Injury
Whiplash Claims
A whiplash injury is defined as "an injury of soft tissue in the neck, back or shoulder that is… a sprain, strain, tear, rupture or lesser damage of a muscle, tendon or ligament in the neck, back or shoulder, or an injury of soft tissue associated with a muscle, tendon or ligament in the neck, back or shoulder." It doesn't include "an injury of soft tissue which is a part of or connected to another injury and the other injury is not an injury of soft tissue in the neck back or shoulder".
Whiplash Reforms – how this will affect you
The rules on whiplash claims changed on 31st May 2021, in what have become known as the "whiplash reforms". If you were a driver or a passenger in a vehicle involved in an accident before this date that was not your fault, please contact our specialist personal injury solicitors on 0808 271 9413.
If your accident occurred on or after 31st May 2021, please see our advice below.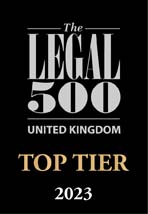 "Hodge Jones & Allen is a well known and popular claimant law firm, with a reputation for taking on complex cases that require excellent legal knowledge and courage." – Legal 500, 2023
Our Personal Injury team has been ranked in the Chambers & Partners 2023 legal directory. The team was described as "highly consistent and attentive" and were praised for providing "well-thought-through advice" our clients "could trust".
we can help.
0808 271 9413
If your accident happened on or before 31st May 2021, call us today.
Successful cases
Whiplash Claims
The Claimant was warming up for a game of volleyball during her PE lesson. She was instructed to run around the outside of the hall and attempt to catch up with the person in front of her. The volleyball net was hung across the middle of the hall but was folded up on itself to keep it out of the way. However, the net was in poor condition and as the Claimant was running underneath it a piece of the net got caught around her neck and she was pulled backwards. The Claimant sustained a whiplash-type soft tissue injury to her neck and a laceration around her neck which is likely to leave a permanent scar.
nature of injury
whiplash during PE lesson
View all