Any ordinary individual or company can bring a private prosecution against another individual or company under section 6 the Prosecution of Offences Act 1985.
If you feel a crime has been committed and appropriate action hasn't been taken by the authorities to bring that person or company to justice, you have the power to do so through the criminal courts.
A private prosecution can be brought against any offence committed, including financial offences, assaults and sexual offences. As well as acting for private prosecutions, we've extensive experience in defending these cases as well.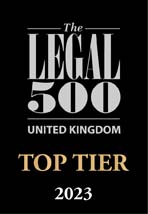 "As a firm they have a real team spirit, always sharing knowledge and experience with each other, to the benefit of their clients. They have a superbly dynamic and diverse team of lawyers in the team." Legal 500, 2023
"There's no question that they're among the best in the country. The strength and depth of their expertise is second to none." Chambers UK