Mother of nine-year old girl Ella Kissi-Debrah delivers 100,000 signature petition to the Attorney General to re-open Inquest
The mother of nine-year-old girl Ella Kissi-Debrah whose death has been linked to unlawful levels of air pollution is to deliver a petition of over 100,000 signatures to the Attorney General urging him to quash her daughter's inquest and open a new one.
Rosamund Kissi-Debrah will deliver the Change.org petition on Friday 31 August at 1pm to the Office of the Attorney General at 5 – 8 The Sanctuary, Westminster, London SW1P 3JS
In June the family's lawyer, Jocelyn Cockburn who heads up the Human Rights and Civil Liberties team at HJA wrote to the Attorney General to ask him to quash Ella's inquest based on new evidence from Professor Stephen Holgate, which linked Ella's death to London's unlawfully high levels of air pollution.
The Mayor of London, Sadiq Khan, has also written to the Attorney General in support of the case.
Ella Kissi-Debrah died on 15 February 2013. Up until the end of 2010, Ella had been extremely active and in a good health. Yet following a chest infection in October 2010, she suffered from respiratory issues for the remainder of her short life, being treated across five London hospitals for severe unstable asthma, resulting in 27 separate hospital admissions over a three-year period. An inquest into Ella's death at Southwark Coroner's Court on 26 September 2014 concluded that her death was caused by acute respiratory failure and severe asthma.
If pollution is found to be a relevant causative factor in the nine-year-old's death then this has potentially far-reaching implications for other deaths from asthma and related respiratory conditions.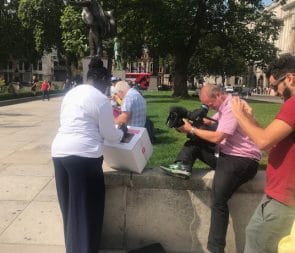 Rosamund Kissi-Debrah says: "The twins and I would like to send a heartfelt thank you to each and every person who has taken the time to add their signature to our petition. What I am trying to do is what every parent would do in my situation, which is simply to get to the truth about why my beautiful daughter and the twins' big sister is no longer with us. I would like whatever contributed to her death to be officially recognised on her death certificate. Ella suffered greatly in the last year of her life and it is right that this should be reflected."
Jocelyn Cockburn says: "This is clearly an issue of great concern to the public. The case for a further investigation is now overwhelming, and the new evidence about the impact of pollution on Ella's health must be examined to see whether it was a causative factor of her death. There is a real need to understand what role air pollution played in Ella's death – not least to learn lessons to ensure that other children do not suffer the same fate."