Rising Stars At Hodge Jones & Allen
We are delighted to announce our legal promotions for 2023.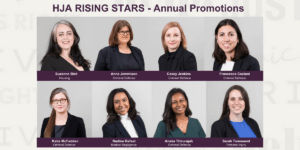 Colleagues promoted to Senior Associate are:
We have five colleagues promoted to Associate:
Eight brilliant lawyers who use their skills and expertise to advise our clients and play a part in helping with the ongoing development of Hodge Jones & Allen. Congratulations to Suzanne, Anna, Casey, Francesca, Katie, Nadine, Aneka and Sarah. All take up their new role from 1st May.
"They are all talented people with great skills, understanding and empathy for their clients" Patrick Allen, Senior Partner
Hodge Jones & Allen employs 250 people all dedicated to fighting for what's right and providing first class legal services.