Medical Negligence
Mental Health Compensation Solicitors
We recognise that psychiatric patients and their families need help and support and that these claims aren't straightforward. We're specialists in this area of law. We use experts to help our clients succeed in their cases.
Psychiatric patients are some of the most vulnerable members of our society. It's estimated one in four of us will have some kind of psychiatric problem at some stage in our lives. Most of us will recover quickly without having to go to hospital, or a care home or specialised ward.
However, other patients may have to be treated as an inpatient. This can be frightening, which some cope well with, but others may be vulnerable to self-harm.
Some patients will need to be supervised on an ad hoc basis but others are so vulnerable and upset that they'll need constant supervision. This is intrusive and distressing, so it's only reserved for the most at risk patients.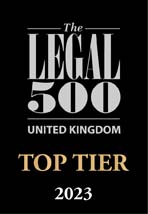 "Hodge Jones & Allen have a team of experienced and dedicated clinical negligence practitioners. They offer an excellent service to their clients and are highly empathetic. They persist in investigating claims where other firms might not." – Legal 500, 2023
The team has been ranked in the Chambers & Partners 2023 legal directory. The team was described as "very friendly, approachable, client-focused", and whose "client care is really excellent."
Contact our specialist Mental Health & Care Negligence Claims team today on
0808 271 9413
or request a call back.
Mental health negligence actions include mental health negligence claims against:
Example mental health clinical negligence cases
On occasions supervision is not put in place when it is required. This can lead to a patient absconding. Our team of mental health and care solicitors have acted in cases of this nature.
Other mental health clinical negligence cases we have dealt with have included claims relating to:
Failure to detain a patient for assessment under the Mental Health Act 1983
Failure to prevent absconding
Overdose of drugs leading to complications
Use of inappropriate drugs
Failure to remove ligature points from a psychiatric ward leading to self-harm
Failing to appropriately monitor a patient after discharge from hospital
All our cases work on a no win, no fee basis, meaning you only have to pay us for our help if we are successful
"Jason Tang thank you for your patience, empathy and understanding!!! I was recommended HJA by a family member and I am delighted I took their advice. I was treated with respect and when I didn't understand something I was taken through the process with patience and consideration."
Back to top
Featured case
We acted for the family of Robin Kitt Callender. Robin was a usually healthy 53-year-old, who had learning disabilities and communication difficulties. She resided at a care home in Newbury Park. She visited her GP surgery six times and A&E twice complaining of a stomach condition but her inflammatory bowel disease – a treatable illness – remained undiagnosed. Sadly, Robin passed away as a result of her delayed diagnosis. We represented the family at the inquest and in relation to the subsequent compensation claim.
Back to top