Medical Negligence
Orthopaedic Injury Compensation Claims
Most medical procedures take place without problems. But in those cases where something does go wrong, the consequences can be dire. Whether it's a misdiagnosis, a failure to spot something early or a problem during surgery, negligence in this area can leave you facing long-lasting medical issues, and massive amounts of distress for yourself and your loved ones.
Claims for orthopaedic injuries are quite common. If you feel like you have been a victim of orthopaedic negligence due to an error in surgery or there was a failure or delay in diagnosis, Hodge Jones and Allen Solicitors could help you. We have decades of experience handling orthopaedic negligence claims in a caring and professional manner, getting those who have been victims of negligent practices the compensation they deserve.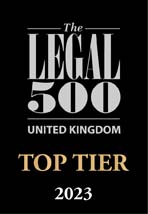 "Hodge Jones & Allen have a team of experienced and dedicated clinical negligence practitioners. They offer an excellent service to their clients and are highly empathetic. They persist in investigating claims where other firms might not." – Legal 500, 2023
The team has been ranked in the Chambers & Partners 2023 legal directory. The team was described as "very friendly, approachable, client-focused", and whose "client care is really excellent."
we can help.
0808 271 9413
Contact our specialist team today for a free initial telephone consultation about the process and your options. Free 24 hours a day.
Orthopaedic negligence claims
Claims for orthopaedic negligence are fairly commonplace. They mostly arise from errors that have taken place during surgery, or a failure or delay in diagnosing a fracture, which leads to problems in the long term. 
Some of the most common orthopaedic claims we help our clients with include:
Delay in diagnosis of fractured scaphoid (in the wrist)
Delay in diagnosis of fractured hips
Delay in diagnosis of fractured vertebrae
Knee and hip replacements where either the wrong component was used, or prosthesis was not fitted properly
Surgery carried out incompetently, leading to a poor outcome or the need for revision surgery.
Whatever your claim and however you feel you haven't received the correct level of care, we're here to help. With decades of experience, our personal injury lawyers are perfectly placed to handle your case, gathering evidence and working to get you the compensation you deserve. 
'Very good at complex claimant work.' Legal 500, 2021
Contact our medical negligence experts today on
0808 271 9413
or request a call back.
Back to top
Why choose Hodge Jones and Allen solicitors?
Our medical negligence team are experts in the compensation process for negligence related to orthopaedic practices, including misdiagnosis and injury. With over 40 years' experience, we have provided legal support in many areas, including:
Amputation
In medical negligence cases, the loss of a limb is often due to an infection or a blood clot.
Bicep injury
Older men taking part in strenuous activity can rupture biceps. A failure to diagnose this condition can lead to longer-term health problems.
Hip surgery negligence
Over 70,000 people per year have hip surgery in the UK, but it can still go wrong. Nerve damage in the operated leg, however, can happen, leading to foot drop.
Knee replacement surgery
From surgery carried out too early to a failure to act, there are complications that can come into play with knee surgery, including nerve damage, arterial injuries, infection, and component error. 
Spinal surgery negligence
Spinal surgery is one of the riskier medical practices around. But that risk means any negligence can lead to catastrophic, life changing complications. 
We recognise the huge impact that orthopaedic negligence can have on your life. That's why we pursue compensation for loss of earnings, any future care you need to pay for, and any other damages. Whether you have suffered a loss of a limb as a result of a blood clot or infection, or you've had a bicep rupture and separate from the bone, we are here to help you. 
To succeed in these types of cases, you will need to prove that the treatment you received was negligent. Often you will need more than one expert. We have long-standing relationships with specialist experts in the fields of orthopaedics and vascular medicine who will be able to quickly advise on the merits of your claim.
If we can prove that treatment was negligent then we can instruct a second team of experts. This is usually occupational therapists, rehabilitation experts, physiotherapists and housing experts, all of whom can help with your claim. 
Back to top
Featured orthopaedic negligence cases
Knee Replacement Surgery
We acted for a 77-year-old female who underwent knee replacement surgery at a London hospital. Tragically, her surgeon cut through her popliteal artery during the procedure and failed to recognise this error. 
The patient's condition went undiagnosed for many days. Eventually, a doppler scan revealed the error. The NHS Trust quickly admitted liability and the claimant was awarded £475,000 in compensation.
Spinal Surgery
The spinal surgery was performed negligently using the wrong tools – which resulted in a nerve root injury. The surgeon was using an outdated technique which was no longer supported by the medical profession. Damages awarded of £200,000.
Spinal Surgery
Our client underwent a spinal fusion using a metal cage and screws. Following the procedure, they were suffering with severe pain and mobility problems. Their case was eventually reviewed by the spinal team, who noted that a metal screw was compressing a nerve. 
The patient underwent further surgery but was left with a permanent nerve injury which would affect their ability to work – the case settled out of court for £150,000.
Back to top
Types of amputation cases
We have dealt with all types of amputations to both upper and lower limbs Lower limb cases have often involved;
Poor blood flow (peripheral artery disease)
A blood clot
Infection
Diabetes
Blood disorder
How much can I claim for an amputation?
The value of the claim will depend on the age of the claimant and their ability to undertake day to day activities. Adaptations to your house or even a new property may be required.
Prosthetics not available on NHS
We understand that immediate rehabilitation is crucial so we investigate the case quickly. We do our best to quickly obtain an interim payment which can then be used to pay for a prosthetic limb from the private sector.
The NHS is facing huge financial pressures. It is no secret that the prosthetic limbs provided by the NHS are not the best available limbs. Much more sophisticated products are available in the private sector but they can cost up to £70,000. Specialist limbs for swimming or cycling may also be required and can be claimed for.
Amputation cases we have dealt with
Mrs N v. XY NHS Trust
Mrs N was a 77 year old lady who underwent knee replacement surgery to assist her mobility. The operation was required due to arthritis which was starting to limit her active life.
Unfortunately, during the surgery her popliteal artery was severed. The surgeon was unaware that he had caused this injury and concluded the surgery thinking that all had gone well.
Following the surgery the patient complained of a cold, numb foot which she mentioned to a number of nurses and doctors. Sadly there was a huge delay in recognising the classic signs of ischaemia (lack of blood flow).
Eventually a Doppler ultrasound confirmed that there was no circulation In the patient's lower left leg. Due to the severe delay in diagnosing the condition, tissue had begun to die and it was necessary to amputate the limb. This was devastating news for the patient who had undergone the operation to improve her quality of life.
Orthopaedic and vascular experts confirmed to our solicitors that the surgery and aftercare were of a negligent standard. Reports were then obtained from a care expert, an accommodation expert and a prosthetic expert. Thankfully, the Defendant NHS Trust quickly admitted negligence and apologised to the patient. The case settled just 11 months after the first client meeting, for several hundred thousand pounds.
Mr R v. AB NHS Trust
Mr R collapsed one night at work and suddenly appeared to have lost all feeling to his legs. He was taken to a local hospital where investigations began, The Claimant's obvious signs of leg ischaemia were not identified and when they were it was decided to transfer the patient rather than attempt surgery.
The patient required a quick embolectomy but this was hugely delayed due to the wish to transfer the patient to a hospital some distance away. Sadly, by the time the procedure was carried out significant tissue damage had been caused to the patient's lower limbs. He required bilateral amputations of his legs above the knee. Investigations were undertaken with expert evidence, which confirmed that appropriate early surgery could have prevented the amputations. The Claimant's case for compensation was supported by a care expert, an accommodation expert and a prosthetic expert. The claim settled out of court for a seven figure sum.
D v N NHS Trust
Mr D had been suffering with a 'heavy' feeling in his right leg for some months when he felt the pain worsen one day at work. The pain was so severe that his colleagues called an ambulance. The paramedics noted his cold foot and noted that there was a very weak pulse in his foot. However, on arrival at A & E the patient was reviewed by a very junior doctor who noted the pain but failed to take account of the classic signs of ischaemia – which are sometimes called the "six P's"
Pain
Palloor
Paresthesias
Perishingly cold
Pulselessness
Paralysis
The patient was diagnosed with sciatica and told to rest and take a few days off work. The patient's condition deteriorated and he eventually returned to hospital 10 days later with a pulseless leg. It was too late to avoid an amputation which was performed above the knee. Expert evidence from an A&E consultant and a vascular surgeon confirmed that the treatment provided was below an acceptable standard. The Claim was strongly disputed however but settled out of court for a very significant six figure sum. The Claimant was able to purchase a Genium X3 prosthetic from Dorset Orthopaedic which opened up a new life for him.
Symptoms of bicep injury
There can sometimes be an audible "pop" or snapping sensation when the tendon ruptures. Patients will often report an electric shock type sensation in their arm.
After the initial injury patients may notice bruising, feel weakness and later on they may notice a bulge appearing in the upper arm. This is known as the classic "Popeye" sign of a rupture.
Once it has been torn, the biceps tendon cannot mend itself, so urgent surgery is required to fix it.
Treatment for bicep injury
Referral to an orthopaedic unit (a next day fracture clinic) is required if a doctor or nurse suspects a rupture. Patients should be offered repair within a few days or at most four weeks of the injury.
Any attempt to repair the bicep beyond the 4 week period will not be likely to succeed. A repair surgery undertaken less 4 weeks from the injury have a very good chance of success.
If the arm is not repaired the patient's strength in that limb will be reduced by 30-40%. Practically all patients who have their bicep repaired in less than 4 weeks return to normal activities.
Delayed diagnosis/referral of bicep injuries
We have acted in cases where unfortunately GPs, nurses and even of A&E doctors have failed to recognise this condition. Alternatively, they may recognise the injury but they don't appreciate that an urgent referral is necessary. A non-urgent referral is consequently made and the patient ends up seeing an orthopaedic specialist well outside of the 4 week window of opportunity to repair the injury.
These are serious injuries for those patients. If the repair is not undertaken quickly the effect on a person's working ability can be very significant. If the dominant arm is affected the damages could be very substantial.
What are the types of hip surgery?
Total hip replacement
Hip surgery may be a total hip replacement (THR) whereby the ball and socket of the hip is removed and replaced with a prosthetic device. Further – a long stem is placed into the femur (the long bone running from the hip to the knee). The components may be metal , ceramic, plastic or a combination of all three These three components – the ball, socket and stem make up the required components for a Total Hip Replacement.
Resurfacing procedure
Sometimes patients do not require a full total hip replacement in which case the bony femoral head (the ball of the hip joint) is not removed, but instead it is covered with a smooth metal covering. The socket bone is cleaned out and replaced with a metal cup. The patient is not fitted with a stem in the femur. Hip resurfacing is often thought to be best for for younger and active patients. It is thought to achieve better results in terms of range of movement.
What can go wrong with hip surgery?
Misaligned implants – A common complication of hip replacement surgery is misplaced or misaligned components. We have detailed experience of this type of case. Usually the hip alignment error occurs due to the cup being placed at the wrong angle. If the cup is at the wrong angle this can lead to excessive wear of the hip device (perhaps of cobalt / chromium components). The device may become loose or even become dislocated. This may have been due to the angle of the cup.
Repeated hip dislocations – Repeated dislocation of the hip is an indication that the components are misaligned. It may be due to a misaligned hip. We have experience of these cases and are very aware of the complex issues relating to these types of cases. We have a team of experts with whom we have worked with over a number of years.
Wrong sized implants – We have dealt with cases where the wrong sized components have been fitted – for example the stem has been too short. This can lead to problems of instability.
Defective implants – It may well be that the implanted device is of a poor design or from a bad batch. In this case the claim may well be against the manufacturer of the hip rather than the surgeon. If your hip surgery was performed privately then the
Leg length difference – Following surgery some patients can find that there is a slight or perhaps a more extreme difference in their leg lengths. Sometimes this can be corrected with conservative treatment and on other occasions further surgery is warranted.
Implant loosening– Implant loosening is less common than in the past. Implant loosening is often a non negligent complication of the procedure which cannot be predicted despite the surgeon's best efforts.
Nerve injury– The femoral nerve and other nerves are at risk in the procedure. Nerve injury can sometimes be due to provable surgical error. On other occasions it is hard to prove how the injury occurred.
Pre-operative planning/templating– Advance in scanning means that the surgeon can and should prepare in detail for the procedure. Many hip surgeries fail due to poor planning.
Fractured implants– We have acted in claims in which metal hip components have fractured due to metal fatigue. Errors can occur in the manufacturing process or in the Quality Control process. Prosthetic hips are required to withstand enormous stress and should last upwards of 15-20 years. An early failure of a hip could indicate a defect in the manufacturing process.
Foot drop symptoms
Symptoms of peroneal nerve injury (foot drop)
Inability to point toes toward the body (what doctors call dorsi flexion)
Pain
Weakness
Numbness (on the shin or top of the foot)
Loss of function of foot
High-stepping walk
Unfortunately this type of injury is almost always permanently disabling. The patient can be provided with orthotics which may be custom-built into the patient's shoe. Sometimes patients undergo a tendon transfer operation but this does not fully reverse the patient's mobility restrictions. The condition can often be very painful with patients forced to rely upon very strong medication to keep the pain under control.
Surgical procedure for knee replacement
Knee surgery involves removing bone and cartilage from the patient's knee and replacing those organic components with man-made components.
Complications of knee replacement
Complications of knee replacement surgery can include:
Nerve damage– The nerves above and below the knee are vulnerable to injury at the time of knee replacement surgery. The peroneal nerve can be especially vulnerable. An injury to this nerve can cause permanent pain and loss of mobility. With appropriate skill and care this type of injury is usually avoided.
Vein or artery injury– injury to an artery – if not recognised can have devastating consequences.
Component error– Other complications we have seen relate to using the wrong component.
Infection– this may be due to bad luck rather than negligence.
Pain – Pain or Complex Regional Pain syndromecan develop after surgery. This can occur for a number of reasons. Severe pain on its own does not mean that a negligent injury has occurred during the surgery. This can occur as a non-negligent complication.
What can go wrong with spinal surgery?
Complications of spinal surgery that we often see are;
Failing to obtain informed consent as to the risks of surgery
Surgical errors during the procedure – errors with drills or metalwork causing spinal nerve injuries
Poor intraoperative positioning leading to nerve damage
Wrong level surgery – operating at the wrong level due to poor pre-operative planning
Metalwork failures