Medical Negligence
Anaesthetics Compensation Claims
Mistakes during operations are incredibly rare, but, unfortunately, they do happen from time to time. When it comes to dealing with anaesthetics, this can be particularly terrifying, stressful and cause long term damage for those who are suffering as a result.
Most anaesthetic medical negligence happens during surgery, where even the smallest of mistakes can have serious consequences.
Everyone will have read horror stories of someone being awake during an operation. Although rare, such an experience can result in severe psychological injuries, such as anxiety, depression or in the worst cases post-traumatic stress disorder (PTSD). Other mistakes can lead to strokes, brain damage and even death.
At Hodge Jones and Allen Solicitors, we have decades of experience in dealing with all kinds of medical negligence cases. If you are suffering as a result of anaesthetics negligence, get in touch to find out how we can help you make a claim.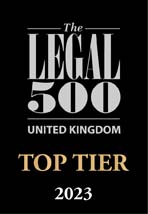 "Hodge Jones & Allen have a team of experienced and dedicated clinical negligence practitioners. They offer an excellent service to their clients and are highly empathetic. They persist in investigating claims where other firms might not." – Legal 500, 2023
The team has been ranked in the Chambers & Partners 2023 legal directory. The team was described as "very friendly, approachable, client-focused", and whose "client care is really excellent."
we can help.
0808 271 9413
Contact our specialist team today for a free initial telephone consultation about the process and your options. Free 24 hours a day.