Medical Negligence
A&E Negligence Claims
If you or someone you love has suffered as a result of negligent treatment by medical staff in an A&E department, you may be entitled to make a claim. We can help you make a claim to cover you for your injuries and financial losses. Suffering injury or illness as a result of being misdiagnosed or not being treated in a timely fashion can be a traumatic experience for you and your loved ones, which is why we want to help you get the compensation you deserve.
The pressure to treat patients quickly and safely in A&E means that doctors are under immense strain. There are mistakes made and occasions where negligence does occur. If this has happened to you, we're here to help. Our specialist medical negligence solicitors have vast experience in bringing A&E negligence claims and getting our clients the compensation they deserve.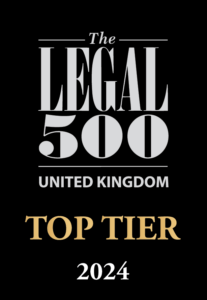 "Hodge Jones & Allen have a team of experienced and dedicated clinical negligence practitioners. They offer an excellent service to their clients and are highly empathetic. They persist in investigating claims where other firms might not." – Legal 500, 2023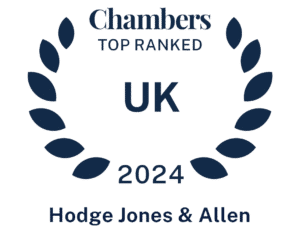 The team has been ranked in the Chambers & Partners 2024 legal directory. The team was described as "professional and quick to respond to any questions. They have demonstrated skills and handle complex cases with sensitivity."
If you or a family member has been treated negligently in A&E get in touch with our expert solicitors today. Or request a call back.
0808 271 9413
How Can I Fund My Claim?
Although the vast majority of our cases are funded through 'no win, no fee agreements', solicitors are obliged to advise of all the available funding options. There are four possible ways of funding your claim.
No win no fee or conditional fee agreement
The vast majority of our cases pursued under a Conditional Fee Agreement (CFA), also known as a 'no win, no fee agreement'. This means that we would not charge you any legal fees unless you won your case, and would seek to recover our costs from your opponent in the first instance. The agreement permits a maximum deduction from your damages of 25%.
ATE insurance – When we are acting on a no win no fee basis we may also advise our clients to take out a specialist type of insurance called After the Event Insurance Policy (ATE insurance). This is to protect you in the event your claim did not succeed. Your solicitor will explain this in more detail if you instruct us.
Legal Aid funding
Legal aid or Public funding from the Legal Aid Agency is still available for some cases. However, Legal Aid is now limited to cases where a child has suffered a brain injury during pregnancy or birth, or shortly after birth, which has resulted in severe physical or mental disability. Legal Aid is means tested but it is the child's assets who are assessed, not the parents. Consequently, virtually all new born children will be eligible for legal aid.
Before the event legal expenses insurance – also known as BTE insurance.
Many people have this type of insurance but are unaware of it. Please carefully check any insurance policies that you have, including motor and household insurance, and credit card agreements. You should also check any union membership you have as this may include a form of BTE insurance. It is important to check these things as recent changes to the law mean that 'no win, no fee' arrangements may result in some deductions to any compensation you recover. BTE insurance can sometimes quite restrictive in terms of who you can instruct and how they can pursue the case for you.
Private funding
If we are not able to act for you on a no win no fee basis then it may be possible to instruct us to act on a private retainer.
If you would like to discuss any of these funding methods further, you can call us on 020 7874 8300.
What are the time limits to bringing a claim?
The date by which a claim must be brought is called the "limitation date". Calculating the limitation date in medical negligence cases is often not straightforward.
The usual rule is that a patient has 3 years to bring legal proceedings (i.e. to issue a claim form at court).
If the injury was not immediately apparent then the law allows a patient to bring their claim within
3 years of the date when they first had the knowledge (which they reasonably have been expected to acquire) necessary to bring a legal action.
The patient has to have known:
 The key facts
That the injury was serious enough to investigate and
The identity of the potential Defendant. The Court will say that the patient must know (i), (ii) and
Before the three year period starts to commence.
Example – a patient undergoes abdominal surgery. For four years following the surgery, they complain of stomach pain. The patient is reassured and no investigations are undertaken. Eventually, an X-ray is performed which shows a metal object in their abdomen. In this situation the Court will almost certainly rule that the patient would have 3 years to bring a claim starting from the date of knowledge of when they were told of the x- ray – rather than three years from the date of surgery.
Exceptions to the usual 3 year rule – children
The limitation period does not start to run for children until they reach the age of 18 years, so the limitation period for children expires on their 21st birthday.
Exceptions to the usual 3-year rule – patients without capacity
People who lack capacity (the ability to manage their own affairs) are able to issue proceedings at any time. The law states that if a person lacks capacity then the three year period does not commence. In cases of fluctuating capacity, the limitation period may start to run if mental capacity returns.