#IWD2020 – The Sex Disqualification (Removal) Act 1919 and Me – I am a 'Person'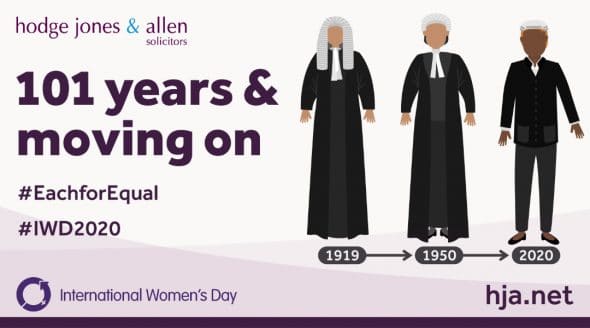 To this day I remember my first visit to my aunt's office in Islington, North London. I was about three years old and with my dad. Her room was at the back of the office at the end of a corridor. As I entered her room I remember seeing a gigantic desk facing the door with my aunt sat at it looking very smart. I recall watching my aunt in awe as she spoke on the phone – she oozed with confidence – and I was mesmerised.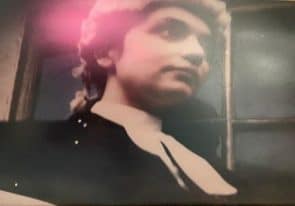 As I sat waiting for my dad and aunt, I remember seeing a photograph of my aunt hanging on the wall. She was wearing a black gown and a white wig. She looked amazing and I concluded that my aunt was a Judge and she did something important. From that moment I knew what I wanted to do, I wanted to follow in my aunt's footsteps – she was now my idol. On our way home, I enquired and my dad explained to me that my aunt wasn't a Judge but that she helped people who had a problem and would go to Court with them and speak to Judges on their behalf. I was sold.
Growing up I was surrounded by some strong female characters – my mum, my aunt and my grandmothers. These were women who had experienced the brutality of war, inequality and racism but who never gave up the belief in themselves, setting themselves goals and achieving them. But my family's interest in the legal profession and the practise of law stems from someone who wasn't actually a lawyer themselves… my late grandfather. He was football player and manager turned entrepreneur from Cyprus, known to many as 'Kaptan' having captained a number of teams whilst a player. From what I have heard about him, he was rather eccentric (- I've seen photos, so can't argue with that!).
In the 1950s, at a time, and in a community, when the woman's place was in the home and supporting her husband, my grandfather dreamt that one of his daughters would buck the trend and practice law. This was a period in Cyprus when lawyers were at the forefront of their communities and the discussions focussed on independence – needless to say, these lawyers were all men. Much to my late grandmother's disappointment, and on the advice of his lawyer friend, my grandfather eventually took the difficult decision to leave his homeland and move his young family to the UK. My aunt was 13 years old when she arrived in London. With the support of her family, and within only 11 years of arriving in the UK, she completed her legal studies and was called to the Bar by Lincoln's Inn. She became one of the very few Turkish / Turkish Cypriot lawyers in the UK, and one of the first female Turkish / Turkish Cypriot lawyers.
I have been in legal practice for the past 14 years as a Paralegal, Solicitor and now an Associate at Hodge Jones & Allen, specialising in personal injury claims. Much like my aunt, I was the first in my immediate family to go to university and qualify as a lawyer. I am eternally grateful to the continued and selfless backing and support of my wonderful mum and dad. My dad was aware of the difficulties my aunt underwent as a female in law but he never discouraged me from my dream. In fact, my dad pulled out all the stops and did all he could to encourage and assist me in my pursuit – he drove me to several interviews over the years and we would debate current legal topics and ask me interview questions to assist me with my interview preparation. During the Bar Vocational Course, on more than one occasion he acted as either a Judge or a witness so I could practice my advocacy skills. To my family, my gender was no bar to me chasing my dream.
So, what is the reality in practice and why is this important?
On 23 December 2019, we celebrated the 100th anniversary of women being recognised as "persons" for the purposes of practising law. A landmark moment for women wishing to access the legal profession as prior to this women were able only to (finally) study law at university1 but could not qualify as a solicitor or barrister. Women could, however, work as clerks, copy documents and even, if lucky, prepare paperwork.
As the saying goes, "to know your future, you must know your past"2 … so let's have a quick recap on how far women have come in the past 100 years3 :
1919: Sex Disqualification (Removal) Act 1919 passed
1920: Madge Easton Anderson is the first female Solicitor in the UK
1922: Ivy Williams is the first female to be called to the English Bar
1922: Helena Normanton is the first female to practise as a barrister in England
1948: Margaret Kidd is the first female appointed King's Counsel in the UK
1956: Dame Rose Heilbron is the first female appointed a Recorder
1962: Dame Elizabeth Lane is the first female appointed a County Court judge
1965: Dame Elizabeth Lane is the first female appointed a High Court judge
1972: Dame Rose Heilbron is the first female judge to sit at the Old Bailey
1975: Sex Discrimination Act
1981: Dame Fiona Woolf is the first female appointed partner at a city firm
1984: Lady Hale is the first female to be appointed to the Law Commission
1988: Dame Elizabeth Butler-Sloss is the first female appointed a Lord Justice of Appeal
1992: Barbara Mills is the first female Director of Public Prosecutions
1998: Dame Heather Hallett is elected the first female chair of the Bar Council
1999: Dame Elizabeth Butler-Sloss is the first female President of the Family Division
2002: Carolyn Kirby is elected the first female President of the Law Society
2004: Lady Hale is the first female to join the House of Lords
2006: June Venters is the first female Solicitor to be appointed Queen's Counsel
2007: Baroness Scotland is the first female appointed Attorney General for England and Wales
2017: Lady Hale is the first female President of the Supreme Court
2019: Elizabeth Johnson is the first female Chartered Legal Executive to be appointed to the judiciary
Undoubtedly, there have been huge developments for women working in the law since 1919. However, although a recent survey carried out by the SRA in 2017 revealed that women made up nearly half of the lawyers in the UK, only 33% of partners were women (with this being a mere 29% in larger firms)4 . Furthermore, women only made up 28% of QCs appointed in 2019. These are shocking statistics highlighting we have some way to go to achieve true equality in the legal profession.5
In my opinion, equality cannot be achieved simply by women assisting other women – it is about us all, women and men, actively choosing to challenge bias, provide opportunities and celebrate women's achievements.
Over the past year I have read many articles and attended a number of events marking this important milestone for women in law. The importance of supporting each other through mentoring, sponsoring and promoting regardless of, for example, your gender, race, sexuality, etc. is of paramount importance. This could include, for example, the following:
Ensuring that different talents and skill sets are recognised; and
Supporting access to more stretching and challenging work or the opportunity to assist more senior colleagues with their complex, interesting and high profile work.
Whilst looking back at my experience in order to write this blog I wish to express my gratitude, not only to the women but also to the men, both past and present, who have assisted and encouraged me, whether directly or indirectly, on my journey in the legal profession. I'd like to think I've not done bad for a trucker's daughter, and I look forward to the next chapter in my legal journey at HJA working alongside some exceptional women (-and men) across our various departments fighting day in and day out to ensure justice is achieved for all.
Happy International Women's Day to you all and here's hoping a more equal future for our daughters, nieces and granddaughters, and a future where we only look back at issues of inequality as a fragment of history.
"I raise up my voice—not so that I can shout, but so that those without a voice can be heard. … We cannot all succeed when half of us are held back."
Malala Yousafzai
———-
11878 University of London admitted women on to its degrees, although it was not until 1888 when the first female (Eliza Orne) could earn her law degree from UCL)
2George Santayana
3For a more detailed timeline check out https://first100years.org.uk/digital-museum/timeline/
4https://www.sra.org.uk/sra/equality-diversity/key-findings/law-firms-2017
5"Women belong in all places where decisions are being made. … It shouldn't be that women are the exception." Ruth Bader Ginsburg