Asbestos & Mesothelioma
Asbestos & Mesothelioma Compensation Solicitors
If you suffer from Mesothelioma and other Asbestos-exposure related illnesses, our experienced team of Industrial Disease Lawyers may be able to help you claim the compensation you deserve.
Our national Asbestos Team of leading Solicitors, based in London and North-West England, have been working with clients to seek Asbestos and Mesothelioma compensation for many years. They understand what is required and have specialist skills and legal knowledge relating to Asbestos exposure and the potential life-long hazards that it may present. 
ASBESTOS HELPLINE: For a free confidential discussion ask for Isobel Lovett. Isobel has dedicated many years to gaining compensation for sufferers of Asbestos related diseases. To get your questions answered give her a call today.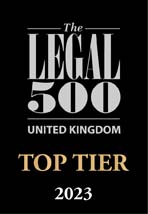 "Hodge Jones & Allen is a well known and popular claimant law firm, with a reputation for taking on complex cases that require excellent legal knowledge and courage." – Legal 500, 2023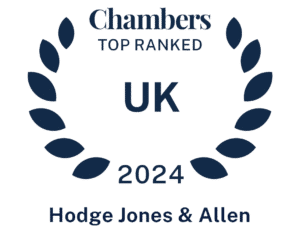 Our Asbestos Team has been ranked in the Chambers & Partners 2024 legal directory. They were described as "diligent, persistent and professional throughout. Their communication is exceptional."
Watch the story of our client who was exposed to Asbestos and helped by our Solicitors after being diagnosed with Mesothelioma.
How was Asbestos used?
Asbestos was widely used in industry and construction from the 1900s. It was installed extensively as fireproofing and insulation throughout the 1960s and 1980s and can still be found in some buildings from those eras.
Find out how to identify Asbestos use.
Do I have a claim for an Asbestos-related illness?
Anyone who has been exposed to Asbestos and has suffered health complications as a result may have a claim. If you have any of the following Asbestos-related conditions you may be able to claim Asbestos and Mesothelioma compensation:
Mesothelioma

Asbestos-related lung cancer

Asbestosis

Pleural thickening

Pleural effusions

Pleural plaques
Most Asbestos conditions result from exposure to Asbestos at work. However, exposure may have occurred in a number of other ways that can also lead to a claim. This includes: 
Contaminated work clothing being brought home

Living near an Asbestos factory

Use of talcum powder

Uncontrolled Asbestos removal in rented accommodation
If you think you may have an Asbestos claim for compensation, get in touch with our team for a free consultation.
How long will my claim take?
This will depend on the nature of your claim. Our team will be able to explain the procedure and how long the process is likely to take. We will always aim to win your case as quickly as possible.
Who can claim?
In cases of Asbestos-related illnesses, the following people may be entitled to bring a claim:
The person diagnosed with an Asbestos-related condition

Their spouse or partner

Other dependents
If you are unsure whether you can claim, please contact our team for further advice.
What can I claim for?
In Asbestos-related cases, compensation will differ from person to person. However, it typically covers the following:
The illness and its effects

Care and assistance

Aids and equipment

The costs of replacing services such as gardening, DIY etc

Past and future income loss

Medical and associated expenses

Immunotherapy and other private medical treatment
In addition to compensation, we will also help you to claim any DWP benefits you may be entitled to as a result of the illnesses you have suffered.
How much will it cost me?
Our work is funded through a conditional fee agreement, which is often known as No Win, No Fee. This means you can make a claim without having to worry about being able to afford up-front legal fees.
How long will my claim take?
Every claim is different, so it can be hard to say how long it might take to get an outcome. It will all depend on the nature of the claim. Our team will be able to explain the procedure and how long the process is likely to take when you get in touch for a consultation. 
We will always aim to win your case as quickly as possible to minimise the impact of having to go to court and argue your case.
How long do I have to bring a claim?
The law normally requires that court proceedings be started within three years of when you are first told that you have an Asbestos-related disease, or within three years of the date the person concerned has passed away. With this in mind, it's important that you get in touch as soon as possible to start your compensation claim. 
There are some limited exceptions to this rule, so if you are past the time limit please do still get in touch to discuss this with our team.
Can I still claim if my employer no longer exists?
Yes – a compensation claim can still be brought, as long as the employer's insurer can be traced. 
Even if this is not the case, all is not lost. An application can still be made to a Government Scheme to obtain any compensation owed. We will advise you on your options when we examine the details of your personal case.
I already have a solicitor acting for me. Can I transfer to another?
Yes. You are free to instruct a Solicitor of your own choice. Transferring your claim shouldn't present a problem. Any costs that may be due to your current Solicitor can usually be put on hold and recovered at the end of the case if it is successful, along with any fees of your new Solicitor.
What happens to my claim if I passed away before the case is finished?
The claim can continue in the case of your death. In many Asbestos-related claims, the victim has unfortunately already passed away. In these cases, it is often the family that makes a claim against the employer for the loss of a loved one.